How to Poison Proof your Home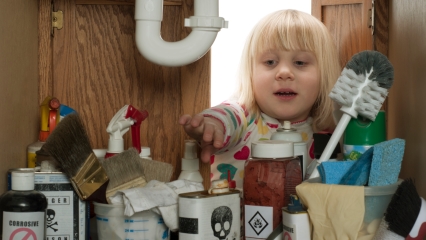 ellaslist COVID-19 update: Please note that all the information on the website is correct at the time of publication. Please check the relevant website before visiting a venue or destination for the latest COVID-19 information. ellaslist is not responsible for any cancellations or closures.
By: Lisa Wolff, ellaslist
I will never forget taking my baby boy to the Children's Hospital at midnight when he had severe croup. There's a bizarre sense of comradery between the worried parents sitting in the small cubicles in the ER.
"So what are you in for?" One of the mums asked me. After I gave her a brief lowdown, I asked her the same question. Her answer still give me the chills.
"My 5-year old son swallowed lavender oil. We came here earlier with my 7-year old who also drank the oil and is now in Intensive Care".
I was shocked!

I know it's normal for babies to put every little thing into their mouths and we still warn our 3-year old against putting odd objects into her mouth/ears/nose. But a 7-year old! It means I am going to have to be vigilant for a very long time.
We tend to baby proof our home when our kids start to crawl but as they grow, we get more lax, leaving cupboards with serious household poisons within easy reach. We just assume that our children will know better. Clearly, this assumption can be deadly.

So I gave the fabulous team at Kids First Aid a call. I was pretty shaken up and wanted to know what I could do to prevent any accident poisonings. They told me that every year more than a million young children are accidentally poisoned – the majority of these within the home setting.
They suggested some top tips to poison proof your home and make sure your kids are safe from the toxic terrors that children find so tempting.
POISON PROOF YOUR HOME (from Kids First Aid)

Always keep your important emergency numbers visible (we keep our list on the fridge).
The number for the Poison Info Centre (24 hours) is 13 11 26

Go through the house at your children's level

Place locks on doors to rooms your children shouldn't enter – the garage and the shed, for example

Remember that child resistant packaging doesn't mean child proof

Keep all medications locked away, even between doses

Keep a record of how many pills are left in each bottle – if the unthinkable does happen, you'll be able to easily identify which medication has been swallowed

Make sure that cleaning products are kept in their original childproof containers, and stored in a high cabinet out of reach (and locked, if possible)

If you must keep cleaning fluids under the sink – lock the cupboard

Keep outdoor supplies and tools in a locked garage or shed

Keep all alcohol out of sight and out of reach

Some foodstuffs and mouthwashes contain alcohol, too, so read the label and keep hidden from children

Only use water based paints on children's furniture

Don't leave your make-up, cosmetics, aromatherapy oils and other toiletries in easy reach. Again, use a locked cabinet to store such items.

Store batteries out of reach, and dispose of properly and safely when dead

Keep purses and bags out of the reach of children
Be Prepared for Accidents
But no matter how careful we are, there is always the possibility of accidental poisoning. So I'll be sure I have all our emergency numbers (doctor, ambulance, poisons helpline) in a prominent place (on a fridge is usually a good spot).
How you can help save your child's life
If you haven't done a first aid course recently, it's probably a good idea to skill up. I did a course before my eldest was born but I think I would be a bit fuzzy in an emergency. So I've decided it's time to do a repeat course. CPR and basic first aid skills are essential to help you stay calm, take control and respond to your child in an emergency situation during the critical moments before help arrives.
Visit Kids First Aid for a list of upcoming Kids First Aid sessions in Sydney.





Kids First Aid offers the only first aid courses delivered exclusively by experienced paramedics, designed to teach parents and caregivers how to respond calmly and confidently to 10 of the most common first aid emergency situations. Flexible workshops to suit your needs. Choose from public or private sessions throughout Australia. Find a course near you.