How To Celebrate Halloween In 2020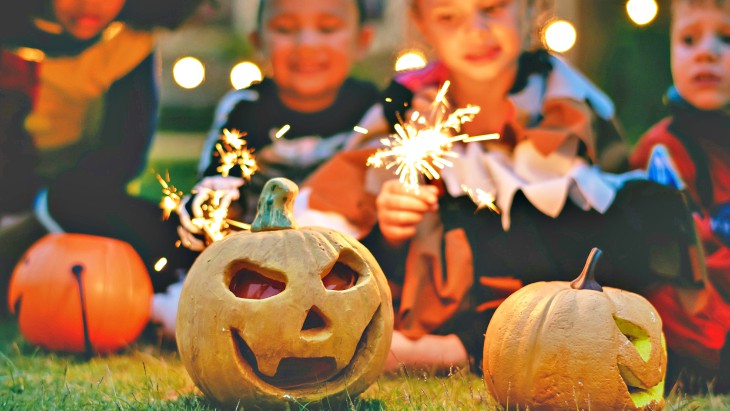 There is one day of the year when my daughter can make like The Proclaimers and walk 1000 miles without a single complaint - and that's Halloween. Copious amounts of candy is a magical motivator!
Over the years Aussies have embraced the American trick or treating tradition with increasing fervour, though here it's less about the pagan roots and more a festive fright-night with friends and an excuse to eat junk food.
Halloween events typically happen all over town and communities get into the spirit with spookily decorated facades and giant bowls of lollies ready for swarms of costumed kids.
Witchful Thinking
This year was set to be a hoot with the creepy date of 31st October falling on a Saturday for an entire day of spellbinding fun with a full moon on the rise. However, the scariest thing of all for Halloween 2020 is the Coronavirus pandemic, and with the threat still looming and most events cancelled, is there a ghost of a chance of that happening?
Things might look a bit different, and while knocking on a strangers door is perhaps not the way to go right now, some parents are reluctant to banish another event off their children's already depleted calendar. So how can you have a spook-takular socially distanced Halloween? Check out these safe and creative ideas to carve out a devilishly good time.
Trick Or Treating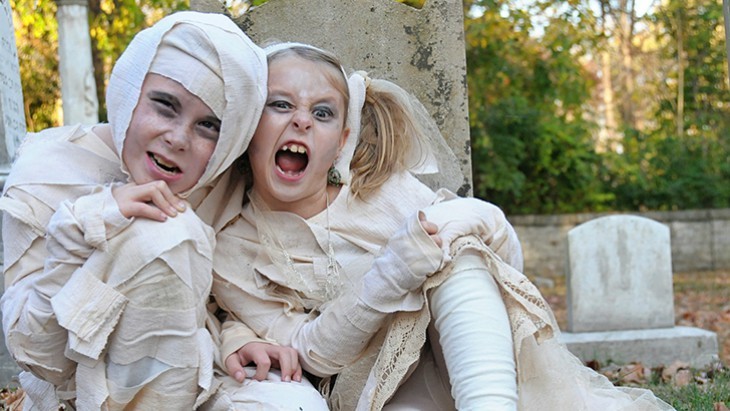 While most states except for Victoria have relaxed their restrictions, trick or treating isn't against the rules, and the fact that it is outdoors is an added bonus! In fact, the chance to be outside and sensibly social could be good for children's mental health.
However, everyone is encouraged to wear (Halloween) face masks and practice social distancing. Go out in small groups, keep a safe gap from other revellers and have a parent around to help enforce the precautions.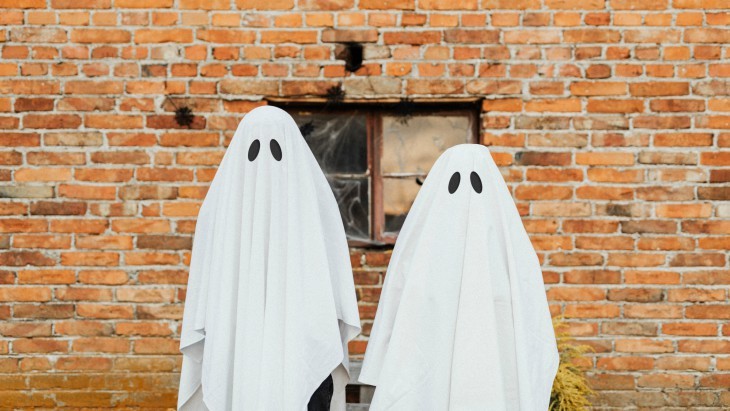 Avoid congregating around doorsteps, only accept individually wrapped treats and use hand sanitizer between visits.
If you are feeling the Halloween love and want to hand out wrapped candy, put a table between yourself and the trick-or-treaters. If you're not handing out loot on the night, leave a note on your front door to let people know.
Halloween At Home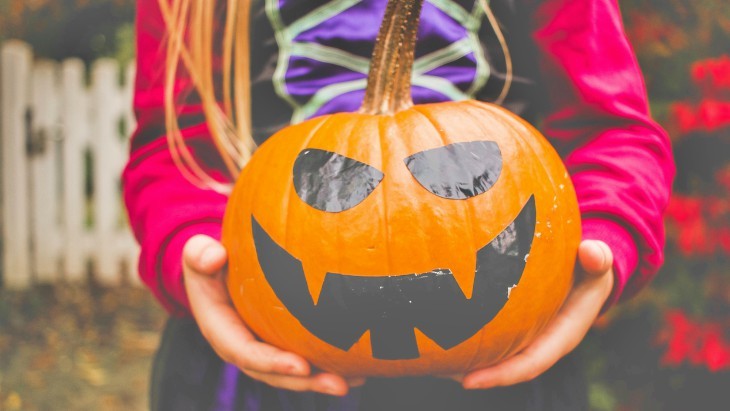 Let's face it, all kids really want on Halloween is the sweet stuff, so to reduce the COVID risk, buy a stack of goodies for your little ones and keep your celebrations in-house.
You can still cast a spell on the Halloweenies by decorating your home, painting your faces and wearing your favourite costumes. You could also try carving a jack-o-lantern, carving out Halloween arts and crafts, creating frightful treats and watching a scary movie!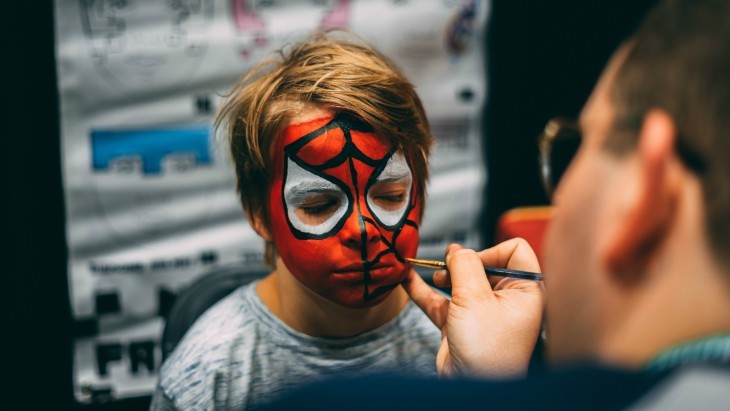 If you dare, pitch a cubby house inside and gather round for spine-tingling ghost stories by torchlight, or set up a Halloween Mystery Box challenge: put some sticky, icky, squelchy and (plastic) spidery surprises in a box, blindfold your little goblins, and let them guess what they are.
Big W share some tips on how to haunt your own house, such as:
A Ghost Graveyard Room
Step 1: If you have an air con, turn it up high for some creepy coldness, or grab a fan to create a breeze highlighting an unseen 'presence' (ghosts).
Step 2: Cover the couches with dark fabrics like sheets or tablecloths to prep for the gravestones.
Step 3: Pull apart some cotton wool to create some DIY cobwebs and hang it from the windows and walls.
Step 4: Dim or turn off all the lights in your bedroom or lounge room to gauge the ultimate spooky effect.
Step 5: It's time to fill your graveyard with gravestones, skeletons and spiders!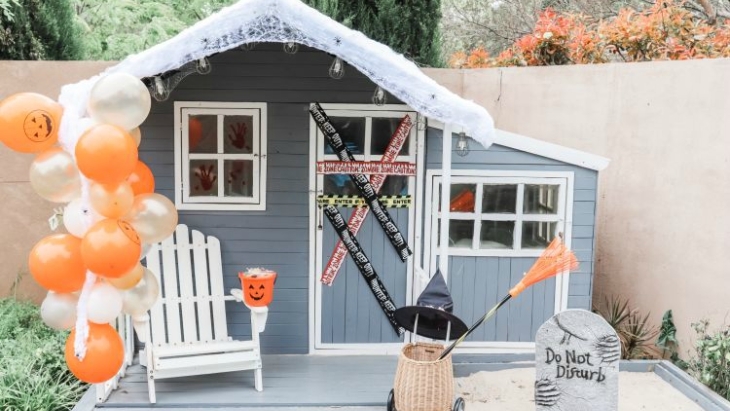 Get (Anti) Social
Share the Halloween spirit by inviting a few close friends over to your house for a mini party (no more than 20 allowed in NSW Sorry Victorians, up to two households can meet for a social interaction but it has to be in an outdoor, public space!). You could create a Halloween pinata and a spooky playlist including songs like Monster Mash, Thriller and Time Warp.
You could also do a candy drop on your neighbour's doorstep or host a costume parade in your street followed by a trick or treat treasure hunt.
If you really want to get out into the action you can take the kids on a tour! Decorate your car with cobwebs and spiders and go on a Halloween decoration spotting drive in your area to safely admire the haunted houses from afar.
Try a BOO-zy Cocktail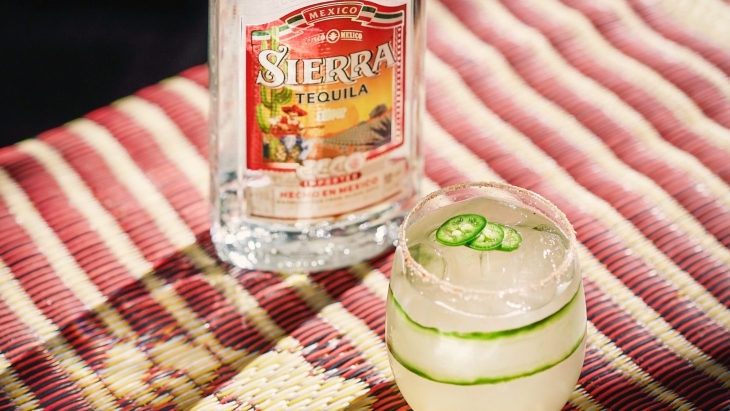 If you're entertaining the parents as well, why not try a Day of the Dead style cocktail (Day of the Dead celebrations are a three-day period that begins on October 31).
Whip up a Spicy Cucumber Margarita to keep your guests in high spirits.
Spicy Cucumber Margarita
4 ounces tequila
2 ounces fresh lime juice
1 ounce of Cointreau
1 cucumber, sliced into thick coins
1 small jalapeno, thinly sliced
optional garnishes: extra thinly-sliced cucumber rounds, extra jalapeno slices, and/or lime wedges
Add all the ingredients (minus the jalapeno) into a blender. Pulse for 1 minute. Strain out the liquid into a cocktail shaker. Add the jalapeno slices, and muddle until the margarita has your desired level of heat. Add a handful of ice, and shake the mixture vigorously for a few seconds, immediately strain it into serving glasses that have been rimmed with salt, filled with ice, and topped with optional garnishes.
However, you celebrate, stay safe and have a boo-tiful Halloween!

NSW Health supports everyone who wants to get involved in COVID-safe Halloween celebrations and has released a handy video full of COVID-safe Halloween advice:
More Halloween Hocus Pocus
How To Make The Spookiest Halloween Treats
Our Top Halloween Movies For Kids
Sydney's Best Halloween Costume Shops
Have you signed up to our newsletter? Join ellaslist to get the best family and kid-friendly events, venues, classes and things to do NEAR YOU!