Holiday Baking Classes at the Best Cupcake Shop in Sydney
Preschoolers
Family
Kids
Mums & Bubs
Parents Only
Teens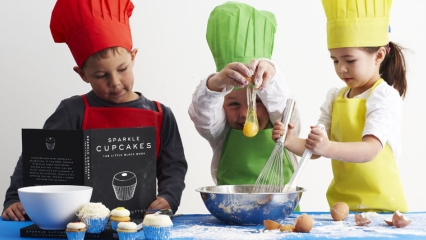 By: Lisa Wolff, ellaslist
Use the code ELLASLIST when booking a Sparkle Holiday Bake Class and get a 10% discount
Is your child a mini-masterchef in the making? Do they love helping out in the kitchen or even just licking the bowl? Then they will love the Kidz Bake Classes at Sparkle Cupcakery during the school holidays.
My daughter adores being my sous-chef and cupcakes are one of her favourite things in the world. So she was understandably excited to visit Sparkle and get a taste of what's on during the holidays.
Lisa and the Cupcake Factory
I felt like a modern-day version of Charlie and the Cupcake Factory when we visited Sparkle Cupcakery nestled in the buzz of Surry Hills. Owner, Kathryn Sutton, is certainly not a crazy haired Willy Wonka. In fact, she's stylish and professional but it's obvious how passionate she is about those yummy little cakes that have become her life.


The cupcakery is all decked out in mirrors and glamorous décor. It may shout champagne rather than cordial but Sparkle is actually very kid-friendly. Kathryn is a mum herself so she was warm and welcoming to Gabi and didn't bat an eyelid when my little one spilled her babycino on the table and left a trail of cupcake crumbs behind her.
Choosing is the hardest thing to do
Gabi couldn't stay away from the glass display showcasing the delicious Sparkle cupcakes. There are 16 cupcake flavours plus a seasonal limited edition (when we visited it was Vanilla with strawberry and cream to celebrate the Queen's Birthday). There are also mini me cupcakes in classic flavours.
The cupcakes are big, moist and perfectly iced in a variety of different frostings. Choosing your favourite is a struggle. To help make our decision, Kathryn tells us that the most popular are Salted Caramel, White Chocolate and Strawberry and Raspberry Red Velvet. Right, one of each please!
So Many Sides to Sparkle


Sparkle has many different glows. It's a busy retail store and café with a steady stream of cupcake-loving customers. It's a bustling kitchen producing themed cupcakes for corporate functions, weddings, parties and gifts for delivery (think about ordering a box of cupcakes rather than flowers next time – I know, I would prefer that anyday!). Sparkle also hosts all kinds of fun parties. There are the kitchen teas and baby showers for the grownups. And the fairy and goblins T party and kidz bake parties for little people.
But we wanted to know all about the school holiday fun. Sparkle's Spring Baking & Decorating Cupcakes Classes will be held on three dates in September. In the 2-hour hands-on classes kids will get to bake and decorate cupcakes and learn baking tips and tricks under the guidance of an experienced Sparkle Pastry Chef. Every child goes home with six of their own cupcake creations. Also included is a refreshment break of cheese toasties, cookies and juice.
We were lucky enough to sample the cookies that are served during the classes. Believe me, the incentive of getting another one of those scrumptious cookies is enough for me to book Gabi in immediately.
The Kitchen Really Sparkles


Upstairs from the shop is where the magic really happens. The Sparkle kitchen is not big but it's well organised. The three pastry chefs are bustling about bringing the cupcakes to life. One chef is the resident artist moulding individual petals for a fondant flower to decorate a wedding cake. The other is piping vanilla frosting onto a freshly baked batch of cupcakes and another takes a tray of those addictive cookies out the oven. The baking part of the kidz classes is held right here in the kitchen and then the kids move downstairs for their yummy morning tea.
Gabi can't wait to join the Sparkle holiday class and learn how to bake her own cupcakes.
The Holiday classes have limited capacity so make sure you book soon.

Reviews
Hi I'm looking for a children's baking and decorating course for my daughter who is 7 yes old.