Holey Moley We Have Found The Holy Grail Of Fun With Kids!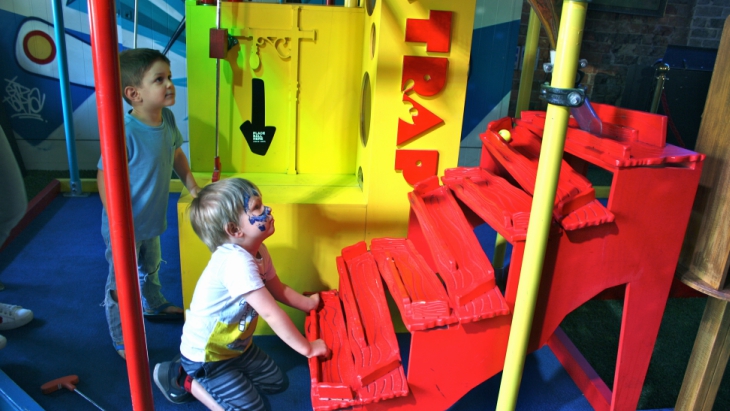 Booze, balls and Donald Trump's head on an ass - doesn't sound like the setting of a kid-friendly venue - but trust me, it really is! Holey Moley Golf Club in Newtown is the ultimate in fun for kids and big kids at heart. It is a bar (win), with mini putt putt golf (big win), an American style diner (delicious win) and even if your kids aren't interested in keeping score they will most certainly win big here. Everyone wins! No iffs, not putts, as they would say!
The Par Is Set High
The mini golf course is set over two levels and you can choose from 9 holes upstairs or 9 downstairs. Upstairs, we are advised, is "a bit rude for kids" but to be honest, with a couple of 3 year old boys along for the game - Elvis standing over a toilet and Donald Trump's face covering a donkey's bum brings joy and laughter (with the true message going over their little heads). Also upstairs is the famous Simpsons' couch, which is pretty much used for selfies by inner-west hipsters barely old enough to remember when the show was on every night at 6pm.
Our boys loved the "Smells Like Tee Spirit" (most of the holes have brilliant punny names) which involved putting the ball onto a spinning record. They also loved the Oompa Loompar, inspired by Willy Wonker and invloving a vacuum shoot that sucks up your golf ball like Augustus Gloop in a pipe full of chocolate. In actual fact, they loved this a little too much (cue a line of people waiting for my son to stop pressing the vacuum button).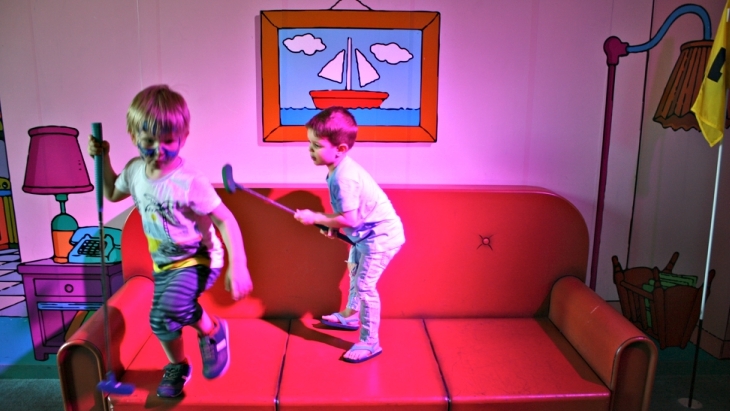 Like I said, there wasn't a lot of golf played, but the beauty of this place is the way it inspires little imaginations. The Mouse Trap is a three year old boys' dream (perhaps even mine as I grew up with this game, aka the best board game in the world) - this contraption sees the golf ball go up in a bucket, drop into pipes above your head, roll down into a bath tub, a workman's boot then down a rickety staircase and onto the green. Again, try getting your kids to move on from this hole!
On The Green
So, how do I sign up to this wonderous club, you say? You basically pay $16.50 for 9 holes and this was for both my son and I to play.... I didn't get a look in but was happy to be the unofficial caddy. Wth the tokens supplied your golf balls come out of the gumball type machine, you choose a putter to suit your height and off you go on the holy trail.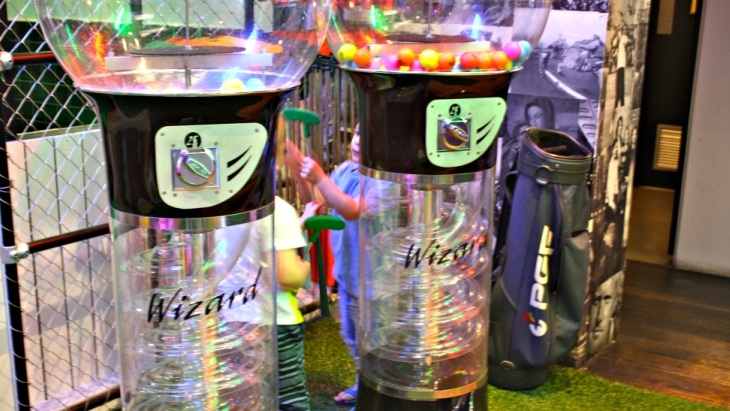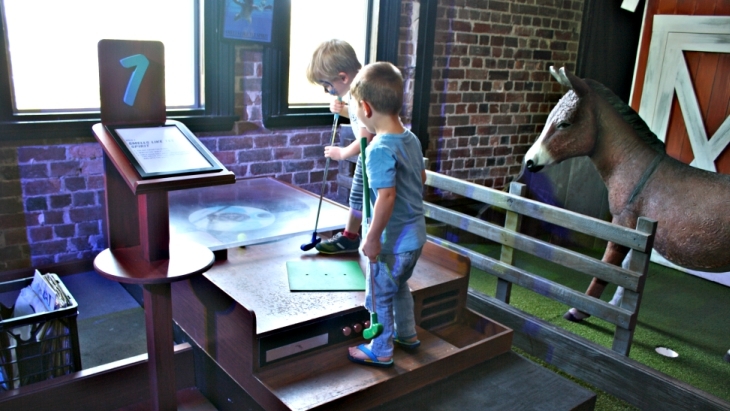 Off The Green
Once you're all golfed out - or you have sunk your last ball into the Game of Thrones iron throne hole - then it's time to make your way to the Caddyshack diner. The food hasn't been designed for kids but it's that kind of never-did-grow-up food that your kids will love, think hotdogs, cheeseburgers, messy fries and pizzas. For adults there is a fully stocked bar incuding cocktails that would make Willy Wonker envious, like the lolly-filled Sugar Caddy with Vodka, Cointreau, raspberries, cranberry and topped with lemonade and a candy kebab! The staff will even offer your kids lollies like sour worms and wizz fizzes (and they will politely ask you first if you're okay with this - nice touch).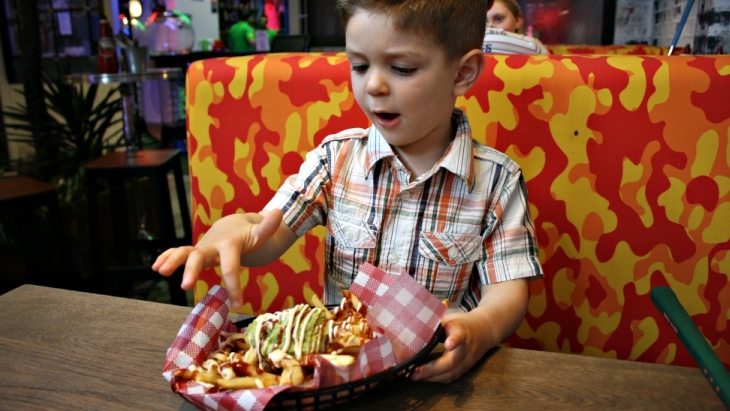 A Hole In One
To be honest this is a venue for adults - it's a bar after all, but the staff here make kids feel so welcome (they are allowed in the bar before 5pm). There were several times when our boys were rolling golf balls through the Nintendo gameboy hole and climing into the Vincent Van Go hole (it's a mini van full of guitars and skateboards, i.e, a little boy's heaven) when I thought we were going to get berated, but the staff truly loved how into it the kids were. I get the feeling that to work here you must never grow up yourself! Holey Moley is complete hole in one - for kids and adults alike. Go forth and sink a few holes... and drinks!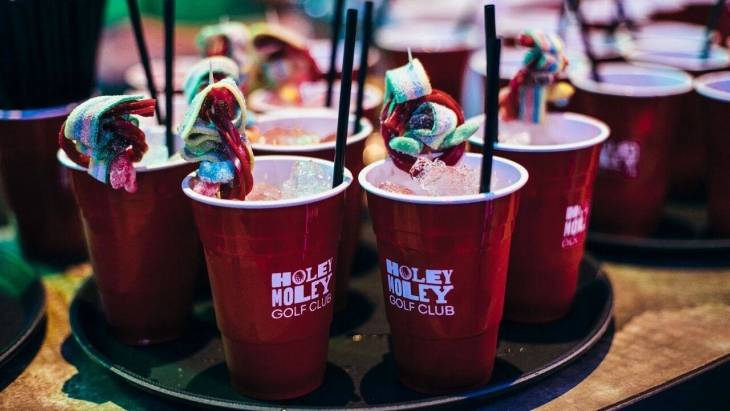 The Details
Where: Newtown, North Strathfield, Darlinghurst, Castle Hill
Hours: See the website for times. After 5pm, no under 18s are allowed in Holey Moley.