Have You Heard About Sydney's Monkey Baa?
Family
Kids
Teens
Preschoolers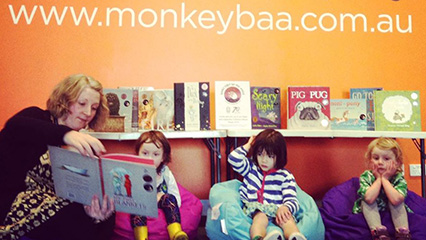 If you haven't heard about Sydney's Monkey Baa Theatre then you need to read on! We are very lucky that Sydney has no shortage of kids' theatres on offer. One of our favourites is the quirky, lively and unique Monkey Baa Theatre Company, based in Lendlease Darling Quarter Theatre, in the heart of Darling Harbour. Not only does it offer superb live performances for kids, but also creative & art activities in its foyer throughout the week. Its fantastic location means you can combine seeing a show with other great things to do around Darling Harbour such as the amazing Darling Quarter playground and awesome choice of waterfront cafes and restaurants.
So what makes Monkey Baa Theatre such a great kids' theatre destination? We sneaked behind Monkey Baa's stage curtains and caught up with Penny Watts, their General Manager, to find out why they're not just your everyday theatre company.
Q:  What makes Monkey Baa different to other theatre companies?
Penny: Monkey Baa creates, presents and tours theatre for young people throughout Australia and overseas. It's what we do every day and we love it. We started 18 years ago and have created shows adapted from books by Tim Winton (The Bugalugs Bum Thief), Jackie French and Bruce Whatley (Pete The Sheep) and Stephen Michael King (Milli, Jack and the Dancing Cat). We call the Lendlease Darling Quarter Theatre home, which is a family friendly venue full of adventures inside and out. We always present high quality theatre for children and young people during the holidays.
Coming to a show at Monkey Baa, we want you to make a day off it! We have crafty monkey activities in the foyer all day, this week it's dress ups, next week it's how to make a puppet. There is always colouring in and books to read in the foyer, it's the perfect place to chill out after you've played in Children's Playground opposite the theatre in Darling Quarter and there are endless options for food.
Q: We're so curious about your latest show, The Secret Life of Suitcases. It looks a bit kooky. Can you tell us why kids would love this show?
Penny: The Secret Life of Suitcases is beautiful show that children and adults will adore. It's a gorgeous show where Larry will take you on adventures out of this world, which he didn't think was possible. It's an enchanting story for all ages about finding the magic in everyday things. We're very excited to be presenting The Secret Life of Suitcases created by a Scottish puppeteer Ailie Cohen; it's our first international presentation.
Q:  What's coming up at Monkey Baa?
Penny: Monkey Baa kicks off the national tour of Justine Clarke's Pyjama Jam tour from Wednesday 14 October to Saturday 17 October. Justine wanted an intimate venue to perform her new songs with her band and the Lendlease Darling Quarter Theatreis perfect. We're wanting all children to come in their pyjamas with their favourite cuddly toys and even our staff will be in their pyjamas, to sing and dance along with Justine.
The foyer is always open with colouring in and books to read, there are beanbags for parents to have a rest. During November and December, we'll have free storytelling on the weekends.
Q:  Tell us about The Peasant Prince. Who are the clever young monkeys?
Penny: The Peasant Prince is the children's book based on Li Cunxin's extraordinary memoir, Mao's Last Dancer. Li, a 10-year old peasant boy, is plucked from his village in rural China and sent to a ballet academy in the big city. He leaves everything and everyone he loves, including his family. Over years of gruelling training, this boy transforms from an impoverished peasant to a giant of the international dance scene.  Li's courage, resilience and unwavering hope for a better life for himself and his family make The Peasant Prince a story to ignite our own aspirations to be the best person we can be.
Our Creative Directors, who founded the company,  Eva Di Cesare, Sandra Eldridge and Tim McGarry have spent the last week putting the finishing touches on the current draft of our script. We are currently auditioning for our cast, who will bring the story to life in April 2016 here in our theatre for family and school audiences and on the road to 38 venues around Australia.
The Clever Young Monkeys are a group of young people who support our creative work, giving us advice and participating in workshops that help the Creative Directors write the script. We recently did a workshop on The Peasant Prince with some of our clever young monkeys who helped answer some of our questions about the script. It's a wonderful opportunity to engage with audience and for them to connect with our shows.
Q: What has been your favourite kid's production you have been involved in so far?
Penny: My favourite has been Pete The Sheep based on Jackie French and Bruce Whatley's picture book, which we created and toured in 2014. It's a musical for young audiences with singing shearers, dogs and stylish sheep. It's returning in 2016 which is very exciting as it's a wonderful show and lots of fun.
Q:  Can you give us your top reasons why Monkey Baa and theatre in general are so important for kids?
Penny: Monkey Baa and theatre for young people in general is so important for children because it ignites their imagination, and gives them the skills and creativity to live in our world and understand their place in it.

The Secret Life of Suitcases is showing at Monkey Baa Theatre from 28 Sep – 2 Oct. For more information and to book tickets visit www.monkeybaa.com.au or call 02 8624 9340.