Have Fun & Learn New Skills At This Awesome Trampoline Class!
By: Alana Whitting, ellaslist explorer
If your little ones love to bounce on the backyard trampoline and look just about ready to take their skills to the next level, sign them up for trampoline classes with the YMCA at St Ives!
Safety First, Fun Next
The team at trampolining class take safety seriously and every lesson starts with a warm-up session and a run through of the safety rules before anyone is allowed to jump. Cleo was warmly welcomed to class – each class comprises of a mix of boys and girls of a range of ages and trampolining abilities. It was great for her to see the skill level of some of the kids that had been training for some time and what she could achieve if she kept at it.
Beginners are taught basic landing and aerial skills on large Olympic Trampolines and the smaller Double Mini Tramp. Over time, children can progress to learning somersault skills once they have developed their confidence and ability with the foundation positions and skills. Trampolining classes are supervised at all times by a qualified coach - Cleo was coached by Alex, a former level 6 champion, who demonstrated some of his amazingly impressive aerial skills after class. Cleo was in awe!
Crash mats, end decks, mats around the equipment, throw-in mats, overhead rigs and manual spotting techniques are used by the accredited coaches (one coach to every four to six children training) to minimise the risk of injury. They are conscious of ensuring children are taught safety elements that should also be applied to trampolining at home.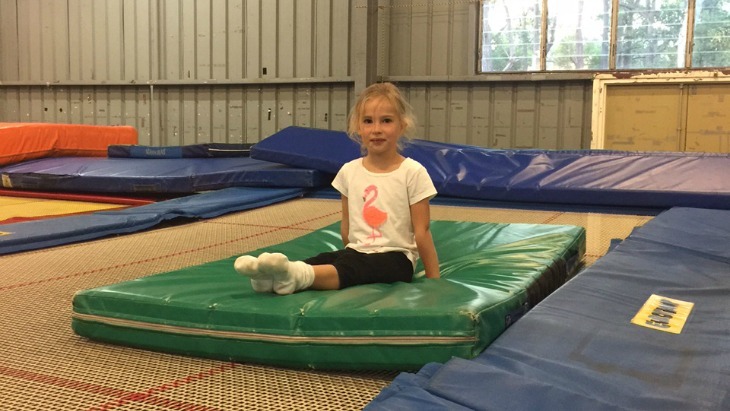 Trampoline Terminology
David, who is Head Coach, brought us up to speed with the sport of trampolining. Specifically that it is technically unique and differs to mainstream gymnastics. He told us about the levels and skills and routines children are required to master to move to higher levels.
St Ives YMCA trampolining classes offer recreational and competitive trampolining from levels 1 to 10 (the highest). Members of the Ku-Ring-Gai Trampoline Club enter local, State and National Championships, with some children training several hours per week to build their skills and other children attending lessons purely for recreational enjoyment. Those that are competing are getting some great results in competitions at all levels.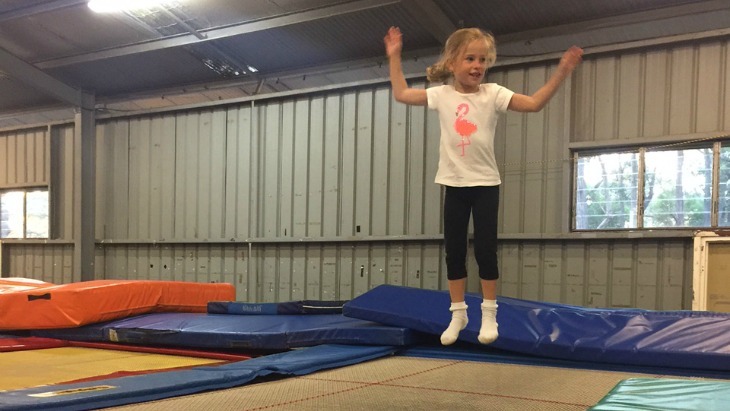 The ellaslist Verdict
Seriously good fun - Cleo really took to trampolining!
Top Tips
A great way for kids to translate how bouncing around at home can progress from recreational fun, to an Olympic level competitive sport, which is something many kids wouldn't consider about trampolining. Parents can stay and watch or drop and return to collect.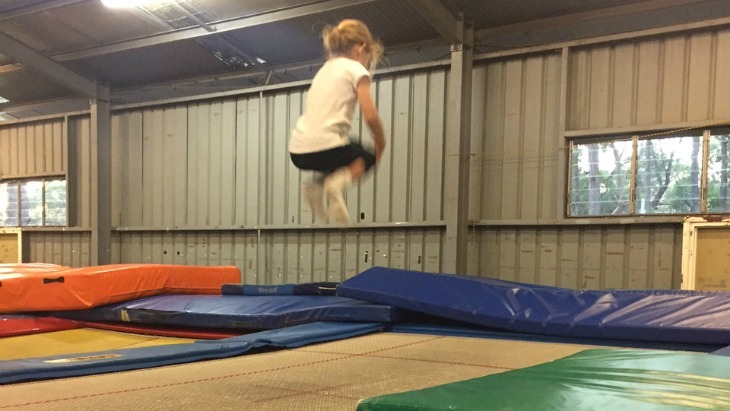 In A Nutshell
Classes are suitable for boys and girls from 5 -15 years and all abilities
Coaches are Gymnastics Australia accredited
Children should wear white socks, t-shirt and shorts/bike pants and bring along a water bottle.
Trial classes are available for $20 to see if trampolining is the right fit for your child.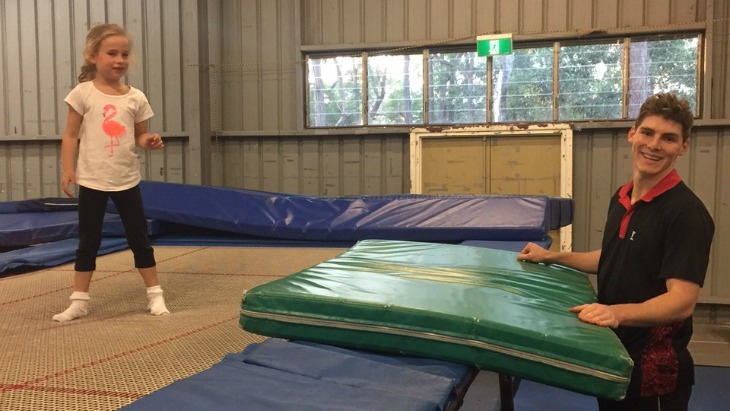 What You Need To Know
Classes:
Classes are held on Tuesdays and Thursdays between 4pm and 8pm
Classes run for one or more hours and start at 4pm, 5pm, 6pm or 7pm on Tuesdays and 4.30pm, 5.30pm or 6.30pm on Thursdays
Classes run during school terms and holiday programs are also available (at an additional cost)
Weekly Fees:
Trial class - $20
1 hour - $22
2 hours - $33
3 hours - $44
4 hours - $50
5 hours – $60
6 hours - $66
Gymnastics NSW annual registration fee:
Recreational students - $65 pa
Competitive students - $105 pa
Contact: To sign up for trampoline classes please email them or phone 0419 242 886 or 9449 5182
Address: Pickering Pavilion, St Ives Showground, 450 Mona Vale Road, St Ives
Getting there: Access is off Mona Vale Road. Then loop around the perimeter of St Ives Showground to reach the Pickering Pavilion.
More info: www.ymcansw.org.au/centres/st-ives-ymca/trampolining/