Great time-saving Start Ups that Sydney mums should know about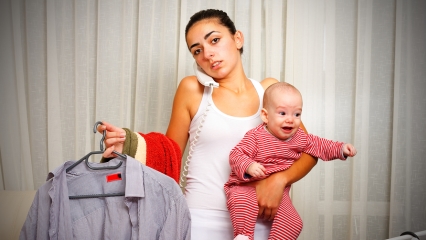 By: Yvette DuBourdieu and Lisa Wolff, ellaslist
The Sydney start up scene is exploding right now with local entrepreneurs developing cool products and services that redefine everything – from how we discover, how we connect and how we shop, removing pain points and cumbersome irks in the organisation of our mundane daily tasks.
The fabulous news is that mums, widely recognised as the chief organiser of practically everything in the household (STRONGLY AGREE!) and most often the primary budget controllers, it's no wonder that a lot of these new slick services are aimed at us and thank goodness for that because who's got time for anything these days? We always seem to be in a rush, school drop off, pick ups, cleaning the house, grocery shopping, making dinner, bedtime - and then it all starts over again.
If you're a working mum, it's even harder to find time to schedule in chores, and need-it-now solutions are becoming very necessary in our 24/7 world. New start up services promise to give back what we need most of all – TIME – helping us get what we want easier, faster and cheaper than ever before, and we are all down with that. Bring us as many helping hands as possible and do let me sort it all out from the comfort of my couch with a cuppa – thanks!
It's not always an easy transition to move from what you know to something new from a company you don't recognise – but there are some great new concepts out there, a lot of hard working people trying to solve some real sticking points and they're really worth giving a shot. It's also to be noted that new really new start-ups business processes are not perfect. They're testing a concept, trying new ideas and growing quickly – so a few customer service bumps in the early days are to be expected.  But if you like the idea and what it could be – try not to be put off with a little hiccups. Do give feedback – it's appreciated.
Another great thing to take advantage of is incentives - customer acquisition and retention is key to start up success meaning you're also very likely to be incentivised to try the service, and be re-incentivised to use it again with discounts and offers. Again, we're all good with that too, there's nothing like a little incentive to get my ear.
At ellaslist we love trying new things, so here's a few of our favourite time & hassle saving concepts that are gaining good traction in Sydney right now.
Personal Grocery shopping
Going to the grocery shops can take hours, it's 99.99999% likely to be a nightmare if you have to take the kids. We always end up spending so much more too, so online shopping is better for my pocket. But I'm not that organised and still run out of stuff all the time. Nappies, dishwashing tablets, milk .. tea bags, chocolate!
I know you're with me here.
It's no secret that we're big fans of ShopWings who have swooped in to take the hassle out of shopping. This new online shopping service promises to deliver groceries to your kitchen benchtop in two hours after ordering. TWO HOURS – we can't even get out of the house with a kid in that time.
They offer a really easy-to-use website and their product list is growing all the time (over 15,000) Plus they offer delivery from ALDI (as well as Coles and Harris Farm). Each order gets assigned to a trained personal shopper who then picks the best produce and delivers it to your front door.
ellaslist recently blind tested the Shopwings service and we were impressed with our experience. Read our review of ShopWings. As a first time user, you'll score free delivery and right now you'll get $10 off your first shop. Cool.
Book a cleaner
I can't even begin to count how many times my cleaner has let me down at the last minute and I am left scrubbing the toilet while juggling the laundry. These days, there are some awesome websites where you can book a reliable cleaner in less than one minute.
Try Scrubb, Helpling, Whizz or Tidy Me.
All these services offer a super quick and easy way to book a top-quality cleaner and often with a money-back guarantee, simply state the bedrooms and loos you have and add any additional services like ironing, clean the oven or the fridge and your preferred time and day – you'll get a price there and then and you book and pay direct – no cash.  Sounds good! You'll often find incentives to try these services too.
I'm hungry!
Get restaurant date nights organised in minutes using Dimmi. You can now reserve a table at your favourite restaurant and get confirmation in minutes. Also great for finding venues that cater for groups or private functions. No need to waste time calling around.
Can't be bothered cooking? You can now browse lots of local restaurants in one go and order your takeaway online with Eat Now, Delivery Hero or Menulog.
Love cooking but not the meal planning – we like Hello Fresh. These guys send you a weekly box containing the exact ingredients for you to cook amazing but simple meals at home. No food wastage and delivery is free.
Ironing to gardening to standing in line
Check out Airtasker. From window cleaning, pick up a parcel at the Post Office, fix your computer, building your flat pack furniture or even standing in line for stuff. All you need to do is describe and post your task and indicate a budget and community members will then bid to complete the task. You can then decide who is the right fit. Brilliant! There are over 160,000 runners waiting to help you.
Find a handyman
It's so difficult to find a reliable tradie, isn't it? We find if they do actually show up, they land up quoting far more than we can afford. Introducing Oneflare and ServiceSeeking. Both of these online services offer you a way to post your job and get multiple quotes from local tradies.
Declutter
Did you know the average Aussie home has $6250 worth of clothes, shoes, books, electronic goods, toys and other unused items piling up. Bountye is a new app that you can easily snap and sell the items you no longer need. This app takes buy, sell, swap groups to the next level – letting you purchase and get paid direct on the app with trust and reputation features built in so you have a better idea who you're dealing with. Bountye is launching in April 2015. Be the first to know when it launches by registering at www.bountye.com
Book a Babysitter
There's a slurry of new babysitter discovery sites in the last 6 months. Try Babysittersnow to find an available qualified local child-minder. Or Jugglestreet who focus on connecting teen babysitters and parents in your neighbourhood.
Get a ride
Don't waste any more time yelling at a robotic voice while trying to book a cab over the phone. These days you can book a taxi under five seconds using goCatch – which connects you directly to available taxis in your area so you can get picked up quickly.
Uber is an app that connects drivers to people who need a lift. So if you need to drive into the city every day, you can find a ride using Uber.
If you need a car for an hour or two or even a few days, there is no need to use a traditional car hire service. You can borrow an available car up the street using Car Next Door, where you'll pay $5 an hour or $25 a day for a set of wheels.
You could also use Go-Get or Green Share Car to book a shared rental car parked up the road (although you do need to sign up as a member first).
Makeovers in a box!
No time to shop for cosmetics, or it's been so long since you bought any you have no idea where to start? Lust have it delivers a tailor-made beauty box to your front door. It's like having your own personal beauty shopper.
Know of another awesome start up that will save mums time, money or hassle – we want to know about it. Please leave us a comment below.

This ellaslist article is brought to you by the team at Shopwings. Use the special ellaslist voucher code below to get your first Shopwings delivery free!
Reviews
Loved the article, thanks. Flexpert Careers - www.flexpertcareers.com.au - could be added to your list for helping mums save time finding flexible jobs. And another personal favourite is Tiny Beans - saves me time sending pics of the kids to the family all over the world and I have a great record of our favourite moments!
This is a start up that won't save you time but will help you live a richer life....lease your home on airbnb, go on holiday and let keyexchange (keyexchange.com.au) look after your guests. Make money with your empty home and help pay for your holiday.