Give your kid a boost of confidence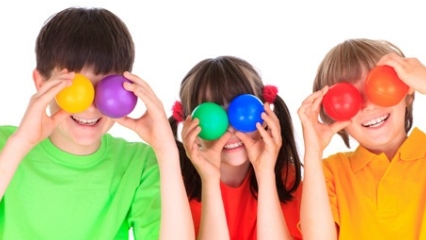 ellaslist COVID-19 update: Please note that all the information on the website is correct at the time of publication. Please check the relevant website before visiting a venue or destination for the latest COVID-19 information. ellaslist is not responsible for any cancellations or closures.
By: Lisa Wolff, ellaslist
As a child, my favourite class was speech & drama. I did ballet for a term, learnt to swim and even karate chopped for a few months. But I continued with my drama classes until year 12.
When I was young, I didn't stop to think why I persevered with drama while so many other activities fell by the wayside. Years later, I can thank my beloved drama teacher for the confidence I have today.
Why I loved drama
I loved being able to get up in front of my school class and not wilting like so many of my class mates. I learnt how to be creative and let my imagination run wild. I never enjoyed impromptu speaking but drama at least gave me the skills to speak off-the-cuff. And above all, I had so much fun in the classes.
My kids are still toddlers but I have no doubt that I'll be enrolling them into drama classes as soon as they reach the right age. I truly believe that their teachers at school just can't build the kind of confidence and creativity that drama can.
I recently spoke to Mel Duke from Helen O'Grady Drama Academy Sydney East and Inner West to find out why drama is so important for kids.
Here are my top reasons why I'll be enrolling my kids into a local drama class.
A boost of energy, enthusiasm and positivity… and fun!
Drama classes are a fun and exciting way to learn acting skills. The joy of learning drama boosts children's enthusiasm and energy levels, helping them to feel more positive about themselves and the world around them.
Kids feel empowered and more confident. The world will be their stage!
Drama classes help to unleash kids' creativity. Children will have loads of fun and all the while they'll be growing more empowered and resilient.
Improve conversation skills, listening skills and concentration skills
Communication includes listening, speaking, concentrating and interpreting body language. Children learn and practice these skills during every acting lesson.
Drama Classes promote Social Skills
In today's busy environment, social skills are often neglected or underdeveloped. Drama classes help prepare kids for the challenges of school and life in general and stimulates the development of emotional intelligence.
Develop qualities for leadership
Have a think about many of our great leaders. They all have confidence, self-belief and the ability to project their voice so their views are heard. A structured drama environment promotes the development of these qualities. Drama also teaches respect for others, an understanding of self-worth and a resilient nature.
Kids learn to think quickly and laterally
Within the security of a structured and fun environment, children develop spontaneity through the use of improvisations and other drama skills activities.
Does your child want to be a star?
Drama classes is often the first step to stardom. Many of our local tv celebs would have a background of drama classes. Many drama students go on to perform in theatre and commercials and to join specialist Performing Arts Schools.
Give your child recognition
Many drama academies award students with achievement certificates and give special recognition for other major milestones.
Enrol your child into a drama class and give them the gift of confidence. Helen O'Grady drama academy was established over 30 years ago and assists many thousands of students to fully embrace their life adventure with imagination and confidence.
The qualified teachers at Helen O' Grady drama academy help children develop essential life skills and explore their creative side through developmental drama programs while providing them with the necessary life skills to prepare them for life after school. In a Helen O'Grady drama class, your child will learn a variety of skills and techniques including role playing, improvisation, directing, voice & movement training, expression, design, collaboration & teamwork.
Helen O'Grady Drama Academy offers after-school & Saturday drama classes for children aged 5-17 years. For more information and to book a class talk to Mel Duke at Sydney East and Inner West.