Get splatted! ellaslist reviews the Color Run Sydney for families
Preschoolers
Family
Kids
Mums & Bubs
Parents Only
Teens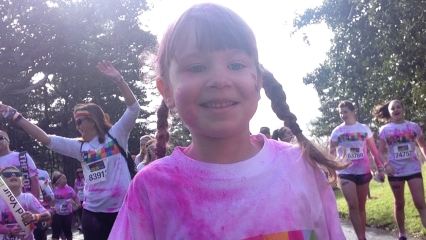 ellaslist COVID-19 update: Please note that all the information on the website is correct at the time of publication. Please check the relevant website before visiting a venue or destination for the latest COVID-19 information. ellaslist is not responsible for any cancellations or closures.
By: Yvette DuBourdieu, ellaslist
Every two weeks I choose a special mummy and me date for me and my 6 year old daughter. Last August we booked to do the Color Run – a 5km non competitive fun race held in Centennial Park where you get splattered with coloured powder at regular intervals. And we are so glad we did it – I can honestly say it was one of the best days we've ever had together and it'll now be a regular feature in our annual date calendar.
Our experience & why we loved it:


The fun and anticipation starts before the event – your ticket price includes a bag of colourful goodies – which you can pick up at a CBD location or have posted to you. The goodie bag includes a T shirt, rainbow sweatband, race bib and temp tattoos – this makes getting ready for the event very exciting. We got dropped off at the edge of Centennial Park on the most stunning winter morning and followed the rivers of crowds walking to the start area. There are a ton of dress ups going on – think rainbow fro's, long socks, big shades and fluffy tutus. We wish we had had dressed up even more.
We head towards the village area where there are already hundreds of people warming up with free Zumba classes. We're a bit late so skip that and join the entrance line called the 'chute' where hundreds of people are already eagerly waiting for the starting gun to go off. The crowd is made up of the young, the old and so many families, all ready for a great time.
The chute moves quite slowly (especially in a kid's mind). The first gun goes off and they let 500 through at a time. As you get closer to the front, the anticipation builds. The MC's on high towers are do a stellar job of energising the crowd - big tunes are pumping, they're chucking inflatables and freebies into the crowd, getting us all revved up and the atmosphere is absolutely electric. Ella can't wait to GO GO GO.
It's our turn soon enough, and she goes off like a rocket (I've done no training, and it's quite a job to keep up with her for the first kilometer)
We got Pinked


Paint station #1 is in sight – it's the pink station (couldn't be better). She scuttles back to my side not knowing how it's going to go – and then we're in it. Everyone kind of slows down to get maximum splat – 20 volunteers spraying everyone with pink powder (it's just coloured cornstarch – so perfectly safe). They all make a super effort with the kids – getting down at their height to make sure they get a good covering.
Ella is shrieking with excitement at being pink from head to toe. There are a few white spots – so she runs back in.  There follows more stations including Green, Yellow, Blue, bubbles and snow…and the game is ON, to have no clean spots left. By the fourth station there are just people rolling around on the ground to get max messy. EVERYONE is having a brilliant time – there are selfies on steroids.
By the last station – Ella is pooped so she's now on my shoulders, and we cross the finish line together hands in the air. We're given an extra packet of colour each and we set about flinging it on each other – great fun!
Off to the clean up station – where you get blasted with air to remove some of the excess, queue up for a much needed snack, sit down and a change of clothes. Smiles all round.
This is an extraordinary event for families and I would personally recommend it. The next Color Run is on Sunday 23rd August. BOOK TICKETS HERE
More TIPS for taking kids
What age is this best for?
We would say kids aged from 4 yrs will get the most independent fun from this event –  as they'll make it round the course with having to carry them (hopefully). Younger kids will love it too but bring along a pram.


Can you do it with a pram?
Yes, there was plenty of pram pushers on the race – but they will get messy. Don't take the expensive one, an old stroller is better, put the rain or sun cover on for more protection and line the inside with a towel.
Do you need to be fit?
Not at all, although it does help if you can keep up with your kids!
What should we wear?
Wear old clothes, dig out your oldest runners, get your silly on and dress up as much as possible. Bring a complete change of clothes for after and baby wipes.
Any other tips?
Don't take fancy cameras, take pics on your mobile but put it in a ziplock bag. Take a roll of garbage bags or old towels to cover your car up for your journey home. Slip, slap, slop if it's sunny. Muesli bar snacks or similar for the kids while you wait in the queue to start is a good idea to keep their energy high.
Visit the Color run website for more tips and everything you need to know.