Get Creative In The Kitchen With These 'Out Of This World' Space Balls!
Tell them ellaslist sent you:
By: Alex Harmon, ellaslist
Want to have some fun in the kitchen with your kids? Let little imaginations take flight with White Wing's Choc Rainbow Space Balls. It's from the new Make and Create™ range which we love because it empowers kids to get in the kitchen and teaches them invaluable skills such as patience, counting, self-confidence and what us parents love to see in action - creativity and self-expression. These Space Balls are fun to make and require no baking, so turn that oven off and let the kids take control of the kitchen!
We Have Lift Off
Wow, I don't know about you but this product really understands my three year old son - give him a little independence and he will come running. Throw in some rocket-themed material and he will soar!
Using the super easy kit, kids can make 12 yummy chocolate biscuit balls and then decorate them themselves with rocky rainbow "moon rocks". Or are they lunar rocks from Mars? Maybe it's a meteorite on its way from outer space to come crashing into your kitchen. The possibilities are as vast as their imaginations.
As co-captain of this mission, all you need to know is that there are a few easy steps to follow - melt, mix and then roll. Oh, and it's always nice to know that there are no artificial colours, flavours or preservatives in the product.
Are you up for a challenge?
But wait, there's more. If you take a look at the back of the pack you'll find a cut-out scene to create your own story with space-themed characters. If you've got access to a printer you can download more scenes and characters - perfect for kids with siblings who have their own space-themed vision.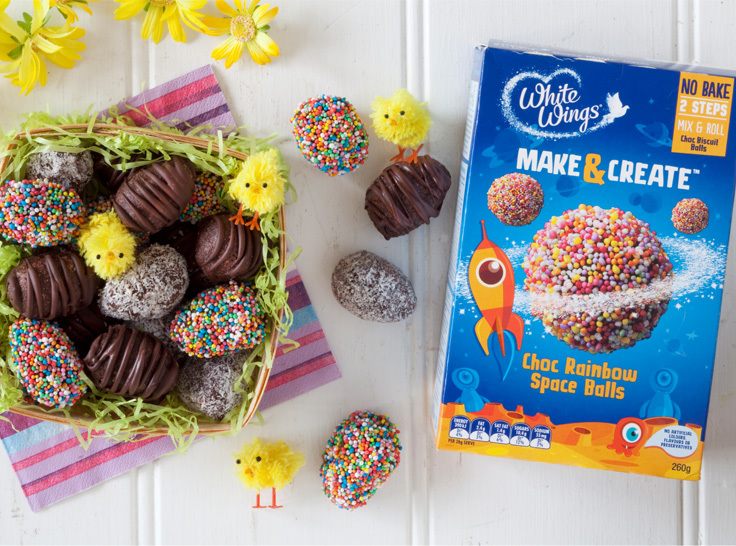 Let's Get Super Creative
Don't just limit yourself to the solar system. Come back down to earth and think about how you can twist these delicious treats into something else for a new occasion. How about yummy Easter eggs using the Make & Create™ Rainbow Space Balls as a key ingredient? Just make the shape of an egg when forming the balls, and sprinkle them with desiccated coconut or drizzle with melted chocolate. There you go, you have just made your own Easter eggs!
Halloween is just around the corner, why not roll out some spooky eyeballs or top the balls with black liquorice 'spider legs'? We bet your kids can come up with heaps of their own ideas. That's the magic ingredient in the Make and Create™ range…
The Details
RRP: $5
For more info: see whitewings.com.au
Reviews

Reviews get lonely too
Be awesome and write a review