Frozen 2 Gets A Release Date + Other Disney Movies Coming Our Way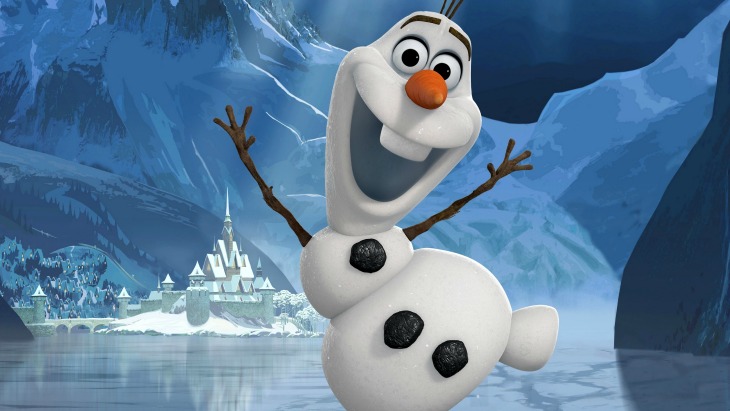 By: Phoebe Ackland, ellaslist
Mark your calendars: 27 November 2019 is when Frozen 2, the sequel to the academy-award winning phenomenon hits cinemas. Is it too early to buy pre-sale tickets??!....
Check out some of the movies that Disney have announced for their schedule up until 2019.
Source: Frozen Facebook
Blockbusters To Look Forward To
Cars 3, 14 July 2017: Lightning McQueen sets out to prove to a new generation of racers that he's still the best race car in the world.
Pirates of the Caribbean: Salazar's Revenge, 26 May 2017: Called "Dead Men Tell No Tales" in the US, so don't get confused!
Cruella, 22 December 2017: The black and white haired villain of 101 Dalmations gets her own live action spin-off, played by Emma Stone.
A Wrinkle In Time, 9 March 2018: The beloved fantasy adventure is back, starring Oprah Winfrey, Reese Witherspoon, Zach Galifianakis and Chris Pine, just to name a few.
Toy Story 4, 13 July 2018: Toy Story 3 was just so beautiful, we don't see how they could possibly outdo it!
Magic Camp, 6 April 2018: Andy (Adam Devine, Pitch Perfect) returns to Magic Camp, the summer camp of his youth, as a counsellor hoping to re-start his career.
Mulan, 2 November 2018: yet another live action remake of a classic. Fans have apparently expressed outrage over Twitter when it came to light that there are set to be some big deviations from the original storyline- including no musical numbers, a focus on martial arts and thrilling moves, and even a different love interest.
Mary Poppins Returns, 25 December 2018: live action remake, starring Emily Blunt, who we think is a perfect choice.
Captain Marvel, 8 March 2019: a female-led superhero movie that just couldn't come quick enough. Girl power!
Avengers: Infinity War- Part II, 3 May 2019: the third and final instalment.
Star Wars Episode: IX, 24 May 2019: There's so many, it's hard to keep track, but lovers and die-hards to Star Wars are sure to be super excited.
The Incredibles 2, 19 July 2019: the long-awaited sequel, which will be written by the original write, Brad Bird. One rumour is that Jack-Jack, the baby, will be the villain, and all grown up.
The Lion King, 19 July 2019: live-action from Iron Man and The Jungle Book (live action version) director Jon Favreau. The 1994 original was pretty much the Frozen of the 90s, so we hope they don't mess it up.
Frozen 2, 27 November 2019: Vocal powerhouse Idina Menze will be back to assume the throne as Queen Elsa, set to be released on the same date as the original back in 2013. Check out the cute way Kristen Bell, who voices Anna, shared the news: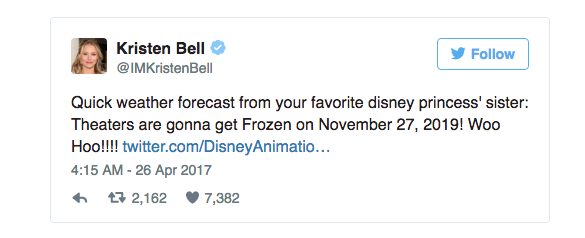 Wreck-It Ralph 2- Ralph Breaks The Internet, 21 November 2018: Said to take place 6 years after the original story, focussing on Ralph's adventures in the Internet data space.
Indiana Jones 5 (untitled), 10 July 2020: Harrison Ford will return, agreeing to take part on 2 conditions: if Steven Spielberg was involved, and if the script was really good. Apparently, that's what is happening.
Gigantic, 25 November 2020: an animated retelling of Jack and the Beanstalk
There's rumoured to be more, so we will keep an ear out!