Free Water Play Parks In The Inner West Of Sydney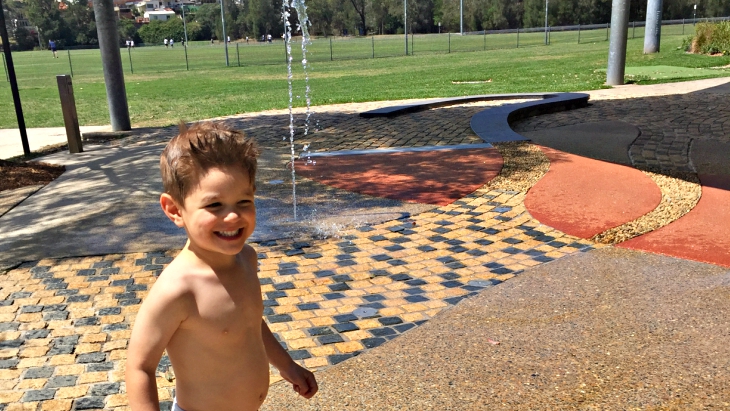 By: Alex Harmon, ellaslist
The inner west of Sydney may not be blessed with the beach but it has its fair share of water parks for kids to cool down in the warmer months. Tipping buckets, fantastic fountains and powerful jets are sure to cool down your little ones this Summer. And the best part? They're all FREE!
Top Tip: Pack as if you were going to the beach. Make sure you bring a hat and sunscreen, a spare change of clothes, maybe some waterproof sandals and a towel. Water guns will make for some extra wet fun.
Steel Park, Marrickville
You know it's the start of the warmer months when the water gets turned on at Steel Park! From October to March the Waterplay Park at this Cooks River park is the place to be. It has interactive fountains, sprinklers and misty spray elements. It has been designed to represent natural water features and also demonstrates an environmental process in action, using all aspects of the water cycle. It's safe, creative and fun for all ages. When it's time to dry off, there is also a great playground with equipment to suit both the littlies and older children.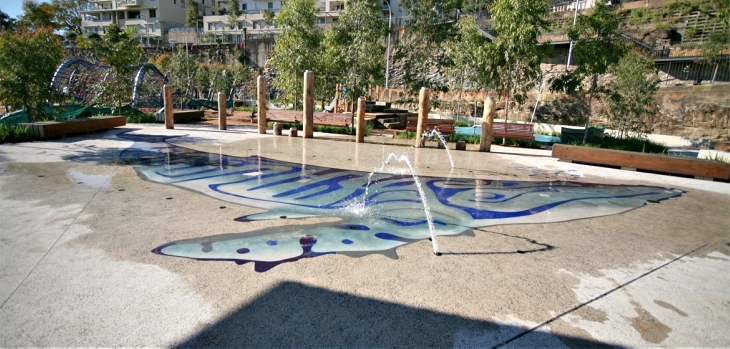 Pirrama Park, Pyrmont
While technically not the inner west, it's pretty close in our eyes. Plus we love this one so much we can overlook council zones! The extensive partially enclosed playground features traditional, creative, musical, and water play equipment with plenty of shade-though unfortunately, not over the main play areas. The sandpit is nice and big and the climbing frames are great, too. But on a hot day, the kids head straight for the water feature. Even on a cold day, the sprinklers and fountains are pretty hard to resist! There are toilets and cafes nearby and plenty of parking but make sure you bring enough change to feed the meters.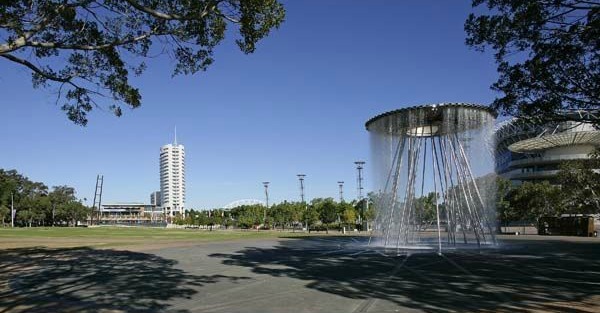 Cathy Freeman Park, Sydney Olympic Park
Remember the 2000 Olympic Games when Cathy Freeman lit the Olympic Cauldron as the world looked on? Your kids won't but they will LOVE this water park! Inside Sydney Olympic Park, this free splash zone doesn't short-change kids on the water factor. The main feature of the park is the gigantic Olympic Cauldron with cascading water which the kids will love splashing in and running (or scooting) under and out of again. Best to pack the kids' swimmers before you visit this one.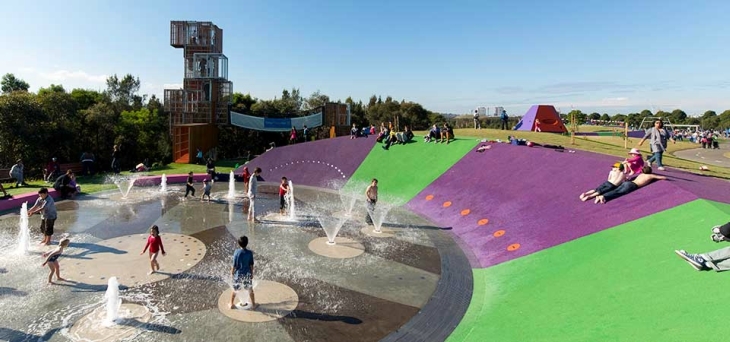 Blaxland Riverside Park, Newington
One of the newest, and dare we say, the best. The water play area at this park has water sprouting from 10am-4pm in intermittent, but random intervals - kids will love the surprise factor! The sprinklers burst open and water pours out to the delightful shrieks and laughter of the children. They will come flooding back each time this happens.

Your Own Backyard
Or balcony, like many inner westies without backyards! Sometimes it's just too hot to venture out in the car or pram. Luckily there is so much easy fun to be had with water in your own backyard. We love the Bunch O Balloons range for super-fast water balloon action - seriously, you can fill and tie 100 Water Balloons in less than 60 Seconds with the sensational self-tying water balloon toy! Other ideas include: get the sprinkler or hose out, dust off the Slip n Slide (or make your own) fill spray bottles with water and have a water battle, get buckets of water and make paper boats to sail or use cooking utensils to make your own "soup", fill up water balloons (or any balloons) and have fun throwing them at each other. The possibilities are endless! Disclaimer: try to go easy on the water, there are parts of Australia experiencing drought!