Free Water Play Parks In North Sydney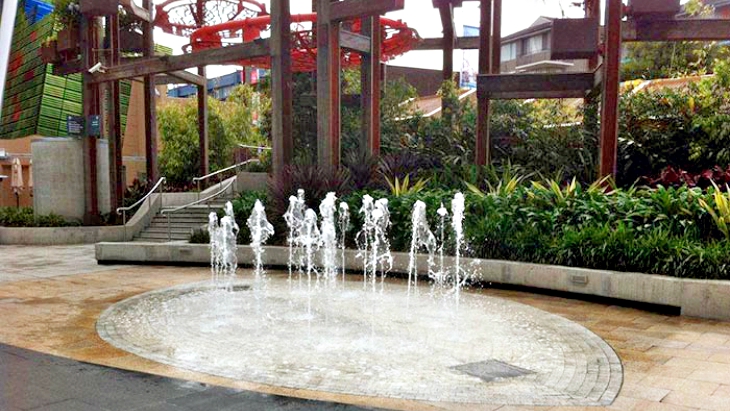 By: Alex Harmon, ellaslist
The North of Sydney is blessed with some beautiful harbour beaches but it also has its fair share of water parks for kids to cool down in the warmer months where there's no fear of what's lurking beneath the water's edge. Tipping buckets, fantastic fountains and powerful jets are sure to cool down your little ones this Summer. And the best part? They're all FREE!
Top Tip: Pack as if you were going to the beach. Make sure you bring a hat and sunscreen, a spare change of clothes, maybe some waterproof sandals and a towel. Water guns will make for some extra wet fun.
1. Manly Corso
Found in the bustling Manly mall lined with shops, pubs, cafes, galleries and street performers, children can often be found having a splash. There are a series of fountains installed into the footpath, that shoot water skyward about half a metre in the air every 30 seconds or so before dying back down. The perfect little cool-down break for Manly's hot and bothered children.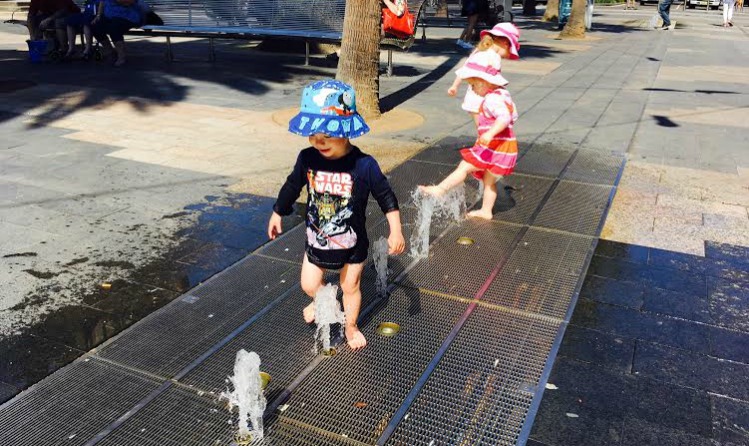 2. Taronga Zoo, Mosman
The children's Backyard to Bush precinct got a water play area in their playground- making Taronga Zoo even better (if you can believe it!). Taronga described it as "Water splashes over a sandstone frog-sculpture into a pond lined with stainless steel yabbies, ducks and lily-pads, in which pumps will be installed…so that children can control the water flow through the shallow water play area." Kids can take their shoes off and hop over rocks embossed with dragonflies, splash in the troughs being filled via taps and check out the many creature faces (in sculpture form) staring back at them. Play-time meets an animal adventure.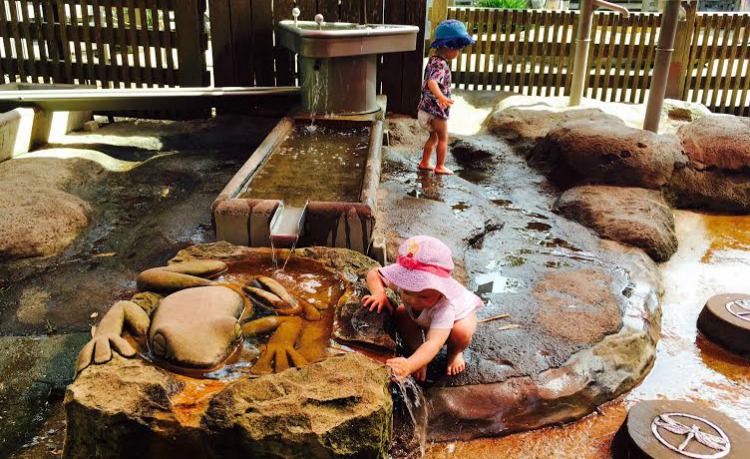 3. Top Ryde City Shopping Centre, Ryde
Another great little cool down spot on a Summer's day in-between dragging your kids around to different shops and cafes. Best to pack swimmers, towels or spare clothing if you're going anywhere near this one on a hot day- they won't be able to resist.

4. Putney Park, Putney
It's one of our favourite Sydney playgrounds, despite it's bad rap in our Dangerous Playgrounds expose. There are gorgeous landscaped paddle pools, which are shaded, shallow and great for a summer splash. The calling card of the playground, however, is the giant tube slide winds its way down the hillside. You can imagine the speed on this slide when your kids are a bit wet! For families there are barbeque facilities, picnic shelters and great paths for bikes.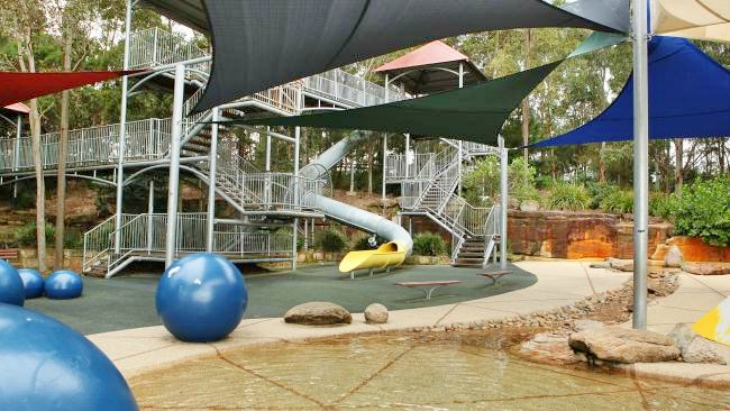 5. Your Own Backyard
Sometimes it's just too hot to venture out in the car or pram. Luckily there is so much easy fun to be had with water in your own backyard. We love the Bunch O Balloons range for super-fast water balloon action - seriously, you can fill and tie 100 Water Balloons in less than 60 Seconds with the sensational self-tying water balloon toy! Other ideas include: get the sprinkler or hose out, dust off the Slip n Slide (or make your own) fill spray bottles with water and have a water battle, get buckets of water and make paper boats to sail or use cooking utensils to make your own "soup", fill up water balloons (or any balloons) and have fun throwing them at each other. The possibilities are endless! Disclaimer: try to go easy on the water, there are parts of Australia experiencing drought!