Five Ways to Have the Ultimate Indoor Family Picnic at Home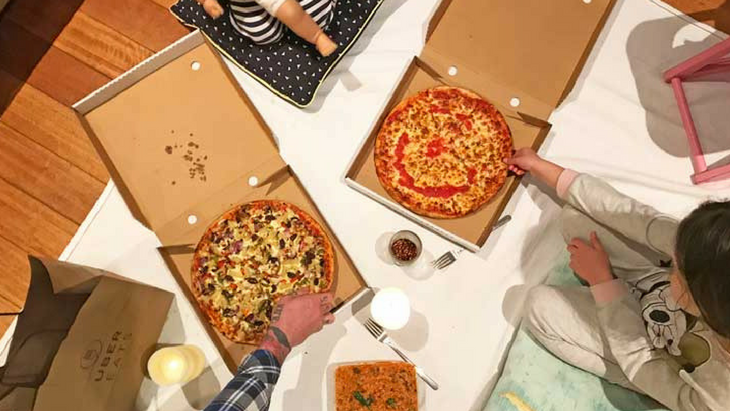 By: Stacey Roberts, ellaslist
Family Fun at Home
When the weather is cold and grey like it is in Melbourne at the moment, or you can't be bothered schlepping baskets and plates and cups and food that you can never find the right container for, why not turn your home into the ultimate picnic destination instead? You'll have everything you need and more and best of all - the weather is always perfect!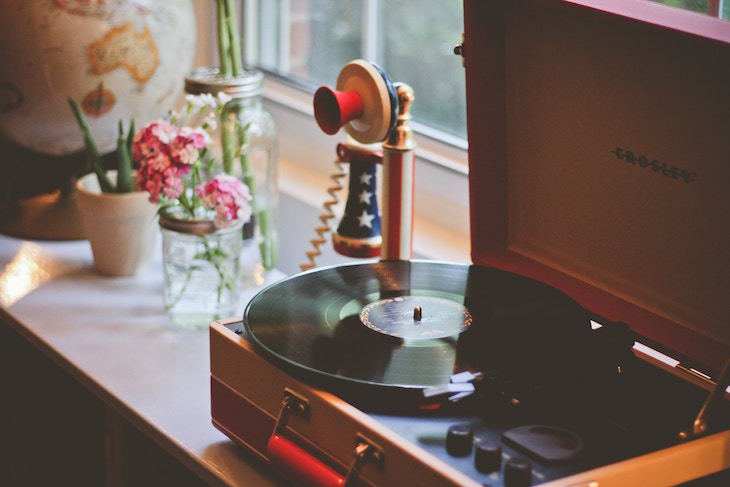 1. Set the Sounds
First: the music. If you really want to go for an outdoor feel, get some nature sounds cranking, or pick a sunny bright folk band for the best background tunes.
We love our old favourites on the record player for just the right kind of Friday night "it's almost the weekend and there's not going to be any dishes to wash tonight" vibe.
If your picnic has a theme (birthday, princess, Sunday afternoon, whatever floats your boat!) then pick the music to suit and it will make all the difference.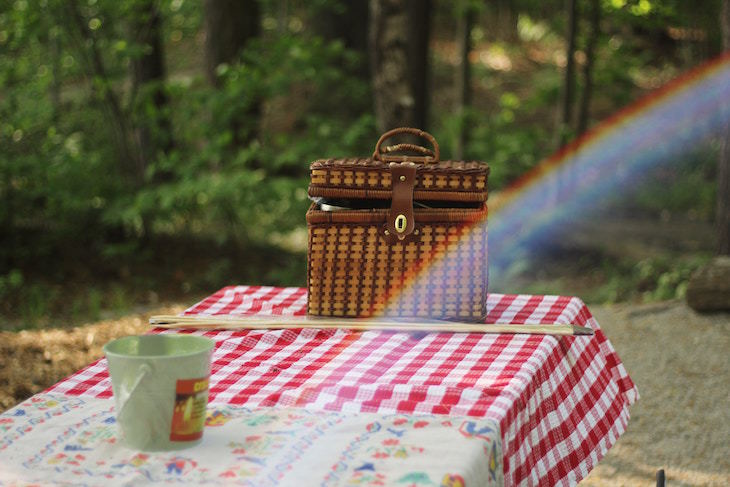 2. Set the Vibe
Let your inner decorator shine! You'll want a nice rug, comfy cushions you don't mind getting a bit of spillage on, bring all your pot plants into one room, light the candles and really transform it for the night.
You could go all out with bunting, paper parasols, fairy lights... you're only limited by your indoor party decoration imagination.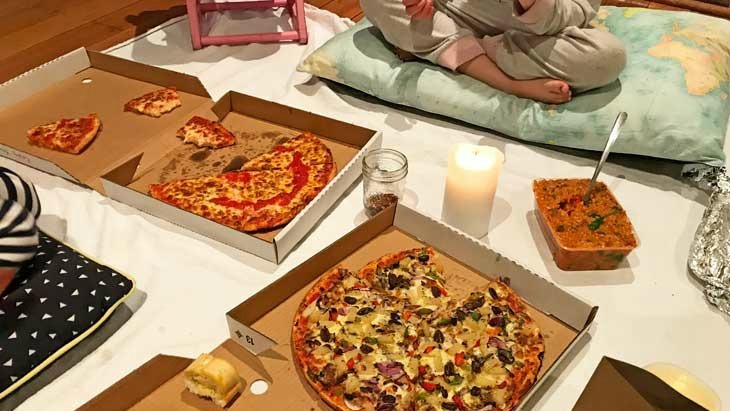 3. Set the Spread
Now is the time to drag out your best picnic plastic or bamboo-ware, cute coloured napkins, shatter-proof wine glasses, fun flatware and maybe some of the plates you bought for your last party that you never got around to using.
Have the stuff your kids ate off when they were babies stashed away somewhere? Why not bring them out for a nostalgic edge to the festivities?
Or if it's a theme you've set, grab your chopsticks and lacquered bento boxes, Chinese containers, pasta bowls, soup plates, and your grandma's favourite serving platter you really should use more often.
4. Set the Company
Invite the neighbours around, your folks, your sister and her kids, or your best friends who just had a baby to help get the party started (and maybe request they bring a dessert, then life's even easier for you, the picnic host!).
If it's just you and the fam, why not set up some fun games to play or maybe an indoor movie to watch while you eat? Card games, charades, and memory tasks are all cool things you can do that would be reminiscent of camping nights or other outdoor bonding time and will lend a layer of memories to hark back to.
5. Set the Food
After a huge week of long days, there's nothing better than kicking back on a Friday night while somebody brings dinner to you - so why not send out for something delicious via UberEATS?
A quick app scroll and dinner could be on its way to you without you having to lift a finger other than the one to tap your order - absolute bliss for all tired parents!
The kids especially love watching the progress of the little car on the UberEATS app screen as it drives through the neighbourhood streets to your house with your picnic haul on board.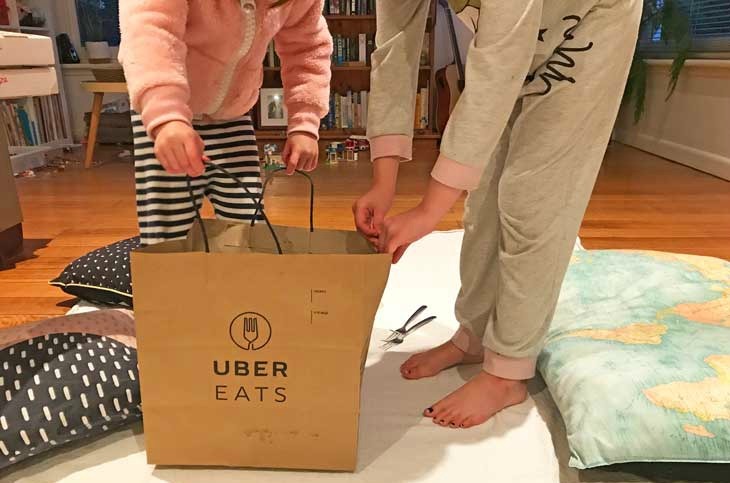 We love a pizza party, so we ordered some Italian. Being a vegetarian family, it was great that the app accommodated us, and showing what exactly on the menu was vego-friendly. While the girls dug into the margarita pizza, the husband and I ummed and ahhed over whether to start on the vegetarian pizza or the vegetarian risotto - we decided to start on one each and then swap (with me hogging the tiramisu later on the couch with a good book, a fantastic end to a really great night). The food was delicious and had gotten here in time so that it was still hot when it arrived, which as every dinner delivery recipient knows, can totally make or break your meal.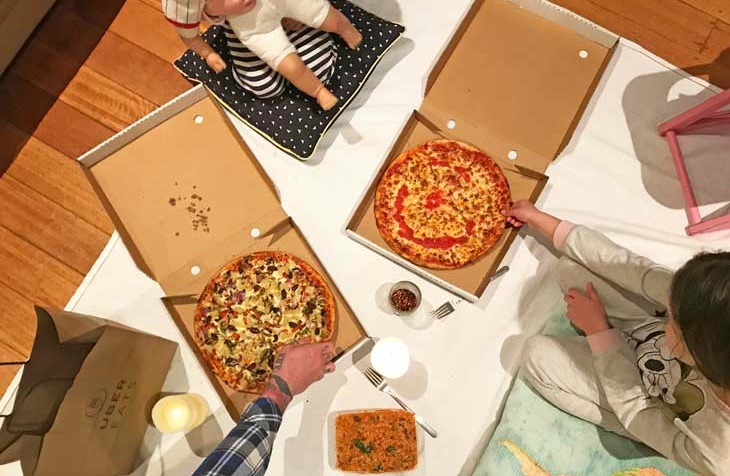 The ellaslist Verdict
All in all, our floor picnic scored a 10/10 what with the good food, the good company, and the dance break that happened somewhere between the second and third pizza slice. Both girls brought their baby dolls to the festivities and declared that even they had a good time.
I'm already looking forward to next Friday night and a repeat performance of our UberEATS picnic party!