ellaslist Reviews: Featherdale Sydney Wildlife Park - Calling all Party Animals!
Mums & Bubs
Toddlers
Preschoolers
Kids
Family
All Ages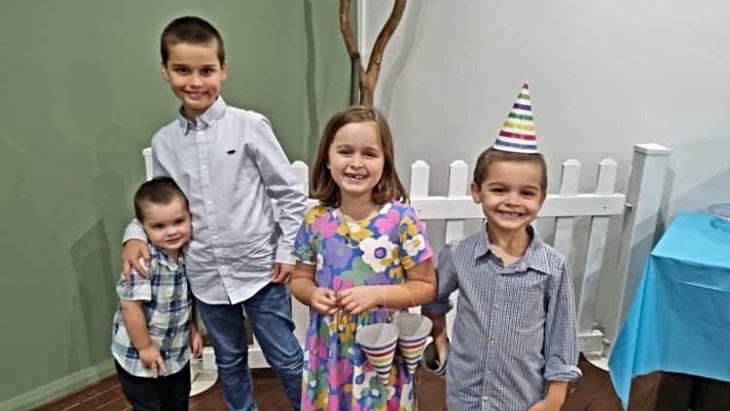 Some of the best memories I have as a youngster are the birthday parties I went to and the ones I had myself.
Of course, in my day, there wasn't a huge amount to choose from: McDonald's, Pizza Hut or a BBQ at home. Now, as a parent, I feel the pressure of hosting something grand, memorable and within budget when it comes to celebrating a special someone's Big Day. In reality, it's really hard to find a place that keeps all of these things in mind, and can also juggle the challenge of keeping all the kids active, interested and feeling as though they too are just as special as the birthday boy or girl. I also want my guests to leave feeling ready to party next time around and brag to others that they had the best time ever! Too much to ask? No!
Look no further ellaslist reader, because Featherdale Sydney Wildlife Park has YOU covered, as well as all of your party animals.
Calling all Party Animals to Featherdale Sydney Wildlife Park
Leave It To The Animal Experts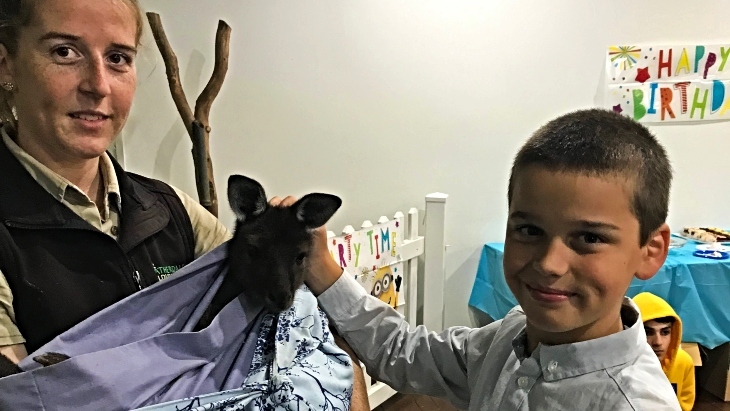 Who has the time these days to organise a kid's party? I'm looking for a place where they will hold my hand throughout the whole process, allow me to customise as little or as much as I wish, and give me the flexibility to cater for little kids as well as adults.
As a busy parent, I really just want someone else to stress and worry about the finer details and organise the whole event for me. I actually would like to enjoy myself at my own kid's event, talk to my family and new friends, and possibly even treat myself to a cheeky slice of cake.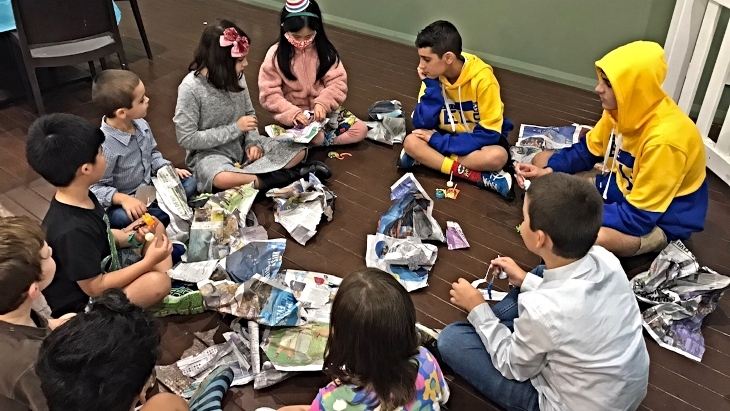 I've organised plenty of events in my lifetime but, still to this day, I always feel nervous that I'll forget something important. But from the moment I made contact with Featherdale's Guest Experience Co-Ordinator (Julie), I felt less stressed and confident that all my whims would be taken care of, and that my son would have a wonderful and memorable day.
Get Ready To Party!
Next, an email arrived with a Featherdale-themed party invitation template and a booklet outlining the three birthday packages on offer for 1-10 kids (at three different price points depending upon the added extras you prefer). There are additional costs for extra adults or kids if you wish to host a larger event. You can also personalise the event, food options and extras that can be purchased. Plus, you can purchase hot and cold food platters and items through Featherdale, or you can BYO.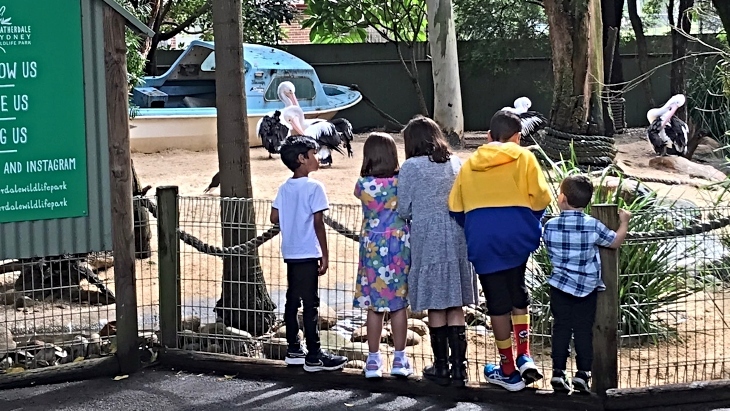 All Featherdale Sydney Wildlife Park party packages include entry into the park, 90 minutes in a private party area, yummy food, your personal dedicated party host and many, many more inclusions. Some of the added extras are filled-to-the-brim party bags and a private supervised animal encounter with a Featherdale Keeper.
Parties That Parents Love Too
The highlight of the day for me was my very own dedicated party host (Sally). As soon as I walked into my huge private party area - the Drovers Hut - everything in the room had been set up and the tables were beautifully set. An area for the cake was ready, as were sections for the food, and there was plenty of room to play party games, mingle and stretch out, which exceeded my expectations.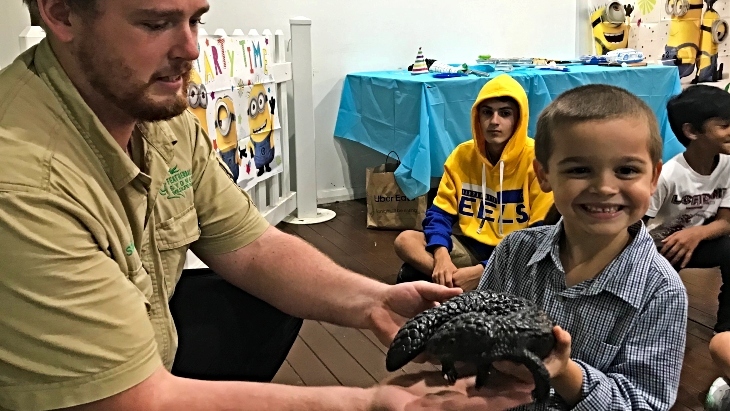 I was impressed and excited and felt like a welcomed guest at my own kid's party. Sally, metaphorically speaking, held my hand throughout the whole event. She guided me and kept time, so we didn't miss out on anything. Food was served piping-hot within moments upon arrival. Kids didn't hold back either as they scoffed and stuffed themselves with delicious treats. Our party host would, could and did it all, and no matter what it was that I asked, she smiled and remained as 'cool as a cucumber'. She also cleaned everything up when everyone left. It was great service.
Getting Up Close And Personal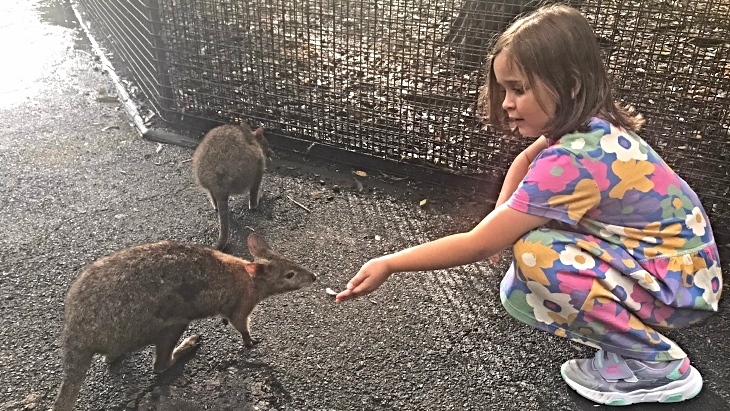 We had two private supervised animal encounters, and an option to preselect the animals we wanted from a huge list for the day. This was an amazing experience for the kids! Sure, I had organised a few awesome party games, but once the kids saw Ned the Reptile Keeper walk in with a Shingleback Lizard and Britney the Mammal Keeper hold 'Yarra' the Kangaroo Island Kangaroo, the kids were captivated. This was the highlight of the event, and I can't recommend this highly enough!
Every kid got to have their photo taken, and touch and caress the animals as though they were welcoming new pets home.
For us, this was a triumph of a birthday party, filled with plenty of memories and wonderful experiences amongst Featherdale's furry friends and our party animals.
Well done Featherdale. Until next time!
Find out everything you need to know about Birthday Parties at Featherdale Sydney Wildlife Park.
The Details
Where: Featherdale Sydney Wildlife Park, 217-229 Kildare Road, Doonside
When: Open daily 9am-4pm
Cost: All-inclusive party packages start from $595 for up to 10 children
Check out More ellaslist Reviews
A World of Fun Awaits at Darling Harbour
Peppa Pig Invites you on the Ultimate Sydney Adventure
A Luxury Kid-friendly Hotel in the Heart of Sydney
Have you signed up for our newsletter? Join ellaslist to get the best family and kid-friendly events, venues, classes and things to do NEAR YOU!