What's On for Kids and Families On Australia Day 2016
Preschoolers
Family
Kids
Mums & Bubs
Teens
By: Serina Hajje & Phoebe Ackland, ellaslist
Whether you're a newly arrived Australian or one that's been calling this sun-burnt country home your whole life, Australia Day is everyone's day. More importantly, we recognise the traditional owners of this land and every Aboriginal and Torres Strait Islander, whose history and culture is one of the oldest and richest in the world.
This Australia Day there's plenty to keep the kids happy with heaps of FREE events and fun activities across Sydney. So what's happening in your area……
City of Sydney
Sydney Festival

There are quite a few exciting and very different events happening at the Sydney Festival that'll entertain the whole family.
The Ephemeral City
The man-built cardboard city is toppling down on Australia Day, so catch a glimpse of this thrilling city and its demolition.
Where: Main entry via Nawi Cove, Barangaroo Reserve Hickson Road, Barangaroo
Cost: FREE
More Info Here.
Soul of Sydney
A family dance is hitting the floors of Meriton Festival Village. This family-friendly party is all about having fun and being inclusive. Join in and sway to a mix of musical vibes from classic Soul Train lines, poppers and lockers, flash-mob dancers, and non-stop feel-good funk vibes.
Where: The Bandstand and DJ Booth, Hyde Park North, Entry near Archibald Fountain
Cost: FREE
More Info Here.

Boxwars At The Cutaway Barangaroo Reserve
Free workshops for creative young minds! Let your imaginations run wild and build your own miniature cardboard city!
Where: Main entry via Nawi Cove, Barangaroo Reserve
Cost: FREE
More Info Here.
The Beach At Barangaroo
This Australia Day, for a cool change, hit The Beach at Barangaroo as part of the Sydney Festival!
The shoreline will be transformed by the installation of 1.1 millionrecyclable polyethylene balls that make an ocean without sharks, gently lapping against a 60-metre wide shoreline free of sand.
Where: The Cutaway, 1 Merriman St, Barangaroo
Cost: Some sessions FREE; $15/person for All ages ticket session and 18yrs+ session
More Info Here.

Darling Harbour

The Australia Day Spectacular at Cockle Bay will be one to remember! This is a celebration of our national identity culminating with an exhilarating symphony of light, sound and pyrotechnics. Get ready for live music, a working vessels parade NSW Australian of the Year recipients and welcome to our newest citizens, as well as fireworks at 9pm.
Where: The Cutaway, 1 Merriman St, Barangaroo
Cost: Some sessions FREE; $15/person for All ages ticket session and 18yrs+ session
More Info Here
Ferrython

Part of Sydney Festival. Ferrython is one of Australia's most popular and iconic FREE events. Cozy up on a picnic blanket on the foreshore and watch our beloved ferries as they venture from Circular Quay to Shark Island and then back to a glorious finish at the Sydney Harbour Bridge. Exclusive to 2017: book your seat on a competing ferry!
Where: Circular Quay
Cost: FREE
More Info Here.
Tall Ships Race

For ship lovers, head to the sea at 1.00pm as Sydney's Tall Ships lead a fleet of historic vessels from Bradley's Head to the Harbour Bridge. This year you'll see the beautifully restored 19th Century square rigger, the James Craig
Where: Darling Harbour
Cost: FREE
More Info Here.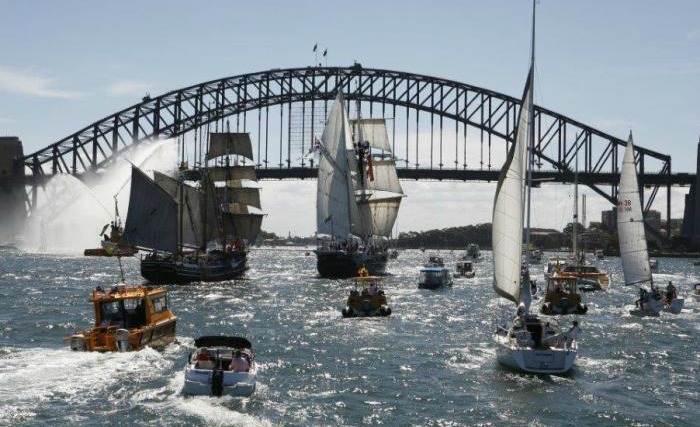 In the Sky- Red Berets, Qantas and Russian Roolettes

Be amazed as action erupts in the sky! Enjoy a spectacular sky show with a hive of activity as a squadron of Russian Roolettes and the Red Beret's perform a parachute display over Sydney Harbour.
Where: Sydney Harbour
Cost: FREE Entry
More Info Here.
Wonders Of The World

Little LEGO lovers will be mesmerised when a world of masterpieces, 'Wonders of the World' comes to the Sydney Exhibition Centre this Summer! You'll see over 50 inspiring and never-seen-before models created by the famous Ryan 'The Brickman" McNaught- the only certified LEGO professional in the southern hemisphere. Check out the Empire State Building, Arc De Triomphe, the Great Wall of China and other world-famous landmarks without leaving Sydney! Families will get a chance to get their hands on some LEGO, and also learn about history & fun LEGO facts. This is a world class experience not to be missed.
Where: ICC Sydney Exhibition Centre, 14 Darling Dr, Sydney
Cost: Junior (4-16yrs) $25, Adult $35, Under 3 go FREE
More Info Here.
Barangaroo Reserve

Bring a picnic, find a beautiful patch of lawn, and spend the day at Barangaroo Reserve watching the parade of spectacular Australia Day events on Sydney Harbour. Celebrate our shared history with the traditional owners through a series of local performances, catch the finish of the Ferrython under the Sydney Harbour Bridge as well as live entertainment in the evening.
Where: Barangaroo Reserve
Cost: FREE
More Info Here.
GIO

Oz Day 10K Wheelchair Road Race


The world's best wheelchair athletes are gathering at The Rocks in a race around the historic streets of the city.
Where: The Rocks
Cost: FREE
More Info Here.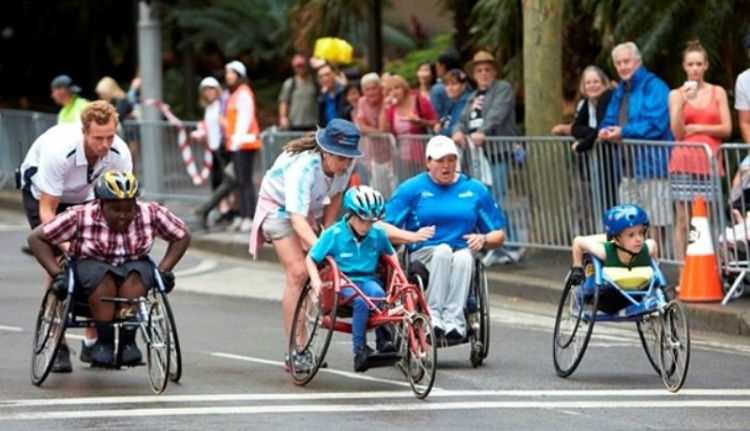 The Rocks

Feel the soothing sounds and sumptuous foods of an afternoon of FREE live music and a street festival. There will be a sensational crop of up-and-coming, home grown artists, oversized Jenga, chess and LEGO, market stalls and delicous food available.
Where: The Rocks
Cost: FREE
More Info Here.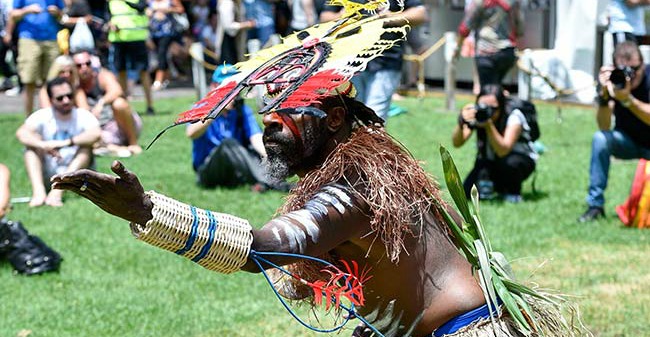 Greater West
Australia Day in Parramatta

It's an all day party in Parramatta, kicking off with Sydney's biggest hot air balloon sky display and 80 metres of BBQ! Car lovers will get to see the iconic CARnivale which boasts more than 600 vintage cars. Enjoy kid's rides and a dedicated Kids' Crescent with story time, wild jungle face painting, parade of creatures, a drumming workshop, sing-alongs, magic workshops, giant bubbles, boat making workshops and a HEAP more! Then as the sun sets, join the party as the best in Aussie rock and pop hits the stage followed by a massive fireworks and pyrotechnic spectacular!
Where: Parramatta Park
Cost: FREE
More Info Here.
Australia Day In Penrith

Celebrate the City's rich history and diversity with a range of fun and FREE activities at Penrith's Australia Day celebrations in 2017! There's something for people of all backgrounds, ages and interests including a traditional Aussie BBQ, bush dancing, bush bands, blacksmith and spinning demonstrations, old fashioned games like tug-o-war, sheep dog demonstrations and historical displays to name a few. Come along with the whole family and celebrate who we are and where we live!
Where: Jamison Park, Jamison Rd, South Penrith
Cost: Free
More Info Here
Australia Day in Campbelltown

The celebrations are split between Hallinan Park and Koshigaya Park with two different programs set up for the whole family. At Hallinan Park there'll be free games and activities for the kids and free morning tea and a BBQ. Koshigaya Park has a jam-packed evening of free entertainment and activities, including a spectacular fireworks display at 9pm!
Where: Koshigaya Park from 8am & Hallinan Park from 12pm
Cost: FREE
More Info Here.
Eastern Suburbs
Australia Day at Coogee Beach

For one day only, Coogee will be transformed into a family-friendly water park. Enjoy a number of FREE water slides and inflatable amusements.
Where: Goldstein Reserve, Coogee Beach
Cost: FREE
More Info Here.
Australia Day at Little Bay

Come and grab a FREE Aussie picnic and learn how to bush dance! Listen to some cruise-y tunes from a bush band that will be playing iconic Aussie songs all day. There will be plenty of free family friendly activities such as bush dancing lessons, native reptile and animals display and Australian art and craft activities.
Where: 2 Coast Hospital Road, Little Bay
Cost: FREE
More Info Here.
Inner West
Sydney Olympic Park

No matter where you live, it's always worth a day trip to the Olympic Park. Families can enjoy FREE carnival rides, crafts, sports clinics for kids, an animal farm and pony rides as well as a full entertainment program. There will be a screening of Red Dog: True Blue.
Where: Cathy Freeman Park, Olympic Boulevard, Sydney Olympic Park
Cost: FREE
More Info Here.
Australia Day Celebrations at Marrickville

Join in the Inner West's celebrations with a picnic and feast on local delights. Share a picnic rug with your family and ejoy the tonne of fee activities on the day.
Where: Enmore Park
Cost: FREE
More Info Here.
Northern Beaches
Australia Day Big Breakfast, Dee Why

Join the biggest event on the northern beaches! Families can meet together around a sizzling BBQ brekkie whilst kids enjoy giant water slides and inflatables (until 2pm), camel rides, a Thong Throwing competition and more!
Where: Dee Why Beach
Cost: FREE
More Info Here.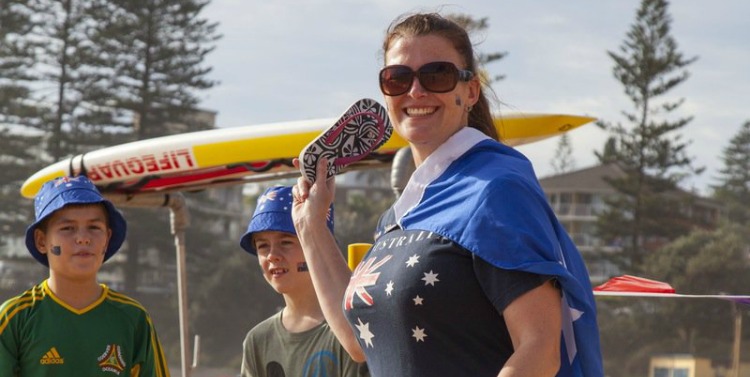 Australia Day at Narrabeen

Spend your morning at Narrabeen with a BBQ breakfast, and a great stage program. Grab your thongs and chuck them in the thong throwing competition and kids can enjoy face painting and bouncing on a jumping castle.
Where: Narrabeen, Berry reserve
Cost: FREE
More Info Here.
North Shore
Ryde Australia Day Family Concert and Fireworks

It's a little family amusement park at Ryde this Australia Day! Dress up as your favourite Aussie icon and enjoy the rides, hot food and live entertainment. As the sun sets, grab a blanket and have a picnic as the fireworks go off.
Where: North Ryde Common, Cnr Twin and Wicks Roads, North Ryde
Cost: FREE
More Info Here.
Australia Day
BBQ

By The Bridge


Traditional Aussie BBQ at Milson's Point! Enjoy barbequed cuisines from around the world, live music and free entertainment from 10am-4pm. Get up close with native animals, learn circus skills, and enjoy the view.
Where: Bradfield Park
Cost: FREE
More Info Here.
Australia Day Backyard Baaa-becue

A full day of fun! Live shows, sheep shearing, food stalls, Aussie animals, sheep dog trials, games and amuseument rides followed by pool entertainment and activities at Ku-ring-gai Fitness and Aquatic Centre
Where/When: Bicentennial Park, Prince of Wales Drive, West Pymble; 10.30am-1.30pm
Cost: FREE
More Info Here.
North West
Australia Day At Bella Vista Farm

Celebrate everything that makes our nation great at The Hills Shire's massive all-day Australia Day party at Bella Vista Farm, 35 minute drive from Sydney's CBD, on 26 January. The day will include show-stopping performances from your favourite Aussie artists, rides, free kid's activities, delicious street food, roving performers, Australiana displays, and much more. Start the day with a classic sausage sizzle underneath the Bunya Pines, before dropping by the kid's zone, where the littlies can enjoy face-painting, balloon twisting, pop-up library and live entertainment. Finally, head to the main stage for a special kids show then listen to toe-tapping performances by Ricki-Lee, Chris Sebastian and Alfie Arcuri before watching a spectacular fireworks display.
Where: Bella Vista Farm, Cnr Norwest Blvd & Elizabeth MacArthur Drive
Cost: FREE
More Info Here.
The Australiana Pioneer Village, Hawkesbury

There will be mini train rides, carriage rides, pony rides, hay wagon rides, an animal nursery, dunny races, displays, demos, live entertainment and heaps of traditional Aussie fun.
Where: Rose Street, Wilberforce NSW
Cost: $5 each
More Info Here
South West
Australia Day Pool Party

There's a lot of free family-fun entertainment at this pool party. Listen to DJ tunes, bounce on the jumping castles, splash down the water slide, hop into the water balls, enjoy a sausage sizzle and cool down with free ice blocks!
Where: Canterbury Aquatic & Fitness Centre, Phillips Ave, Canterbury
Cost: $1-$2 entry donation, FREE activities
More Info Here.
Australia Day Celebrations, Liverpool

Liverpool's Australia Day celebration will commence with a Citizenship and Awards Ceremony followed by non-stop entertainment on the main stage including Sneaky Sound System, kids stage and arena area as well as a variety of family activities, rides, stalls and fireworks!
Where: Woodward Park, Liverpool
Cost: FREE
More Info Here.
Sutherland Shire
AUSFEST

- The Shire's Australia Day Festival


Sutherland Shire Council is gearing up for an Australia Day like no other in 2017! To celebrate 20 years of its flagship Australia Day community event, Council is proudly presenting AUSFEST, a free two-day festival with a huge line up of local and international entertainment. You will see a welcoming ceremony for new Aussie citizens, concerts, fireworks displays, art installations, kids activities, community BBQ's and so much more!
Where: Sutherland Entertainment Centre, Blaxland Oval & Cronulla Park
When/Cost: Thursday 26 & Friday 27 January 2017/FREE
More Info Here.