Families Will Enter A Magical Winter Wonderland at Parramatta Winterlight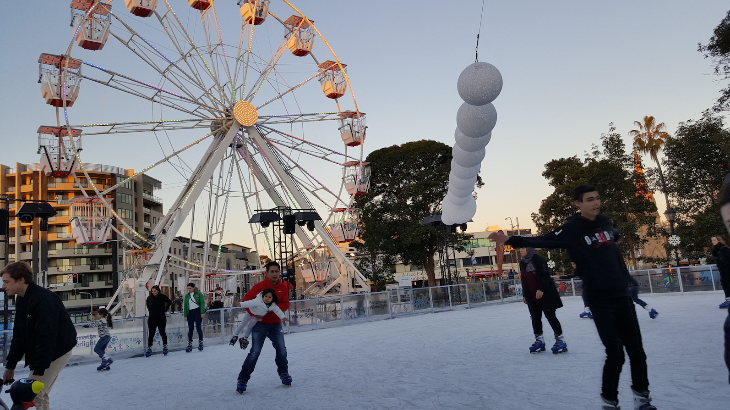 By: Christine Huynh, ellaslist explorer
Location: Winterlight Parramatta, Prince Alfred Square
Dates: Friday 30 June to Sunday 16 July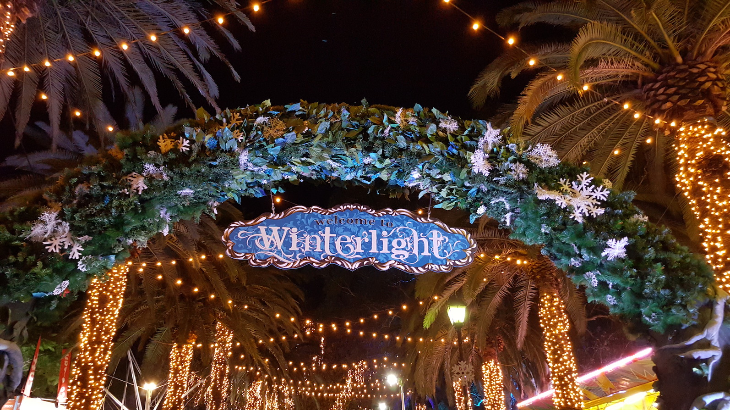 Looking for a magical experience right in the middle of Sydney? Something for the kids and the entire family to enjoy during school holidays? Winter here in Sydney is mild, so just rug up and enjoy the outdoors - check out Parramatta Winterlight!
There is a relaxed vibe during the day as you see families stroll around and enjoy the crisp winter air. At night, the entire area is illuminated and creates a lively, upbeat vibe.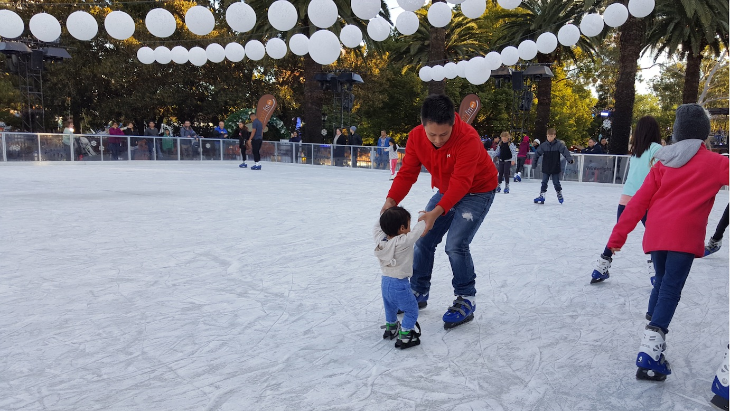 There is plenty to do for the entire family. When we went to Parramatta Winterlight, we saw families (young and older), extended families and large groups of friends meeting up at this one spot. Some of our favourite attractions are:
Two open air ice rinks - one for the entire family and one dedicated to small children
An elevated ice slide that you can toboggan down
Live entertainment such as stilt walkers
An illuminated Ferris wheel
Amusement park rides
Winterlight ice shows with champion skaters
Food markets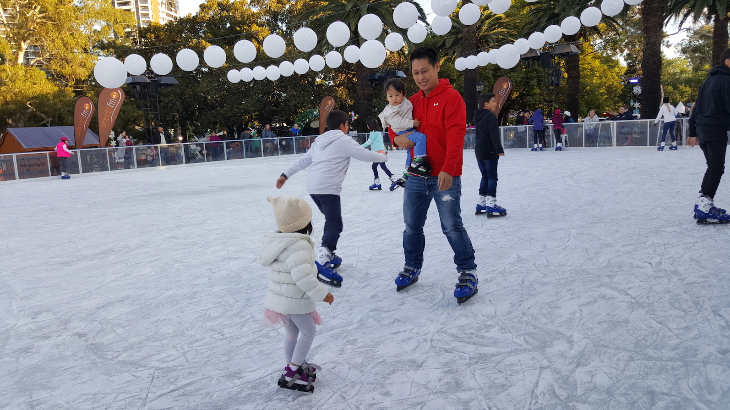 Our Highlights
Ice skating: We loved the Winterlight ice skating package. This included a family pass to the Smoothfm ice skating rink for myself, my husband and two kids. We all had a blast. The two toddlers were fitted with special attachments their shoes so that they could skate on the ice. They seemed to have no fear and made a great attempt at copying the ice skaters around them. The best moment was when my 3.5-year-old saw the champion ice skaters practising their moves and she excitedly screamed: "I want to be just like them!". Book your skate times here as tickets sell out quickly!
Elevated ice slide: This slide is not for the faint-hearted. It was so quick to accelerate that your automatic reaction is to scream with delight. My husband and daughter loved it! Check out details here.
Winterlight ice shows: This was my favourite and also FREE activity! On Friday and Saturday nights, they close off the Smoothfm ice rink to showcase the talents of champion ice skaters. The show we attended took on a Disney theme. Each performer took on the persona of characters such as Belle, Gaston, and the cast of Frozen as they skated effortlessly around the ice rink. They twisted, turned, jumped and twirled their way through a magical performance. My kids smiled from ear to ear but even the adults around me were amazed. Check out all the other entertainment options here.
The food: The food market at Winterlight is reminiscent of a winter market in Europe, but without the sub-zero temperatures and snow-covered ground. The food options are limited but are crowd pleasers- pizza, soups, bisques, gozlemes, chocolate, bratwurst and Dutch pancakes. What I noticed was that it was a great area for bringing the family together for a meal and chat. There was soft music in the background, outdoor heaters to keep the chill away and enough space for the kids to run around and let off steam. It was the perfect ending to a nice day out at Winterlight! Check out the food selection here.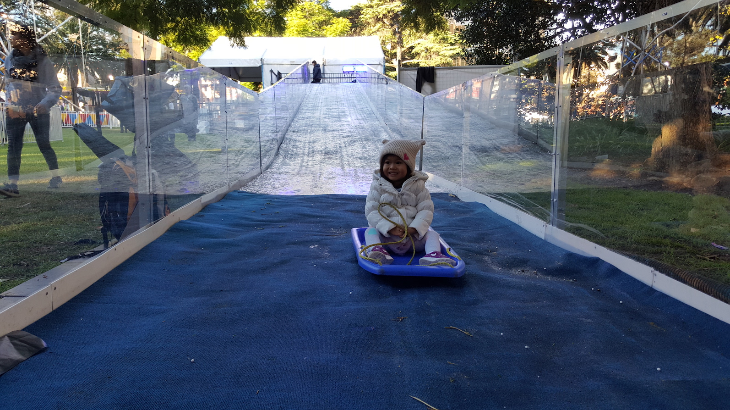 Getting to Winterlight
Public transport:

There are a number of bus stops located close to Victoria Road next to Prince Alfred Square, or
You can walk 10-15 minutes from Parramatta Station or bus interchange.

Parking:

There are a number of car parks located near Prince Alfred Square
If you don't want to walk far, my suggestion is to park for 6 hours at the Novotel for $10. We basically crossed the road with our double stroller to get to the entrance of Winterlight. It was handy when we were leaving in the evening.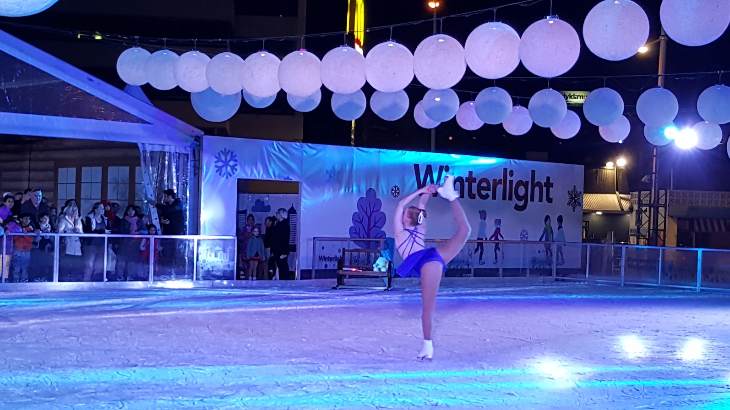 Top Tips
Ice skating is popular and can get booked out quickly so try to book your tickets in advance!
If your child is a little scared to go ice skating, hire a penguin for $8 and they will soon be zipping around the ice rink faster than a champion ice skater! My kids used the penguins but also were happy to hold our hand in the main ice rink.
If you want to check out the Winterlight ice show, go to the viewing deck 15 minutes before it starts to get a good viewpoint. There is a ramp so that you can also bring your stroller. It's located just past the ticket booth.
If you want to save some money, go on a Tuesday, they have 2 for 1 deals right across the day!
To buy tickets or find more information, go to the Winterlight Parramatta website. Enjoy!!