Face-Painting & Fairy Floss At The Fantastic Blackbird Cafe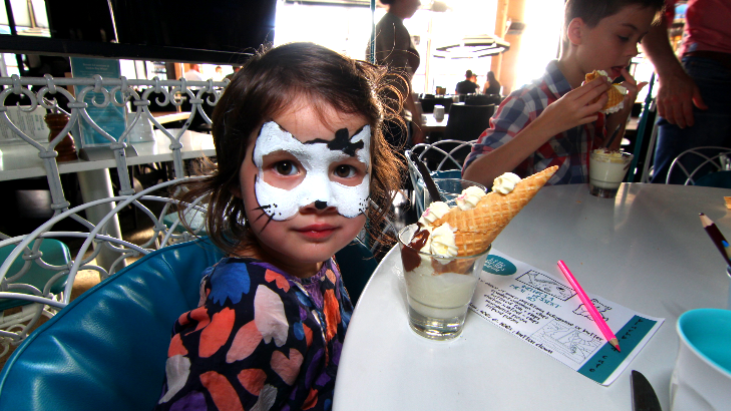 By: Susan Schwager, ellaslist
There is something special about Darling Harbour. We always have an amazing day every time we go. Even on a Winter's day the sun always seems to be beaming along Cockle Bay so it's no wonder it draws such a crowd with tourists! It has some seriously great places to take the kids such as the Aquarium, Wildlife Sydney Zoo, a visit to the Maritime Museum, Tumbalong Playground and Monkey Baa Theatre, to name a few.
It's usually a full day when we go to Darling Harbour and the best way to recharge is with lunch! So how do you decide what's great when there is so much choice? For us, with Miss 3, it needs to be kid-friendly. We chose Blackbird at Cockle Bay for a late lunch. Blackbird is on the balcony level at Cockle Bay with a balcony facing Darling Harbour. We were seated in a gazebo inside and the friendly waiter brought out the colouring pencils and paper along with the menus. There is plenty of space to park prams and enough distance from other tables that we weren't afraid to be noisy or bothering other guests.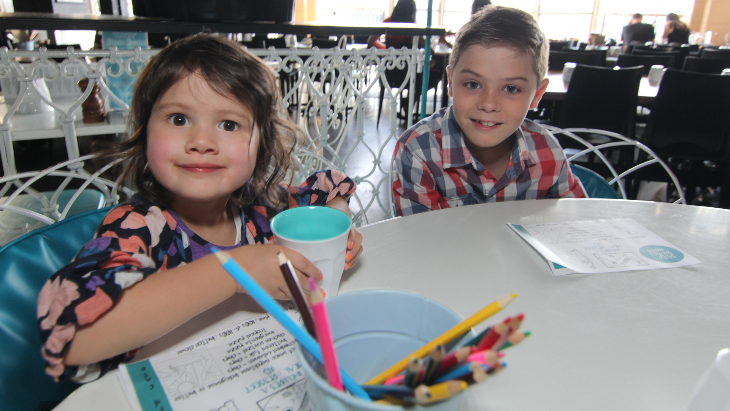 Delicious, Kid-Friendly Dining
The kid's menu had pizzas, schnitzel and chips and pasta, and best of all includes free dessert! The service was prompt and our entrees came out with the kid's lunch which is perfect. It gave us the opportunity to have a bite while helping Miss 3 have her lunch. She ordered the spaghetti with butter and Mr 11 ordered the chicken schnitzel with chips. Great size kid's portions, enough to feed a tween as demonstrated by Mr 11. We ordered some arancini balls and they were perfect! Crispy on the outside and light and cheesy in the centre. The wedges were also a big hit!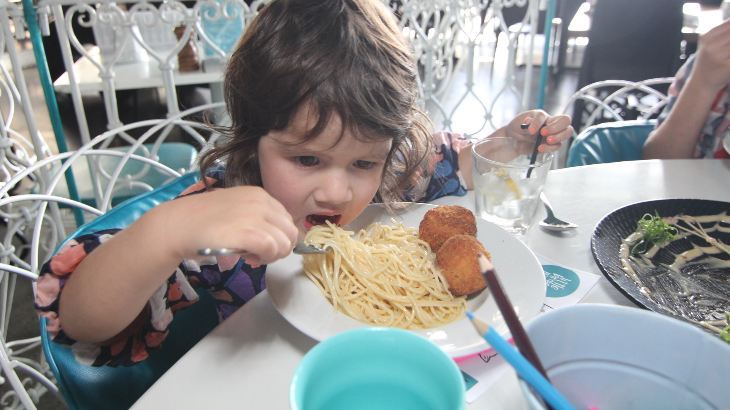 Food You'll Want To Photograph!
We didn't have to wait long for our mains, and they came out piping hot. The adults had the pumpkin ravioli and Barramundi served on a bed of saffron rice, fennel salsa & cherry tomato. Both dishes were amazing, well cooked, well-seasoned, flavoursome and beautifully presented.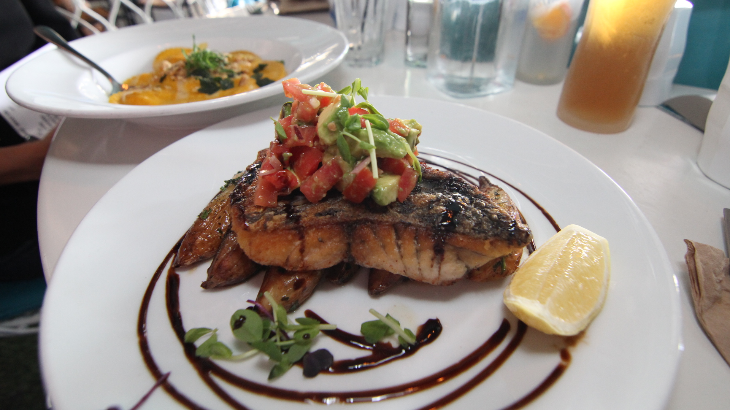 Dessert was an upside down waffle ice cream cone in a glass. It had small dollops of cream on the outside of the cone with smarties on top and chocolate sauce. Both kids were very excited and really enjoyed taking their time working out the best way of eating it!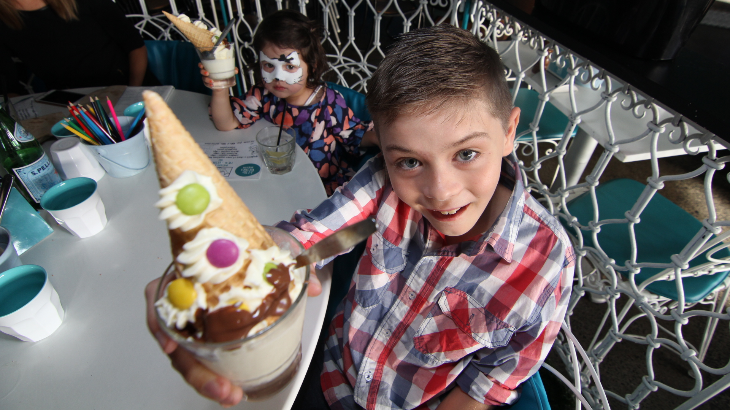 Fabulous Facepainting & Fairy Floss
The same waitress asked Miss 5 to go over for face painting. She had never had her face painted before so was a little nervous. The waitress was fantastic with her assuring her it would only be a slight tickle on the face and the waitress stopped midway to show her in the mirror which she just loved!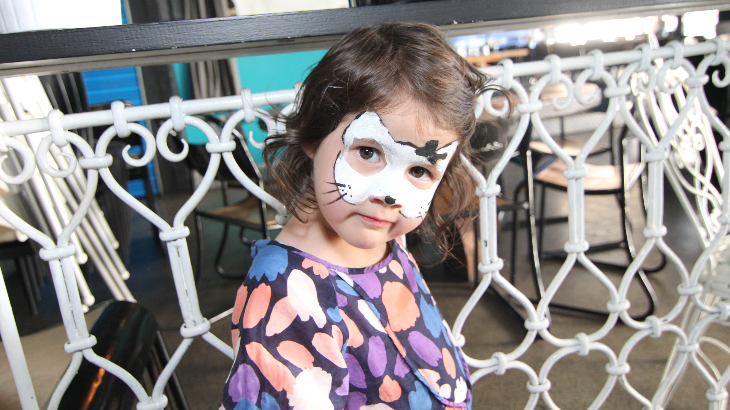 To top off a great meal the kids were treated to fairy floss. Watching in anticipation as it forms on a stick, nothing beats fresh fairy floss!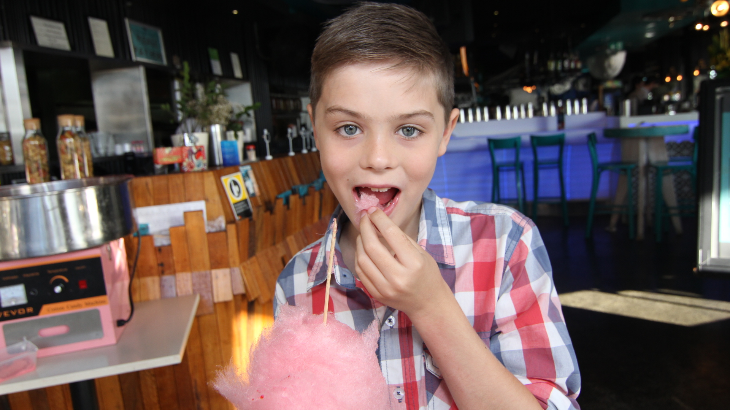 In a Nutshell
What makes it kid-friendly: welcoming & friendly staff, activity packs, kids menu, face painting, awesome desserts and fairy floss!
The Food: Fantastic - beautiful food!
Value-for-Money: Good - high-quality food with generous portions, lots of options for smaller and bigger appetites.
Weekends and Birthdays: FREE face painting and fairy floss for kids every weekend from 12-4pm. You can also book a pizza making birthday party for them to learn how to make dough from scratch.
What You Need to Know
Opening Times: 7 days, 11:30am till late
Highchairs: Yes
Phone: (02) 02 9283 7385
Address: Balcony Level Cockle Bay Wharf, Harbour St Sydney
More Info: Visit their website
Reviews

Reviews get lonely too
Be awesome and write a review