ellaslist's Coolest Winter School Holiday Tips
Preschoolers
Family
Kids
Mums & Bubs
Parents Only
Teens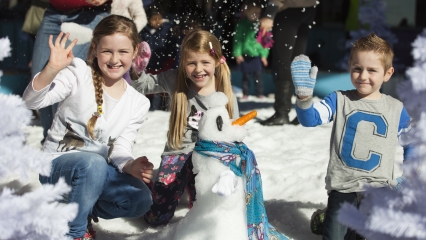 By: Lisa Wolff and the ellaslist team
I hate school holidays! Shock! Horror! Well if you've got three kids under 4, you would hate it too. All the kid's classes shut down and are replaced with school holiday camps and workshops that are mostly for 5 years and older. The playgrounds are over-run with boisterous big kids knocking my littlies all over the place. The indoor playcentres are crazy busy, community playgroups are generally closed and the libraries pause their toddler activities.
So I turned to my colleagues at ellaslist to see whether I was alone in my sea of school holiday dismay.
It was certainly a mixed bag of thoughts but after sharing our ideas, I was brimming with activities I could do with my kids. OK, maybe school holidays aren't so bad after all.
Here is what the ellaslist team will be up to during the Winter Break (and our HOT TIPS):
HAYLEY
How old are your kids? Twin Boys Aged 7
What do you love and hate about school holidays?
Love not having to do school lunches and enjoy connecting with the kids again instead of barking military style instructions in attempt to get out of the house on-time every morning.
There really is nothing I hate about the holidays. I have learnt from previous mistakes and plan in advance.
What will you be doing with your kids during the holidays?



We are so excited about the opening of Attractivity in Alexandria just in time for the holidays. Its a brand new Indoor Entertainment Space with Bowling, Climbing Ropes, Dodgems, Lazer Games and so much more – we've not seen anything like it before and it will be perfect with this unpredictable weather.


The Brick Man Experience – to 2 × 7yr olds this will be better than a Candy store and will no doubt fill in a day at home too with some Lego creativity.


Taking in The Witches at Monkey Baa Theatre – kids love all the Roald Dahl books so this will be a big treat!


Braving the elements with some camping/cabin at Umina Beach (75 minutes from Sydney means we're close enough if the weather gets too bad!)
Hot planning tips?



Check out ellaslist to make sure we get all the best events and activities!


Connect with friends to make sure nobody misses out – the more the merrier!


Leave a couple of days free to make the most of last minute opportunities – a bit of spontaneity never goes amiss.
Anything a bit different/unique to share?
IKEA's always a good fill-in! Free play for the kids and an hour's peace when it all gets too much.
ANNIE
How old are your kids? 9 & 6
What do you love and hate about school holidays?
Love:



Having a job that I can reschedule so I get to spend some down-time with my kids every holidays


Not having to pack two 3-course lunches every day!


Discovering parts of Sydney I've never been – I have a particular friend who is v low-budget and we make a point every holidays of doing a mini 'road trip' with all the kids in her huge people mover – eg to a national park


The kids get to participate in activities they enjoy but don't necessarily have the time to do during term – eg tennis camp, Council workshops.
Hate:
The glorious vision of a lazy vibe is never the reality!
What will you be doing with your kids during the holidays?



We're doing a one-night staycation in the

CBD

and I want to go and explore The Rocks.


Definitely a mini road trip with friends (see above)


Always go see a new movie (I ordered tickets

FREE

with my FlyBuys points – do this every holidays)


Try and do a couple of these walks
Hot planning tips?



I'm a huge planner – because of work I like to map out a decent number of activities every holidays, leaving a day here and there for freedom/last minute/inspiration


Order

FREE

movie tickets via FlyBuys a month out from holidays
YVETTE
How old are your kids? Entertaining 2 girls aged 6 & 2.
What will you be doing with your kids during the holidays?
OK – 14 days to fill – this is what we have so far:

NATALIE
How old are your kids? My little Alton is 2.5 years old
What do you love and hate about school holidays?
Everything gets busier!! But I love that there's more kids for Alton to play with at the park. He loves hanging out with the "big" kids! Also love that there is even more stuff to go and see in this wonderful city.
What will you be doing with your kids during the holidays?



Checking out the tram from Loftus Train station into the Royal National Park and hire out one of the boats at Audley Boat Shed.


I'll definately be heading down to Cool Yule Festival for all the amazing stuff like the snow pit, stars on ice, the giant inflatable slide, and story telling for one of our all time favourite books, Lost and Found.
Hot planning tips?
Ha ha NOT my forte!
Anything a bit different/unique to share?
Miranda Westfield Shopping centre has loads of cool free activities on this School Holidays so I'm going to attempt to do some long needed clothes shopping and let Alton go wild. They've got loads of really cute stuff – from Cat in the Hat themed cupcake decorating, Sing along with Mr Peabody & Sherman and even an Ice skating rink… all totally free of charge!
LISA
How old are your kids?
I have 3 Under 4 years
What will you be doing with your kids during the holidays?



We'll be taking advantage of events that are geared up for the school holidays.
We're starting with a visit to the family-friendly winter festivals, including Cool Yule at Darling Harbour, Bondi Winter Magic and Winter Garden at St Mary's Cathedral. There will certainly be heaps for our little ones to love.


Our eldest is booked in for the Banksia Buddies workshops at Centennial Park which caters specifically for 3-5 year olds – yay! There's are even Banksia Babies classes so our youngest ones won't be left out.


We're also treating the kids to Hi-5 Live and Disney on Ice.


Paint and Play is the perfect playgroup for kids of different ages and

BONUS

, it is open during the school holidays!


If it rains, we'll be heading straight to the museums – our favourites are the

MCA

, Powerhouse and Australian Museum.
Hot planning tips?
Using ellaslist as a guide, I make a long list of playgrounds, kid-friendly museums, activities and playcentres. I then take a look at the list in the evening and pick out what we will be doing the following day. This way we eventually get to tick off everything on our list.
Anything a bit different/unique to share?
We are kicking off the holidays with a visit to Manly's Sealife Sanctuary. The Octopus Garden is open just for the school holidays and our kids are so excited to meet an Octopus and learn everything they ever wanted to know about one of the ocean's coolest creatures! The new Shipwreck Shore zone is a soft play place filled with slides, climbing obstacles and tunnels. The kids will love the fun activities and may even see a few undersea creatures along the way.
ARIELLE
How old are your kids? Twin boys aged 2.5
What do you love and hate about school holidays?
HATE - The playgrounds are sooooo much busier and there are lines everywhere – even at the local cafe when awaiting babycinos!! Going to a shopping centre and finding parking easily – FORGET IT!
LOVE - Less road rage at school drop off times and less people in Sydney – so much more mellow around this time.
What will you be doing with your kids during the holidays?
Lots of bike riding, skateboarding, harbour beach frolicking on sunny days, play-dates with friends and creating a veggie patch in the garden.
Hot planning tips?
With toddlers it's all about going with the flow and planning our days around the weather. Having our beach and bike riding stuff, gum boots and rain-coats packed and ready to go near the door or in the car, with pre-prepared snacks and lunch ready for a day on the go means we're prepared for anything Mother Nature throws at us!
Anything a bit different/unique to share?
As we are a beach loving family, we love finding a wind-pocket at a secret Harbour Beach, getting the umbrella in the sand, buckets and spades out, surf boards waxed and acting like it's summer!
Reviews
Hi Kate, we have so many ideas on offer from Winter School Holiday Tips to the Best of Winter and Rainy Day ideas, as well as Sydney Road Trips with the Kids and more! Have a look around ellaslist for these articles and more ideas in our "Places" section. Thanks! Arielle @ellaslist
Hello there, I'm looking for places to take my 13 month old and hubby from tomorrow Friday the 26th of June onwards. Would you be able to help me ? Kind regards Kate Dawson