ellaslist visits The Brick Man Experience - a Lego Extravaganza
Preschoolers
Family
Kids
Mums & Bubs
Teens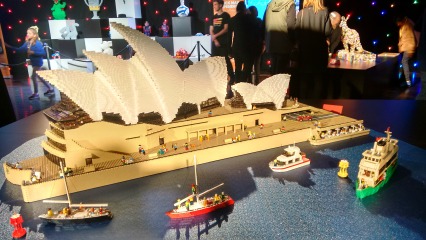 By: Hayley Christofi, ellaslist
Most kids love Lego at some stage in their lives, a whole heap of big kids do too! Whilst I don't have the patience or time anymore, I do enjoy watching the kids and marvelling at their capacity for concentration.
A visit to The Brick Man Experience, at Town Hall, Sydney takes Lego to a whole new dimension, with almost 6-million lego bricks used in this world-first spectacular. Ryan McNaught, a Lego certified professional builder has spent seven years of labour and love putting these amazing pieces together. Just to put this into perspective one of my kids pointed out that this was his whole lifetime!
There are some truly magnificent masterpieces, including some familiar Australian icons. Sydney Opera House was one of our favourites with incredible detail seen inside the 3D exhibit, including hanging chandeliers. See if you can spot the guest appearance from a Star Wars character. Other highlights were a Pirate Ship, a shiny red sports car and Elvis the Helicopter.
Interactive LEGO Activities
The Brick Man Experience offers plenty of opportunities for the kids to get involved with various interactive stations around the exhibition. One in particular required the kids to complete a coloured coded 10 × 10 Lego  tile which was then placed on a giant wall of over 4,600 Tiles and 460,000 Lego pieces. Rumour has it the image will show a famous Australian landmark when completed sometime this week. Another area encouraged kids to write their name on a Lego brick that will be included in a masterpiece.
Master Builders in Training
There's also a dedicated space for master builders in training, and a space to display their creations. With thousands of coloured bricks to choose from it really is a lot like a candy store. We spent around 45 minutes in this section and it was clear that the kids were truly inspired by Ryan McNaught's exhibits. My 7-year old is a real fan of Lego, but more often than not sticks to the instruction book and follows each step meticulously. It was amazing to watch him tap into his own creativity and produce his interpretation of a scaled down version of Elvis the Helicopter.
We spent a fabulous few hours at The Brick Man Experience and even more hours at home newly inspired by the experience.
Tickets for the Brick Man Experience – June 27 – July 12, 2015 on sale now. Visit brickmanexperience.com.au for more details and to buy tickets.