ellaslist Spices things up at Parramasala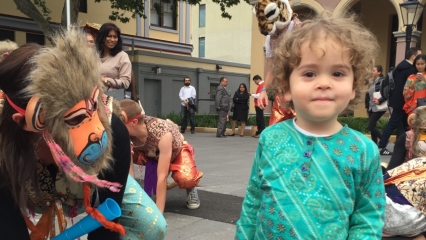 By: Stephanie Boyle, ellaslist explorer
Parramatta and its surrounding suburbs are home to a large number of people who have migrated from or have their roots in the sub-continent. Harris Park in particular has a vibrant Indian culture and streets are filled with Indian and Pakistani restaurants, sweet stores and supermarkets.
A visit to Harris Park is a wonderful opportunity to immerse your children in a different culture and to have them experience a different cuisine. The best time of year to visit though is, without question, October, when the Sub-continental community and Parramatta Council hold 'Parramasala'.
What is Parramasala?
Parramasala is a joy filled celebration of Sydney's diverse ethnic mix. It's been running now for six years and we've been each time. It seems to get bigger and better with each year that passes. Originally taking place in Church Street Mall, the festival has recently moved to Prince Alfred Park in Parramatta and also Marion and Wigram Streets in Harris Park.
Cultural Mixing-Pot
This year's festivities kicked off on Friday 23 October with a huge opening parade running from Church Street Mall all the way to Prince Alfred Park. The parade was filled with representatives of a large number of communities that call Parramatta home, not solely the Indian, Pakistani and Sri Lankan residents. There were Lebanese drummers, Bolivian dancers, representatives from the local Indigenous community, a NSW Police Force marching bands and even a train of camels!
The parade commenced at the very family friendly time of 6:30pm and was completed by 7. It's always a thrill for children to be out in the evenings and it's extremely pleasant to get out in the fresh air at twilight in spring and summer.
My three year old's favourite experiences were the camels, the men and women in bejewelled turbans and costumes that made it appear as though they were riding elephants and the cheeky monkeys (people dressed up in wonderfully bright monkey costumes that frolicked and created havoc right the way up the street). We had an absolute ball – the colours, sounds and even the smell (of the Indigenous smoking ceremony) were a wonderful feast for the senses.
Spice up your weekend
The festival runs for three days, from Friday to Sunday. Saturday is all about food. From 5pm until 10pm, the streets of Harris Park are due to come alive with the 'Flavours of the World' spice market.
On the main stage, a variety of musical and performance groups representing a broad range of regions within India will keep everyone entertained, and, if your little ones are anything like mine, get them moving too! Indian music has a highly infectious rhythm which gets even the shyest children to shed their inhibitions.
While the spice market is where we're planning to spend our evening, there are also a lot of really fantastic activities taking place in Parramatta throughout the day commencing with a 'morning masala'- described as a mixture of yoga, meditation and ancient vocal practices and continuing on until 10pm with a masala market, spice garden, camel rides, an Indian tourism pavilion and films.
Sunday Magic
On Sunday, there are a range of activities taking place in and around Prince Alfred Park including an exhibition at Old Government House, a Bollywood flashmob and 'Magic Carpet'- an exciting sounding family activity combining Afghani and Sudanese arts and crafts including kite making, hair braiding and a photo booth where children can dress up in traditional Afghani clothing and have their picture taken. I know where we'll be spending our Sunday!
Take a look at Parramasala's website for a complete list of activities and the times and treat your family to an adventurous weekend.