ellaslist Skates on Ice at Winter Garden
Preschoolers
Family
Kids
Mums & Bubs
Parents Only
Teens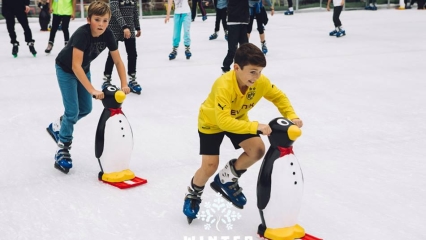 By: Sarah Stores, ellaslist explorer
Sydney tries to do winter. It really does. The mornings and evenings are crisp and cold and we occasionally get rain. But where Sydney really struggles to capture the spirit of winter is during those gorgeous sunny days. Sydney is far too dazzling and blue to really suffer from a good case of the winter blues. This is one of the many reasons I love Sydney.
We are never going to get snow and the water on the ground is never going to freeze over. This is why I'm a big fan of the pop-up ice skating rinks across the city. I can show my little ones what it is like to be in real Winter without the inconvenience of slushy sidewalks. Sounds perfect.
Last Friday I ventured out to the Winter Garden Festival at St Mary's Cathedral to take my kids ice skating. We had pre-booked our tickets and skating aids and we parked right underneath the ice skating rink. So far so good. But I was yet to convince Master 4 that putting on slippery shoes and walking on ice was a good idea. To my relief he loved it.
Getting our Skates On


The check-in process and gathering shoes was well organised and we were soon ready to go. We were booked in for the first session and my 18-month old escaped out for a walk on the pristine ice before any of the skaters could carve it up. He genuinely seemed amazed by this new surface he he was walking on.
It had been a cold morning but was warming up by the time we got into town and with the warmth from skating we were quickly down to just our tee shirts. See? Sydney doesn't do winter well.
The skating itself was great fun. The music gave a nice party atmosphere and for the price of the ticket you got 50-minutes of skating time.
Master 4 stayed on his skating aid for a while and enjoyed the speed whilst I pushed him around. By the way, I can't skate but I can pretend that I can when leaning on one of those skating aids. Fake it till you make it, I say.
Master 18-months was a bit confused by the idea of staying on the skating aid and so he mostly walked beside me on the ice. After 20 minutes or so we took a rest and enjoyed a delicious hot chocolate from the pop-up Lindt Café.


I then took Master 4 back on the ice and he found the confidence to master Mum's trick of leaning on the skating aid and skating by himself. He was very proud of his achievement whilst I desperately tried not to fall over as he was now using 'my' skate aid.
HOT TIP
Don't be deterred about taking young kids. Both of mine had a fantastic time. Although if your kids are wriggly escape worms like mine I would recommend an adult for each child.
More Winter Garden Fun
After the skating we headed down the hill to discover the rest of the Winter Garden Festival. There was a great little games section which was free and also a giant slide ($6 a ride and lots of fun). For older kids there was zorb balls and snowboarding machines.
A really great morning out! I would highly recommend heading there before it finishes up this Sunday 19 July.
The Other Stuff:
You can find more information and pre-book your tickets here: http://wintergarden.com.au/sydney/
We parked right underneath the skating at Enacon Parking which is $10 flat rate on the weekends.
I'm Sarah. A Mum of two over-active boys and a self-confessed Sydney tragic. I love living in, exploring, discovering and experiencing all Sydney has to offer. Having lived in Sydney most of my life I have loved exploring it as a grown up but now as a Mum I'm relishing re-discovering my passion for Sydney through the eyes of my boys. I love planning and executing our regular family outings to explore new things in Sydney. As a working Mum, it is a great way for our family to stay connected and have fun together. I would love to spend all my time travelling the world but given I live in the real world of mortgages and jobs we see exploring Sydney as tourists as the next best thing. You can follow our adventures on
Instagram at SarahStores