Visiting Taronga Zoo for Vivid with Kids 2016
By: explorer team, ellaslist and Sarah Stores, ellaslist explorer
We sent 2 of our ellaslist explorer families to Taronga Zoo to see the spectacular lights of Vivid- Sarah visiting with her two children under 5, and Annie with her 10 year old daughter. Here are their experiences and top tips!
Sarah says: Our family loves Vivid and we have been friends of Taronga Zoo for several years so we were very excited when it was announced that Vivid would be at Taronga this year. As photos of the light sculptures were leaked, our excitement grew. We attended the zoo on the opening night of Vivid- and it didn't disappoint!
The Atmosphere Doesn't Disappoint

Although I love Vivid there are several aspects to the Circular Quay Vivid that require it to be a military planned event when attending with kids, but none of these issues were present at the zoo. It was not overly crowded, there was lots of parking, there was a mix of interactive exhibits, light sculptures and fun light shows but above all it was the atmosphere that was amazing. The zoo had a wonderful buzz to it, all the kids were having an amazing time and the adults knew they were seeing something special. There was something very special about being at the zoo after dark.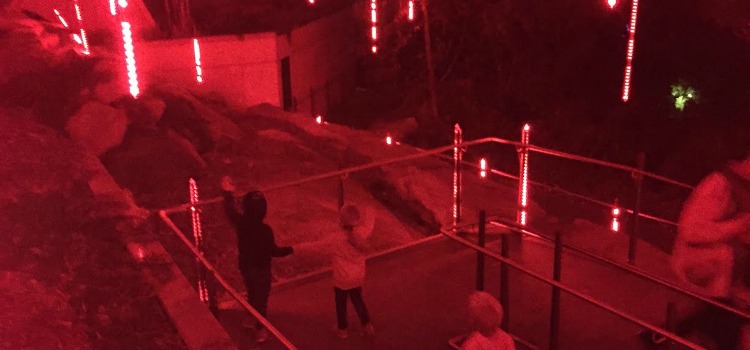 We arrived just before it opened at 5.30 and easily got a park in the Zoo's car park. As soon as we saw the entrance building to the zoo we knew we were in for a special night as it was lit up with a spectacular show that was reminiscent of what is usually reserved for the (very) crowded spectacle on Customs House in Circular Quay. Through the gates and we were immediately greeted by a huge bilby and some gorgeous monkeys illuminated in the tree tops.
Light Walk Full of Exciting Creatures

We queued for only a few minutes to get our ticket checked and then we followed the light path through the zoo. It lead us past disco lights, more hidden monkey trees, echidnas eating ants, a crocodile opening and closing its mouth, laser beams and all sorts of other illuminated magic. There were several highlights including the tiger, elephant and sun bear in the main plaza of the zoo and the giant but very friendly spider hidden away near the lemurs. The animal lanterns painted by thousands of school kids created a wonderful atmosphere. The occasional glimpses of the lights from the city were breath-taking, especially outside the giraffes, and I will remember the view looking back over the giant corroboree frog to the Harbour Bridge for a long time.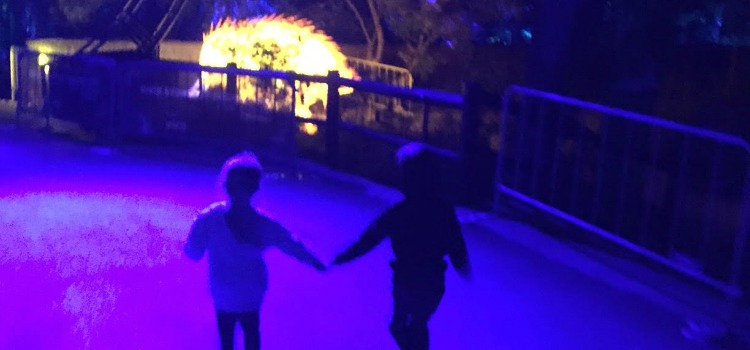 Yes, you have to buy tickets ($17) whereas the Circular Quay events are free but it was a no stress, manageable crowds event where the kids could run, explore and have fun without you worrying them being crushed or lost in the crowds.
Annie says: If you're looking for a bite sized Vivid experience without the massive crowds, then drive up to Taronga Zoo and see thousands of light installations. We left Coogee by car at 5.10pm and were home just after 7.30pm! We did do it quickly though – we were with an impatient 10 year old, desperately searching for the frog lantern she'd made at school, one of 1,400 on display!

A Stress-Free Experience

Overall I just couldn't believe, with all the anticipated crowds all over all the precincts, that this was such an easy experience. I was dreading it.
No crowds, no lines, there are staff from Taronga Zoo everywhere to help guide you in and there was easy $7 parking onsite. In fact you can't access the zoo after hours from the bottom entrance. They have the route mapped out for you so you won't be spending ages fiddling with maps – all the staff were super friendly and welcoming.

Lighting Up Taronga Zoo

You start off with a specific route, which makes the entire experience really easy! You'll follow a stunningly illuminated trail of ten giant animal multimedia light sculptures, representing ten critical species from Australia and Sumatra. Gawk at the Asian Elephant to the vividly coloured Corroboree Frog, and then spot the echidna, cicadas, chameleon and even a funnel-web spider. As part of the Zoo's Centenary celebrations thousands of small lanterns made by NSW school students were hung! It was all pram routed too, so there were lots of strollers and prams around.
The sky train is not worth the extra expense – it's a fun ride, but the vast majority of the zoo is black at night. You get a cool glimpse of the Harbour Bridge and some of the zoo installations, but really it's just a quick up/down.

Helpful Tips


It wasn't really clear anywhere that you could

NOT

enter the zoo via the bottom entrance so you can

NOT

catch the ferry there for Vivid. The skytrain just does an up/down loop starting at the top.


There isn't a huge amount of food on offer but coffee/sausage rolls, that sort of thing.


Don't go expecting to see any animals (as I did) as

ALL

animal enclosures are closed/off limits. You might just get a glimpse of a giraffe if you're lucky.


My friend and I agreed it was lovely to stroll through the zoo on a fixed route rather than muddling around with a map and kids going in 5 different directions.


The zoo, as always, is very pram friendly and the path takes you back up a hill at the end so a pram may be worthwhile.


You can do the circuit as many times as you like. I recommend going through twice as we spotted a few new and interesting things the second time around.


Parking is a flat fee of $7 in the car park.
Cost:
$21.95 – Adult
$16.95 – Child (4-15 years)/Concession.
Children under 4 years of age are FREE.
Reviews

Reviews get lonely too
Be awesome and write a review