ellaslist's Mini Testers Try Out Make & Create Choc Rainbow Space Balls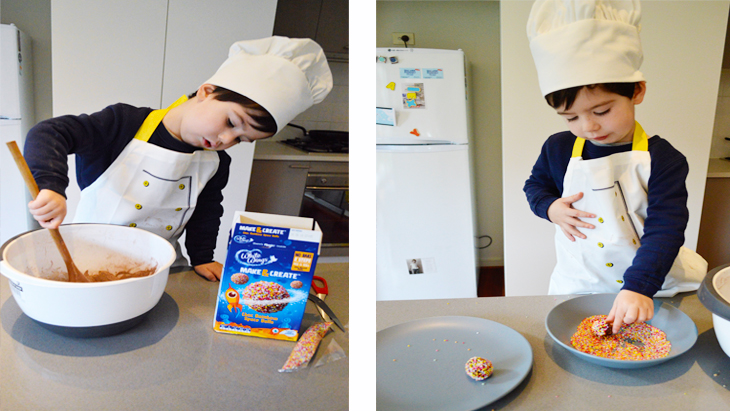 By: Ayesha Khan, ellaslist
Want to get the kids busy creating magic in the kitchen? Get the ball rolling with these 'out of this world' White Wings Make & Create Choc Rainbow Space Balls. The colour popping choccy biscuit treats are from the new Make and Create™ range which we absolutely love because it empowers kids to get in the kitchen and teaches them valuable skills such as patience, counting, self-confidence as well as encouraging creativity and self-expression. These Space Balls are incredibly easy and fun to make and require no baking.
We invited a group of mums along with their army of mini testers to try out the Choc Rainbow Space Balls at home. It was time to let the kids take control of the kitchen!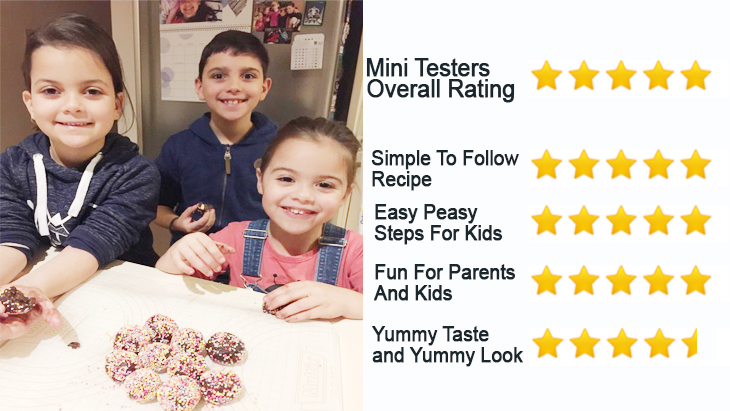 The kids had a ball of a time as they mixed and rolled and dusted the sprinkles away and even gave the Make and Create™ products an overall experience rating of 5. Now that's better than any celebrity endorsement we say.
What Mums Say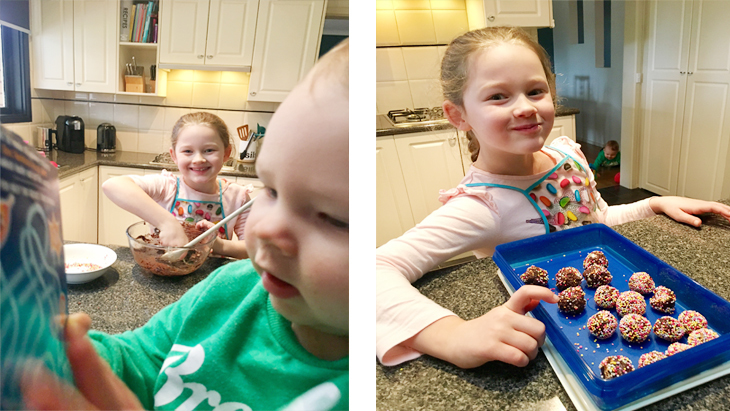 All of our mummy testers played the supervisor role and enjoyed letting the kids take the reins.
Catherine, a Melbourne based mum of 1, loved making the Rainbow Space Balls with her 3-year-old:
"The number of steps were so few and there was no baking involved. This made the entire process super fun and easy and my son was able to do each step and was able to make something yummy in the kitchen all on his own."
Nikki shares the same experience as Catherine. Nikki's seven-year-old daughter loves to cook and often joins her mum in getting creative in the kitchen:
"My daughter enjoyed the independence of creating the whole thing by herself. It worked really well for us having a baby in the house. It allowed her to be creative while the baby and I watched her pretend to be in a cooking show"
We Love Everything About It
When the treats are this easy to make and the mummies get to take the back seat while the kids do all the work, we know we've found a keeper!
Anne-Marie, a mum of three, knew this would be the perfect family activity to make something new and fun in the kitchen:
"We loved everything about it! Young children will easily be able to follow these instructions and take on board this fun and effective project. As parents, we love seeing our little ones enjoy themselves and achieve small steps"
Sharlene's tribe of three little cuties love joining mum in baking and cooking together. She absolutely loved how convenient and quick it was to make the Rainbow Space Balls. "There were minimal additional ingredients required and the kids enjoyed making them and there wasn't too much of a mess to clean up after"
The Kids Were Pros At It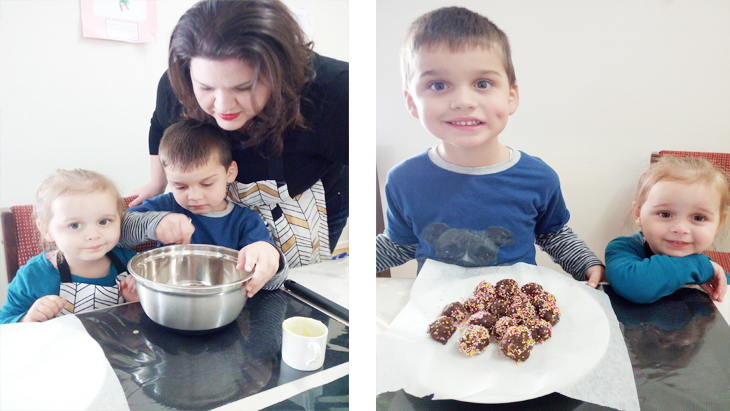 We all know kids love chocolatey treats especially when they make them themselves! Catherine's little man was the star of the show and loved getting his hands dirty and making the treats all by himself.
Anne-Marie's kids couldn't contain their smiles! "They asked with huge smiles on their faces, if they could make more. I suspect White Wings 'Make & Create', is going to be a regular item on our weekly shopping list"
Let's Do It Again
All the Rainbow Space Balls vanished into the thin air faster than you could say 'save me some'. Luckily all our mummies and our little testers are ready to get their hands on other Make and Create™ products. Almost all of testers are certain they would be creating magic in the kitchen real soon again.
Anne-Marie agrees she's found a winning activity to do with her kids:
"I think that White Wings has come out with a winner product, for all ages and different development stages for youngsters. I think that the 'Chocolate Rainbow Spaceballs' can easily be made into gifts from our kids for birthdays and other festive times of the year"
If only the sprinkles came in a never ending supply!
Create more magic in the kitchen with White Wings Make & Create Cookies & Cream Ice Bergs and White Wings Make & Create Magical Icing Cupcakes
Visit our Make & Create section for more fun ideas to do at home with the kids.
Reviews

Reviews get lonely too
Be awesome and write a review