ellaslist reviews Zen the Pigeon Girl
Preschoolers
Family
Kids
Parents Only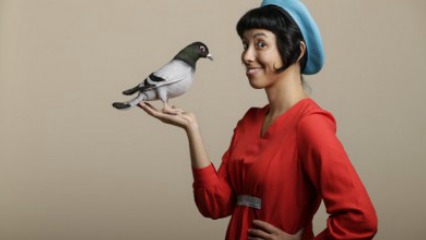 By: Vanessa Mah Chut, ellaslist explorer
Travelling to Bondi I wasn't sure what to expect from the unusually named Zen the Pigeon Girl. As the name of the production implies, Zen did turn out to be half pigeon and half girl and she was on a quest to find her mother.
Lots of Lovely Audience Interaction
The children in the audience were mesmerised from the very beginning by the acting of Sabrina D'Angelo as Zen. They became more and more engaged as the show went on and the audience participation was encouraged. The children warmed up by making thunderclaps on their laps and were soon practically out of their seats trying to tell Zen where the worms and cat-cat were.
Laughs for Kids and Adults
The boys and girls attending the show would have been aged from 4 to 10 years and it managed to engage all of them equally. They loved the pigeon poo as well as the half animals like chimpephant, half chimpanzee and half elephant.
There was humour for the adults too and they laughed as often as the kids. All of this was enhanced by stage lighting, music and Zen's ukulele playing which made for a fabulous all-round show. The show concluded with all the excited kids from the audience dancing crazily on the stage.
The tickets are well priced at $20 each and the Bondi Pavilion Theatre is right on the beach and easy to find.
MY TOP TIPS



Take a jacket as the theatre is chilly.

Allow some extra time as the show goes a bit longer than the stated 40 minutes.

It's easy to combine visiting the show with a play on Bondi Beach or at the fenced playground next to the Pavilion.

If looking for more there is currently ice skating at the front of the Pavilion as well.
Zen the Pigeon Girl is a great holiday show for all the family and plays at the Bondi Pavilion Theatre at 11am until 11 July. BOOK TICKETS NOW.