ellaslist Reviews Wannabees: Learning Bees Program
Preschoolers
Toddlers
Family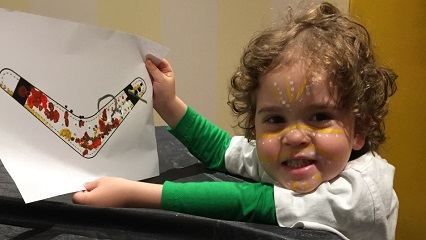 ellaslist COVID-19 update: Please note that all the information on the website is correct at the time of publication. Please check the relevant website before visiting a venue or destination for the latest COVID-19 information. ellaslist is not responsible for any cancellations or closures.
By: Stephanie Boyle, ellaslist explorer
I wasn't expecting there to be tears at Wannabees and I certainly couldn't have predicted they'd be mine! But watching my 3-year-old starting to exhibit signs of independence he'd never before demonstrated while taking part in the preschooler's Learning Bees program was an extremely memorable and emotional thing for me to observe and another special memory I will add to my ever growing collection.
A Play Centre For The Body And The Mind

Wannabees is an indoor children's play centre in Frenchs Forest. Unlike other soft play centres with their slides, ball pits and climbing frames, Wannabees has created a miniature town with a supermarket, police station, fire station, construction site, school, hairdressing salon and hospital amongst other things. In this sense it is a great deal more educational and sophisticated than other centres around as it allows children to exercise both their bodies and minds. All of the spaces are designed to encourage and facilitate imaginary play and they do this brilliantly. Children can engage in free play in all of the spaces at any time throughout the day or, twice a day (once in the morning and another in the late afternoon). They can participate for no extra cost other than general admission, in a program designed specifically for preschoolers called Learning Bees.
Making Learning Fun

It was this program that we'd specifically travelled to Wannabees for on this occasion. Learning Bees is aimed at preparing children for school which I considered ideal for my three-year-old since he is due to start preschool at the beginning of next year. While I attempt a range of preschool activities at home, it's always nice to discover new activities like this out and about. The program is designed to make learning fun with a range of activities that are educational but play based- perfect for this age group where the majority of learning should come from play. These activities include play dough, arts and crafts, and educational role-play.
Is He Going To Be OK?

My major concern about attending Learning Bees was that my son would find being away from me and being in a group of children that he had never met before, challenging. Since he has never attended child care and was, until very recently, an only child with no cousins, he's generally more comfortable in the company of other adults than other children his own age and can be reluctant to join in. Of course, this is something we're in the process of addressing and I hoped that Learning Bees would be a way to ease the transition. I was absolutely correct and needn't have been concerned. Upon arrival at the centre we were told that the facilitator was out on the floor and that we could go and introduce ourselves.
Too Busy To Miss Me!

From the outset, the facilitator went out of her way to make my son feel absolutely welcome and, as he embarked upon a shopping spree in the Wannabees supermarket (surprising me with his preference for vegetables!) she engaged him in casual conversation which made him less inhibited and allowed for his happy, bubbly personality to emerge. His eyes gradually became more focused on the task he had set for himself and less on me and my whereabouts as he became absorbed in his imaginary play. Three other children were also playing alongside him and it was lovely to observe how gently and courteously they engaged with one another. I was easily able to fade into the background and observe without interference as he looked to me less and less for reassurance.
A Theme For The Day!

Once the children were all confidently and happily playing, the facilitator invited them to join her in one of the party rooms for some arts and crafts. She told the children that the theme of the day's activities was Aboriginal culture and while there was no time or opportunity for any great discussion of this topic, it certainly let to some interesting discussions after the class with my son. The theme of the program changes regularly so if you were to attend on a regular basis, your child would always find something new to enjoy.
First Up, Face Painting

First up, the children had their faces painted which was a truly exciting new experience for my son since he'd always been reluctant to try it prior to this occasion. This time around however, he was happy to join in with the other children. The look of pure joy on his face as he came over to show me his face was a delight to behold and there was a great deal of reluctance to wipe it off before bedtime! His first question upon waking the next morning was, 'Where is my face paint?!' The face painting also served as a terrific introduction to the other activities which included their very own dot painting and some music and movement using spoons in the place of clapsticks and some shakers. My son's dot painting boomerang is still displayed in pride of place on our fridge.
A Lesson For Children And Parents

After these activities, the children were led into the dress shop which contained an array of fancy dress costumes, and invited to choose something to wear in a fashion parade. The parents formed the audience and when they'd been gone for a little while, I went over to take a peep through the window just to make sure that my son was ok. Seeing my son through the window, perhaps emboldened by his batman costume, standing there so proudly and bravely ready to come out on stage and wow us, was what finally brought on the tears in me.
Although it may sound like an exaggeration, in this short space of time, I really felt as though he'd grown a little and this made me both indescribably happy and quite sentimental about this little man I saw before me, baby no longer. Leaving toddlerhood behind can in some ways be a blessing because it can be a time fraught with tantrums and huge developmental leaps, but it's also a challenge as a parent to let go just that little bit more. In this sense, I think Learning Bees was a fantastic learning experience for both my son and I. It taught both of us that independence isn't something to be feared and that there is a great deal of fun out there to be had. If you have a preschooler and are close to Frenchs Forest, I would thoroughly recommend you give Wannabees and Learning Bees a try. I hope that one day we'll see these centres pop up all over Sydney so that everyone can give it a go.
When: 9:30am – 10:30am and 3:45pm – 4:45pm on weekdays during school terms.
Where: Wannabees Family Play Town, Frenchs Forest
Stephanie Boyle is currently a stay at home mother with two gorgeous children.
Prior to becoming a mum she trained as a lawyer and worked in various Government positions. She is currently completing a Masters of Teaching. Stephanie and her Algerian husband Kamel have two sons, Ayman (3 years old) and Younes (3 months) and they are doing their best to raise their sons as tri-lingual global citizens. When Ayman arrived three years ago, it became immediately apparent to Stephanie that neither of them were homebodies and so they set off on what would become three glorious years (and counting!) of adventure and excitement throughout Sydney and its surrounds. Stephanie believes that childhood should be pure magic and she is on a continual mission to make this the case for her sons. She loves discovering new places and activities, throwing amazing parties and running a bookclub for her boys and their little friends. In addition to her reports for ellaslist, you can also follow Stephanie and her boys on
Instagram @moukinina