ellaslist Reviews Wannabees Family Play Centre
Family
Kids
Mums & Bubs
Todders
Preschoolers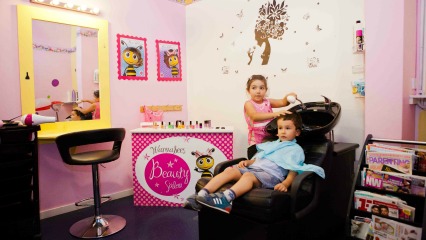 ellaslist COVID-19 update: Please note that all the information on the website is correct at the time of publication. Please check the relevant website before visiting a venue or destination for the latest COVID-19 information. ellaslist is not responsible for any cancellations or closures.
By: Helena Leung, ellaslist explorer and Lisa Wolff, editor
What does your child Wannabee?! If children learn best through imaginative play, then the Wannabees Family Play Centre is the perfect place for little minds to wander, explore, engage and create. ellaslist was invited to participate in some of the activities that run on a typical Monday morning, so I decided to take little Miss Sofia, along with her pre-school partner in crime to one of Sydney's best indoor play centres!
A Miniature Village
We arrived at
Wannabees indoor place centre
in Frenchs Forest and discovered a
microcosmic world
inside a large warehouse that has been purposefully built to mimic a village centre. Inside the 'village' are roughly a dozen rooms decorated to look like shops and businesses, such as a supermarket, a cafe, a doctor's surgery, a school, a police station and a beauty salon. Children can stroll down the 'roads' and wander into a room of their fancy, try on the available costumes, and role-play with the many wondrous props that add to the authenticity to these occupations. Sound amazing? It is!
Children who love dressing up will be in paradise!
Organised Play
After a short time of free play, a lovely Wannabees' staff member corralled the kids over for some organised activities. First stop was a visit to the
village café
where the kids enthusiastically and proudly served us plastic drumsticks and 'coffee'. My pretend coffee was rather too bitter for my liking. A few barista lessons wouldn't go astray, but no matter. Soon it was off to the
police station
, where the children learnt how to dial 000 to call emergency services. They also had the chance to get their mug shot taken and crawl into a jail cell. Sofia and her friend seemed to enjoy this scenario rather too much, so thankfully they were hurried off to become
firefighters
, risking their lives to save a burning house!
What do I Wannabee when I grow up
Our kids loved the variety of role-play available. On minute they could be a
construction site builder
, complete with hard-hat and wheelbarrow, the next they could be a
specialist doctor
or a baby nurse.
Our little ones had great fun in the hospital trying out all the doctor gear. They even got to be a Hollywood Celeb and star in their own TV Show. My daughter enjoyed being a professional shopper in the market, despite the hints of trolley rage when every kid wanted the pink trolley.
They got to clamber up and down the firefighter's pole, post a letter in the Wannabees post-office and work-out in the gym.
Superhero Craft and Fashion Parade!
Since it was Superhero Week the staff member helped them make some superhero craft, including a glittery pipe cleaner mask and a garbage bag cape. Dressed up in their new gear the children were led to the performance stage where they proudly showcased their super hero costumes, accompanied by dance music and flashing lights. The parents all clapped and cheered; we were so proud of our little super heroes!
Best Bits?!
I asked the kids what they liked about
Wannabees.
The pre-school friend said, "Playing with the dolls, the apple juice, the jail, and the soft play gym". Miss Sofia said,
"It was the best day ever. Can we go again?!"
Our Six Favourite Things About Wannabees
1.
Wannabees
is vastly different from other
indoor play centres.
Kids will be bursting to use their
imagination
in the creatively themed rooms. Who knows, this could inspire them for their future professions, be it doctor, teacher, or policeman!
2. Little firefighters will love pretending to put out a fire with a real water hose.
3. You can take a mug shot of your child at the 'Police Station'. Use it for their 21st birthday invitation!
4. Wannabees is open during rain, hail or shine. It's perfect for rainy day play-dates.
Tip: The centre is much quieter during the weekday, during school hours.
5. Wannabees caters for birthday parties. Take the worry out of organising and book your child's next party.
Tip: Weekends can get hectic, so book early!
6. The café serves a delicious array of food. Grab a coffee and some banana bread while you gossip with other parents.
Wannabees Family Play Centre
Phone: (02) 8021 6902
Address: C1/1-3 Rodborough Rd, Frenchs Forest, NSW 2086
Opening Hours:
Mon – Tues: 9:30am – 2:00pm
Wed – Sun: 9:30am – 5:00pm
Public Holidays: Closed
ABOUT HELENA

Helena Leung is a high school English teacher who gave up the glory of classroom teaching for a quieter home life. She has two little girls, Alisa and Sofia, and is married to a Nissan Pulsar driving, Garage Band singing, Top Gun pilot wannabe husband. When she is not tutoring students on the finer points of Shakespeare and T.S. Eliot, Helena can be found stalking the haberdashery section of Spotlight in order to feed her fabric addiction. She also loves to make beautiful handmade hair clips, which she sells for practically no profit on eBay. Despite her lack of business acumen Helena enjoys her family life and exploring everything that Sydney has to offer. Weekends are often filled visiting parks, cafes and catching up with friends. One day Helena hopes to become very, very famous for writing a very, very good book (or review on ellaslist.) One day.