Ellaslist reviews Tubby the Tuba - Babies Proms
Preschoolers
Family
Todders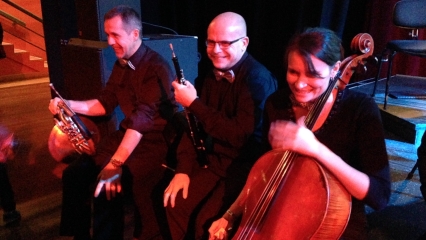 By: Megan Gibson, ellaslist explorer
Megan, one of our ellaslist Explorers, takes her three pre-school children to Tubby the Tuba, a short musical Babies Proms performance, aimed at children 2-5 years.
A magical venue
[caption id="attachment_88393" align="alignright" width="240"]
Arriving in The Studio at Sydney Opera House[/caption]
On a cold blustery day, entering into The Studio at the Sydney Opera House was a magical experience. It's a small space, full of sumptious red upholstery and atmospheric lighting, adding to the air of excitement. The action takes place on a small stage directly in front of a large carpeted area. Children are encouraged to sit on the mat and adults can join them or sit on the surrounding chairs.
Engaging, interactive & fun
A small orchestra enters and we are introduced to the conductor. It's all great fun as he teaches the audience about the different instruments and how an orchestra works. There's a touch of pantomime as the children shout out the names of instruments and tell him when the orchestra isn't paying attention.
No need to stay seated
For a mostly pre-school aged audience the performance held their attention, with the children for the most part sitting attentively. It's great to take children to a performance where they are exposed to top quality musicians but aren't expected to sit still and silent the whole time. The conductor encouraged the children to get up and move; he had them all conducting, participating in a "mime" orchestra and dancing a waltz.
Learning the fun way
[caption id="attachment_88395" align="alignright" width="240"]
Waiting for the performance to begin[/caption]
Musical terms like tune, tempo and Pizzicato are all explained but the lesson never feels forced. There are funny moments along the way, even my nearly 3 year old laughed when we were introduced to Pizzicato and the conductor asked for a supreme pizza and garlic bread.  The audience is led through the process of understanding how and why an orchestra warms up and eventually we are introduced to Tubby the Tuba.
Who's Tubby?
Tubby is sad. While his friends the violins and the piccolo play light and happy tunes, he is always stuck playing the "bom-pa, bom-pa" beat. He befriends a bull frog in a pond and together they play a beautiful tune which Tubby then shares with his orchestra friends. It's a simple story with beautiful music and a positive message, perfect for children.
Entertainment for all ages
My nearly 3 year old sat quietly watching the whole performance. Her 5 year old brother was keen to engage with the cast and my baby enjoyed listening and watching the changing light patterns. Tubby the Tuba is a crowd pleaser for all ages.
Enjoying the interaction
The performance lasts around 30 minutes and then the orchestra members come forward and sit on the front of the stage with their instruments. Children are encouraged to meet the musicians, and ask questions. It's lovely to see the interaction as the children talk to the musicians and explore the instruments up close.
[caption id="attachment_88394" align="alignright" width="240"]
Interacting with the musicians afterwards[/caption]
Inspiring a love of music
Babies Proms is a fantastic opportunity to develop children's interest in music. My 5 year old was so excited to see a violin up close and after encouragement by the violinist, is now asking to take lessons.
HOT TIPS



Space is available in the foyer to leave your pram. Make sure you have all your valuables in a separate bag ready to carry in with you


Wear comfy clothes so you can sit with the children on the mat and immerse yourself in the experience


Prepare children by talking about classical music and instruments prior to the show to enhance their appreciation


Make a day of the experience, take a picnic lunch to the Botanic Gardens, a stroll across the bridge, a walk through the Rocks or a ride on a ferry
THE ESSENTIAL STUFF
Where & When:
Studio, Sydney Opera House: 05 August 2015 – 16 August 2015 – BUY TICKETS
Cost:
Tickets from $25*
*Plus transaction fees
Duration:
Around 30mins

[caption id="attachment_88420" align="alignright" width="196"]
Megan Gibson & family[/caption]
I am a Sydney-sider born and bred, but spent 12 years living in Wagga, Canberra and London. I am married to an Englishman and we have three children, Eli age 5, Allegra nearly 3 and Cooper who is just 5 months.
I am a stay at home Mum and keep myself sane by getting out and about and exploring all that Sydney has to offer. The kids and I enjoy parks, museums, picnics, playgroup, gardening, walking, cycling and road-tripping. I am the typical "crafty" mum and love getting my hands dirty, taking photos, and running (sort of). You can read my blog here.