ellaslist Reviews Monster Jam 2016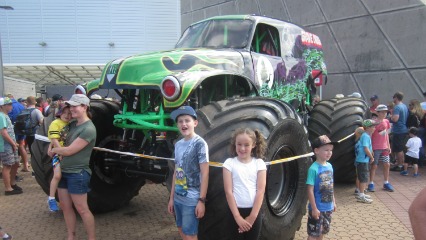 By Jo Mcpherson, ellaslist explorer
What a surprise our family got tickets for Monster Jam. We are not "into" cars, trucks or engines but it looked like it could be fun and we like to try different things. We were greatly surprised at how much we enjoyed ourselves and are eagerly waiting for next year to get tickets again.
What is Monster Jam?

Monster Jam is an awesome family friendly, live motorsport event tour and television show and at Sydney ANZ stadium there were eleven massive monster trucks, including the famous "Grave Digger". The event showcases the trucks' abilities to race, fly through the air, spin and do other crazy stunts.
What happens at Monster Jam® events?

At most Monster Jam® events, Monster Jam trucks face off in at least two different forms of competition – racing which was my husband's favourite event and freestyle which I loved, the kids loved it all. At Sydney they also included a Donut and Wheelie competition which really got the crowed excited!
Extras –
PARTY

IN

THE

PITS

(2-5pm)


You can also purchase an add-on to include PARTY IN THE PITS. This Monster Jam Party occurred outside the arena in a fenced off area which only those with Party in the Pits tickets could access. The party is an awesome opportunity for fans to get up close and personal with Monster Jam® Monster Trucks, their drivers & more! If you were willing to queue you could get autographs and take pictures with the trucks & their drivers. There was merchandise to purchase, food trucks and entertainment from "The Flair Riders". "The Flair Riders" were brilliant; speeding up ramps, jumping and spinning. As non-MonsterTruck fans we enjoyed this experience and loved the atmosphere but next time we would not go to the party.
HOW

LONG

IS

MONSTER

JAM

?


Pit party – 3 hours

Pre- show entertainment – 30 minutes

Monster Jam – 2 hours
Why take kids to Monster Jam?

This is a unique experience for everyone; from little kids to big old grown-ups. Even if your kids are not into trucks, engines or wheels they will love this thrilling entertainment. It is a perfectly safe show that gives the feeling of something a bit dangerous. If your kids are scared of loud noises then this is not the event for them.
What were the highlights?

The kids and adults loved the atmosphere in the stadium and were really excited when the trucks came out to race and do their tricks. The highlights for me were the amazing tricks they did. The crowds and us shrieked with delight as they flew through the air.
The food options

Plenty of food trucks in the pits and at the main event all at event prices and cash only! There was some variety, however most of it was your typical event food e.g. hotdog n chips, dagwood dog. Inside the stadium there was a coffee stand and krispy Kreme, sushi and fruitsalad being sold if you were after something different.
Top Tips



EVERYBODY

wear earplugs/ protectors; it is really, really

LOUD

! If you forget to bring them they do sell them at the merchandise stalls.


If parking at

ANZ

stadium make sure you pre-book in advance (10 days at least). Ideally get there early and park on the bottom floor of P1 otherwise you may get stuck coming out. OR, P4 carpark is close by and you can walk or like us get the free bus that runs every 5 minutes. Getting the bus was also easy at the end.
3. Get your merchandise first before the queues get big (they do take bank cards).
4. Take a jumper for when it gets late as it can cool off when the sun goes down.
5. If you are a diehard fan or want to get up close to these amazing machines then get tickets for Party in the Pit.
6. Take plenty of cash!
We are looking forward to going again next year.
We are a small family originally from the UK. Dave (my husband) and I are in our 40's and moved to Sydney about 10 years ago; we can't imagine living anywhere else now.
We have one daughter, Ellie, who is 7 and into anything that we offer her. She loves craft, drama, dressing up, swimming (particularly as a mermaid), cycling and anything else you may suggest she does. We also have a gorgeous dog, Rosie who is our best friend and ball lover.
Dave is an IT architect and in his free time used to play many computer games however now we have a home, his free time is used to garden and do the
DIY
jobs that I am really hopeless at.
I'm a teacher and work with children and their families that have autism. It is a rewarding job and I love it. I also love the school holidays where Ellie and I can go off and explore Sydney.
We all love travelling and doing new things; we are often browsing the 'net for interesting things to see and do. Every school holiday we are busy doing things. My friends are always saying "you do so much with Ellie; you are always doing something different"! I wouldn't have it any other way.
Reviews

Reviews get lonely too
Be awesome and write a review