ellaslist reviews Junior Art School at MCA
Preschoolers
Family
Kids
Teens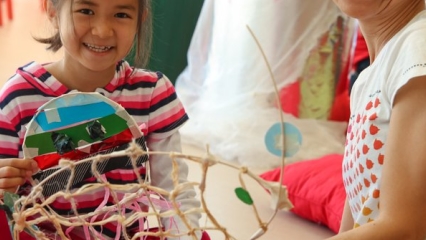 By: Jo McPherson, ellaslist explorer
My daughter and I were lucky to experience one of the school holiday workshops for kids at The Museum of Contemporary Art (MCA) in Sydney. The MCA is a wonderful destination all year-round and it's especially fun during school-break when the Museum runs fantastic programs for kids.
The second week of the holidays is all about creative Junior Art School. We enrolled in the Gulay-Marra (To make a fish net) workshop.
Finding the Hidden Meaning
The MCA is located next to the ferry terminal in Circular Quay and opened at 10am. We were a little early for our workshop so I questioned the wonderful information desk staff on what we should do; I did not want to intimidate Ellie or bore her. The staff handed us some sketch cards and told us one thing to look for or think about in each exhibition. We were both inspired and excited. Ellie quickly skipped into the young Australian artist's exhibition and explored with interest.
Gulay-Marra (To make a fish net)
This work shop was brilliant! There were about 15 children and 4 staff so the parents could sit back if they wanted to, although I noticed nearly everyone participated. After an introduction we all went outside to play some simple icebreaking games; it didn't take long before all children were laughing and talking with each other. We then listened to a whale dreaming story which set the picture for the day. It was really clear that the staff wanted the children to not only have fun but also to learn about Aboriginal ways and about caring for the environment.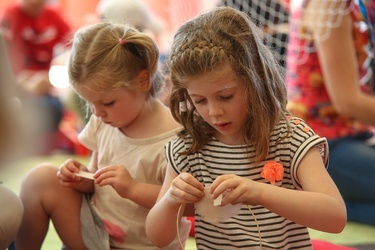 Crafting Fishy Art
We moved upstairs to a conference room to do some wire bending, weaving and everyone made a beautiful fish. Once we had completed our fishy art we went back up to Level 3 where everything was pulled together. The children looked at a projected image of our amazing Sydney Harbour. They created a music line with cushions, grass, shells and their fish. They all participated in making a collaborative fishing net which was part of a fishy scene on the wall. Finally the children were taught a dance that had them swimming like dolphins.
Lunch
The workshop finished at about 12:15 and we were hungry. So we popped up to the MCA Café for a bite to eat, it was so lovely to overlook the harbour from such a height. The menu was lovely, although a little pricey. There were a few items for children (fish 'n chips, pasta and sauce or a kid's meal chicken sandwich, fruit, cookie and milkshake). We really enjoyed our meal but I think next time I may bring a picnic to eat outside on the grass.
Discovering the Rocks Discovery Museum
After eating we went and explored The Rocks. The Rocks Discovery Museum was just up the hill, it is free to enter and they often have free school holiday activities. We made it just in time to make some badges. Then we popped across the path and watched some lollies being made. To complete the day we had an ice-cream treat.
My daughter said: "I have not had so much fun in ages".
I came home and said: "I just love how the MCA staff were so passionate about what they were doing, it was not just about the art. The staff took many opportunities to educate our children about so many things. For example, Aboriginal stories and language, caring for the environment, increasing vocabulary such as collaborative, caring for ourselves by identifying that we are all unique and special just like our fish". I cannot praise the work the MCA is doing with our children enough. Thank you for a wonderful morning.
WHAT YOU NEED TO KNOW
WHERE: MCA, 140 George Street, The Rocks, Sydney
WHEN: Mon-Wed: 10am-5pm ; Thu: 10am-9pm ; Fri-Sun: 10am-5pm
Find out about other Events for Kids at the MCA during term time here.