ellaslist reviews Funderbelly Arts Festival
Preschoolers
Family
Kids
Teens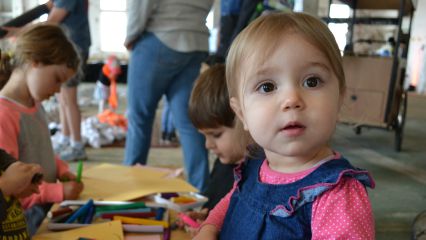 By: Lenore Pearson, ellaslist explorer
Lenore, one of our ellaslist Explorers, takes her family to Funderbelly, a day of interactive art events aimed at kids and teens on Cockatoo Island, as part of the Underbelly Arts Festival weekend.
Taking the ferry from Circular Quay
An early start on a glorious day
My little family and I headed out early to avoid the crowds and made our way to Circular Quay. Sunday is 'Family Funday' on public transport. For $2.50 per person, a family can enjoy unlimited travel all day on buses, trains and ferries in Sydney. We made the most of this and caught the train, then the ferry from Circular Quay to Cockatoo Island, a UNESCO world heritage listed island and the base for the Underbelly Arts Festival, 2-day showcase of emerging artists from across NSW.
Excitement before we even arrive
The 20-minute ferry ride was a first for Lucas and Audrey and set the excitement for the rest of the day. The look on Lucas's face as the ferry pulled out of Circular Quay was priceless and Audrey loved watching the ferry splash through the water. What a stunning day it was to be out on the harbour.
All Aboard The Soul Train Express
Dancing in the Soul Train Express
We chose six events to experience throughout the day. What better way to start than with a boogie! Adults and kids joined together for a brief dance lesson followed by some disco dancing down the middle of the Soul Train. I think the adults really enjoyed this session as they eagerly encouraged their kids to cut loose and become disco kings and queens of Turbine Hall.
Funderbelly Arts Club
This was a great little set up for kids of all ages. Benches with paper and markers were arranged for budding artists to sit and draw while the adults enjoyed a cuppa from the bar. It was fascinating watching these little people pick up a marker and start creating. There was no hesitation from them, unlike myself who would sit for ages contemplating how to start. The looks on their faces as they engaged in their own creative world was marvellous.
The Tutti Frutti Parade
This was so much fun! A creative workshop led by the artists of The Tutti Frutti Dream Factory, a colourful and imaginative artwork based on your 'wildest dreams'. Art supplies were set up around the room and the kids were encouraged to make something amazing that they would wear in a parade. The room was abuzz with squeals of excitement while brown paper bags, coloured paper and streamers were being shaped into weird and wonderful costumes and hats. The session concluded with a 'Tutti Frutti Parade' outside, to the cheers and applause of onlookers as the kids displayed their creations with big smiles on their faces.
The Tutti Frutti Parade
Make Art Not Rubbish
This hands-on workshop, based on the artwork 'The Becalmed Heart', illustrated the impact of humans on the environment and how everyday bits and pieces we throw out can be reused. It allowed the kids to create anything they wanted from taking apart materials we throw out and reassembling them into anything they could think of. Lucas and I made a superhero cape out of a garbage bag.
The Writing's On The Wall 
Upon entry to the festival, kids were given a coloured marker and a map with activities and directions to artworks across the festival. Located at these artworks were plaques written specifically for kids that gave suggestions for an activity they could do with an adult. As the festival is directed at adults, this was a great way to help kids understand and appreciate these wonderful creations while keeping them busy at the same time.
A Wonderful Way to Unleash their Creativity

I am a big advocate for exposing kids to as many fantastic experiences as possible. What better way to let them explore their world than through creative expression. Whether it is dance, art, drama or music, the possibilities are endless for their amazing imaginations to blossom. My kids got so much out of this festival and my son spent the rest of the day parading around in his Tutti Frutti monster costume. He believed he had created a masterpiece!
Hello! My name is Lenore, proud mumma to three gorgeous kids, amazingly awesome wife to one cool dude and self-professed travel addict! I started out my career as a primary school teacher for five years, which, second to having my own kids, was extremely rewarding for me.
While I was pregnant with baby number 3, and slowly going insane pacing (waddling) up and down the house, I felt I needed to keep my mind active and decided to take up a Diploma in Travel and Tourism, because I clearly wasn't going to have my hands full enough with three kids!
I am all about exploring. For me, living a full life is about collecting amazing experiences from as many incredible places as possible. Travel and adventures fuel my imagination and I love sharing them in the hopes of inspiring the explorer in each of us! Along with my family, I have been fortunate enough to have discovered lots of places already.
I am super excited to be an ellaslist Explorer, aiming to provide very real and practical information for families looking to create their own adventures and experiences. I am forever researching new and exciting things to do with the kids and I look forward to sharing them with you.
I have also just launched my own travel blog 'Little Miss Piggy' a treasure trove of travel inspiration and unique experiences in and around Sydney and abroad.