ellaslist Reviews Escape Hunt; Sydney's Unique Family Detective Game Experience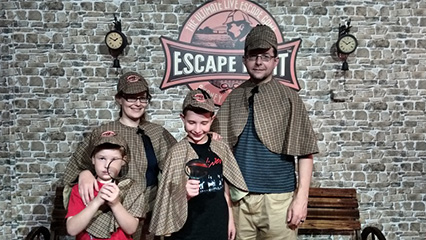 By: Sheryl Levene, ellaslist explorer
School Holiday Special: Get 20% off with code ELLASLIST20 valid until 25 April
This weekend we took the kids on an Escape Hunt – a unique 'super sleuth' group experience game! Situated in George Street opposite Strand Arcade, this well organized and entertaining experience kept us all on our toes for the full hour session.
Waiting To Begin

Stepping out the lift into an immersive reception and lounge, we were warmly welcomed and instructed in what to expect. There are puzzles and hint sheets to keep excited detectives busy while you wait for your session. There are 3 different challenges and limited numbers of rooms so booking is mandatory. Our challenge for the evening was "Extortion in the Dockyard" which we had been told is one of the more suitable ones for kids. Be advised though, some of the subject matter is a little adult, so check the website beforehand. The other two rooms are "Robbery in the Cottage" which is apparently also great for younger visitors and "Assassin in the Pub" which is their most difficult room.
Time For Lock Down

After a short introduction by one of the Game Masters and stowing away all our personal belongings including mobile phones, we were "locked" in the room for an hour. Rooms aren't physically locked and you always have contact with a staff member via Walkie Talkie or intercom in case you need hints (you will need hints) or a bathroom break.
Countdown Starts

A countdown clock on the wall starts you off, and you have one hour to find the final suspect and key. The challenges are challenging, even for adults. Little kids will definitely struggle, but our eleven-year-old was a strong contributor and even surpassed us in the mental maths challenges (blush). Without giving too much away, the story twists and turns and continues to surprise for the whole hour.
Pride In Solving The Mystery

Every puzzle is different, but beware of some diabolical red herrings. The team recommends not spending more than 10 minutes on a single puzzle which we used as a guide to know whether to call for help or not. We called in help a few times – the team are friendly and give you just enough information so that you can proceed without giving the outright solution, but the sense of accomplishment when you solve something completely by yourself is awesome. In the words of my son, "My favourite part was opening the padlocks knowing I had worked out the clue all by myself"
Celebrating Our Accomplishments

When you're finished, there's complementary tea, coffee, hot chocolate and biscuits as well as a photo opportunity for all the Sherlocks, complete with deerstalker hats, magnifying glasses and pipes.
What We Thought

Ultimately it's a fantastic outing we would highly recommend for families with teens and tweens. It would also be great for a birthday party or team building. We can't wait to go back and tackle the other rooms.
ellaslist Top tips

1. Go to the toilet before you start. There are facilities on site.
2. Take the train, it's a 5-minute walk from Town Hall
3. Get there early
4. Whilst there is no age limit, I think it is probably best suited to children older than 10.
5. Manage your team so everyone gets a chance to solve a clue
6. Don't be shy to call for help!
School Holiday Special: Get 20% off with code ELLASLIST20 valid until 25 April
Note: Escape Hunt is recommended for 7 years and up and if under 16 must be accompanied by an adult.
Check out the full details on Escape Hunt; Sydney's unique venue for group escape games, birthday parties and events here alternatively, visit their website, phone 9299 3929 or keep up to date with all the mystery solving on Facebook.