ellaslist reviews Bondi Winter Magic Ice Skating Lessons
Preschoolers
Family
Kids
Mums & Bubs
Parents Only
Teens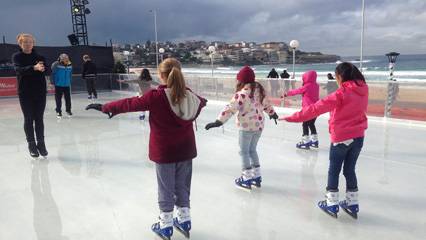 ellaslist COVID-19 update: Please note that all the information on the website is correct at the time of publication. Please check the relevant website before visiting a venue or destination for the latest COVID-19 information. ellaslist is not responsible for any cancellations or closures.
By: Yvette DuBourdieu, ellaslist
I'm an awful skater – clumsy and uncoordinated, I can only turn right and never left. I was never taught  - so I'm not the best person to teach my 6yo daughter. But I adore the idea of winter skating and all the wonderful romantic and family imagery. You know, there's us all laughing, top lip thick with hot chocolate – then mum hits the ice and nails a triple backflip and death spiral in the first 30 seconds. The kids all cheer and dad looks proud of his awesome Mrs.  <CUT TO REAL LIFE> "hey there's mum clinging to the barrier behind that 3yo kid, can you go save her".

Thank goodness for the introduction of those penguin hold-you-up-thingos over the last few years  -  you can even pretend that you've hired them for your kids, and hide the fact it's only thing keeping you vertical. Without a doubt things would be much more enjoyable if I had some technique … and now quite by accident I have!
We had booked into a morning skate session at Bondi Winter Magic Ice Skating Rink on Sunday - but we totally messed up our start time and arrived 1 hour early – but that was just in time for the skate lesson to start at 9am – so we took full advantage – joined the group – and I'm so glad we did.
Our Experience
Two enthusiastic skating professionals lead the class, which consisted of 2 adults and about 10 kids ranging from 5-12 years. We start with instructions on how to strap your boots tight enough, have a bit of a stretch and then we're up on the ice hanging on to the barrier (I'm well versed here and I wish I had remembered gloves – it's chilly). Ella and I learn to move around, side step and walk forward with our feet slightly turned outwards which helps a lot with keeping control and not slipping. We're soon taking baby steps and not hanging on – with our knees slightly bent and our hands out in front of us – (the best way to stop yourself falling backwards) and before we know it we're baby-stepping our way across the ice, then gliding a couple of feet, then a couple more.
Within 20 minutes I'm already much more in control and Ella is finding it tricky and slippy but gaining confidence every minute, as are all the kids. By the time our 45 minutes are up we've learned to get up properly from a fall, glided, turned, touched our toes and even gone backwards!
By 10am, we're all done and while I still have all the finesse of a robot, I have traversed the ice and haven't stacked it.  Ella's already bailed after all the concentrating and ready for a hot-chocolate next door. So I join the 10am skating session alone. And for the first time in years, I actually enjoy the experience. Not ready for my sparkly leotard and flesh tights just yet – but I'm getting there.
Top Tips: Layer up, wear thickish socks, have a waterproof outer if possible, gloves are really helpful for pushing yourself up off the ice and do consider a lesson!
Costs: Bondi Winter Magic hosts lessons for adults and kids from 2-13 years at 9am every morning. First thing to know is that they are really good value as you get to join the 10am skating session. It works out to be just $13 more for the included 45 minute lesson over what you would pay if you just booked a skate session.
Bondi Winter Magic Skating Lessons – BOOK HERE
The Details:
When – 9am each morning (includes entry to the 10am session)
Price -
Toddler: 2 – 4yrs – $20
Children 5-13 years – $29
Adult (14 years and over) – $35
Please arrive half an hour before your booked skating time to allow time for fitting skates. Each skating session is 45 mins.