ellaslist Lives the Gymnastic Dream at Active8 Kids Gymnastics
Family
Kids
Mums & Bubs
Teens
Preschoolers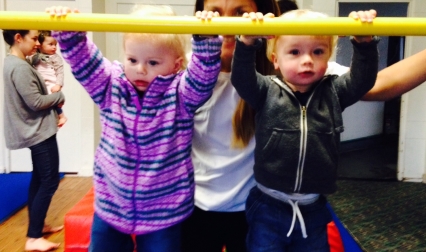 By: Lisa Wolff, ellaslist
As a little girl, I was obsessed with the champion gymnast Nadia Comaneci. She was the first gymnast to ever receive a perfect ten in the Olympics (at the age of 15). I must have watched her life story on video over 100 times. Sadly, my own gymnastic journey didn't go much further than beginner lessons but I still hold the dream.
The Gymnastic Dream


Well, you know what they say? If you can't fulfil your own dreams, then live them through your kids. Hmm, OK maybe they don't say that, but I was still hugely excited when my kids started climbing over the furniture and trying to do head-stands on the kitchen floor.
But these daredevil antics also gave me a mini-heart-attack every-time I saw my toddler balancing precariously off an armchair. So it was time to take them to gymnastic classes. At least, there would be mats for a soft fall.
Choosing a Gymnastic Class
I came across Active8 Kids Gymnastics, the same group who run the popular Kickeroos Soccer Program. They are based in a large indoor gym at the Vaucluse Bowling Club and offer classes for all different age groups.
I decided to try out the walker class (12 – 18 months) for my 17-month old twins, Jake and Paige. One is a walker and the other a crawler so it was certainly going to be interesting.
Rainy Day Relief
It was one of those really rainy, windy days in Sydney and I was so thankful to have a regular indoor activity scheduled in for my babies. We all go a bit nuts cooped up in the house on wet weather days. Arriving at the venue, I had to call for help to get the double pram down the stairs but the coaches were all too happy to assist.
Action Stations!


Inside, the Active8 Kids Gym was buzzing with energy. Little ones were clambering over mats, bouncing on mini-trampolines and crawling through tunnels. It didn't take long before the twins were joining in the fun. We met our coaches, Debi and Josh, both of whom have years of experience with teaching gymnastics to kids. Josh is a former Olympian gymnast and primary school teacher and Debi is a qualified physical education teacher.
The coaches took us through the obstacle course for that day (it changes each week) and the kids got the chance to try it out themselves.
They climbed over the mat, had a boing on the trampoline, then up the little mountain, forward-roll (with lots of assistance) down again, through the cave, balance on the beam, roly-poly down the hill and a big fat high-5 at the end.
So much Fun
My little ones couldn't stop grinning. They were loving every minute, completely oblivious to their slightly anxious mum who didn't have enough hands to restrain their adventures. But Josh and Debi were always around to help and my kids bonded to them immediately.
Muscle-Baby


We had mum & bub time on the mat with some action songs and running, crawling and leaping exercises. Each child then had a turn at the rings. I was amazed when Josh let go of my little Jake and my son held onto the rings for a few seconds, supporting his own weight. Wow, maybe he was going to be my budding Nadia (well, at least the male version). Both kids adored swinging on the parallel bar and took a lot of convincing to let go.
They then had another go at the obstacle course before coming back to the mat to sing 'wheels on the bus' with coloured hoops. The class ended with the goodbye song and a stamp for each hand.
My Little Olympians


I could see how much the twins thrived on the class. My crawler seemed to get a burst of motivation during the class and got to his feet numerous times and my walker was running and jumping with enthusiasm. Apart from them learning new skills, I think the class gave them confidence in their movements, strength and agility. And the best thing is that they are having so much fun, that they don't even realise they are getting stronger. I can't wait to see how the kids progress over the term. I've got a feeling I may even have mini-Olympians on my hands.
Find an Active8 Gymnastics Class for you
Active8 Kids Gymnastics have different programs tailored to different ages.
The classes are divided into:
Crawlers: 6-12 months
Walkers: 12 – 18 Months
Toddlers: 18 months -2 years
Mini: 2 – 3 years
Little & Junior: 3 – 5 years
Active: 6 – 8 years
Active+: 9 – 12 years
Note that the Crawlers, Walkers, Toddlers and Mini Classes require parent supervision. The other classes are drop-off only. Check out the latest Active8 Gymnastics timetable.
Birthday Parties
Need a hassle-free idea for your next kids birthday party? Active8 Kids can organize an active, exciting, energetic and memorable party that your child will never forget. Gymnastic parties are held at the Vaucluse Bowling Club and the Multi-Sports Parties can be held at any venue. More info about Active8 Birthday Parties.
Holiday Camps
Active8 Gymnastics also run a fantastic action-packed gymnastics program including arts & crafts, creative movement, choreographed routines AND MORE for kids aged 3 – 12 years. Parents can choose from half-day, full-day or long-day sessions. The next holiday camps will take place from 21 September – 2 October 2015. More info about Active8 Gymnastics Holiday Camps.