ellaslist Jumps Into Tot's Zone and Little Leapers at Sky Zone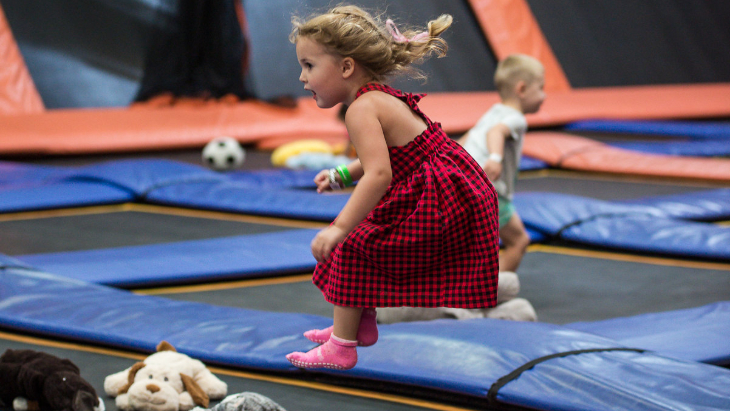 ellaslist COVID-19 update: Please note that all the information on the website is correct at the time of publication. Please check the relevant website before visiting a venue or destination for the latest COVID-19 information. ellaslist is not responsible for any cancellations or closures.
In 2016 Sky Zone completely transformed the old cinema complex in Miranda Westfield and the scale of this trampoline 'wonderland' is huge. Unlike some play centres, the well designed spaces and multiple smaller seating areas, means that it doesn't feel like you are in a bleak industrial warehouse.
The facilities are high quality and immaculate, with nice extras like showers, lounges, toys and colouring books, and a bubbler area (which is great as the kids work up a thirst quickly). Punchy graphics throughout create a playful, bright atmosphere, and on the first visit it was interesting for all of us to just walk around and see all the other activities available.

Jumping Tots: A Perfect Stop For All

Our first stop was the fenced 'tot's zone' play space which is a perfect set up for little ones. With an inflatable jumping castle, slide, soft and wooden blocks, play tent, tunnel and other games – our group of 3 to 4 year olds would have happily stayed there for much longer if our jump session was not about to begin.
There is booth style seating just outside the 'tot's zone', so you can be close but also enjoy a coffee and chat while the kids happily explore and play. The kids were also fascinated with watching the attempts at the climbing wall just off to the side.
Tip: aim to arrive earlier and make the most of the visit by allowing a solid block of play time here, or head back after the jump hour for a quieter extended play.

Leaping Into Play!

Little Leapers – on to the main event, and the kids were super excited to head across to the trampolines.
A section of the main open jump area is curtained off specifically for kids aged 5 and under. Oversized soft toys and balls are provided, which the kids really loved and which added an extra element to the play experience. Most of the people in our group have trampolines at home – but this is just completely on a different scale, so all the kids were excited and engaged. Jumping just seems to be such a whole body and freeing experience, and there were constant giggles and huge smiles all round.
The music was lively and upbeat, with the sound level set just right so you can still have a conversation and not need to scream if you need to get your child's attention.
On our visit there were about 8 kids in the Little Leapers session, but we were told on busier days they separate the different ages further and expand the space. With younger ones you may need to stay within arms reach on busier days.
Most importantly, there is a supervising staff member (or 'sky guard') in the tramp space to keep an eye out on the kids but to also interact and play with them.

The Kids Give A Verdict…

The verdict from our under 5's: They had a ball and are all keen to go back! The hour seems a good time block – they were all completely engaged and kept jumping for the full session – but then were ready for a rest and a snack. And from the mum's: the kids had an active and great play it and we got to sit and catch up for an hour – we are all planning another trip out soon – before it starts to get busy!
Adults can grab a coffee and just relax, or catch up with friends while the kids run amok. Or you can also join in and get jumping along with your child.
The on site 'Altitude Cafe' is well stocked with an espresso coffee machine and varied snack options, there is a large open sitting area with toys, colouring books, and high chairs – ideal to calm down and grab a snack after a big hour of high energy fun.

Highlights

The $10 cost is great for an hour of very active play, movement and fun. For the kids there are multiple play areas – with the inflatable 'tot's zone', the trampolining, and a quieter zone in the cafe – you could easily keep them entertained for a couple of hours.
Westfield offers free Wifi and 3 hours of free parking – weekdays between 10 & 1am; you should have no problems getting a spot.
I can see this becoming a favourite destination – especially once the winter cold and wet weather sets in and the kids need to work off their excess energy! This would also be a great option to add on to a 'shopping day' at the mall – let the kids tire themselves out first, and then enjoy the calm afterwards to run some errands.

What You Need To Know

What: Little Leapers – 5 & under trampoline session
Where: Sky Zone Miranda, in Westfield Miranda (the old Event cinema location) and Sky Zone Alexandria, 75 O'Riordan Street
When: weekdays from 10 to 1pm, sessions start on the hour
Cost: $10 for an hour of jump time – plus play in the 'tot zone' before & after,extra $2 for grip socks if needed
Parking: 3 hours free within Westfield Miranda
Visit these pages more information on Sky Zone Trampoline Parks in Alexandria and Miranda, their Sky Zone Little Leapers under 5s program and our Explorer Review, their Sky Zone School Holiday Camps and Sky Zone Birthday Parties.