ellaslist Is In Hysterics With Hurrah For Gin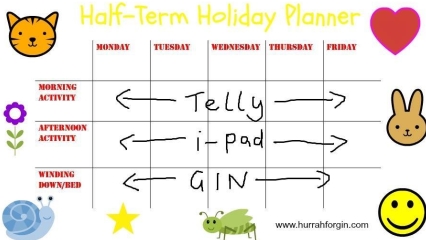 By: Phoebe Ackland, ellaslist
British mum Katie Kirby keeps it real with her hilarious blog Hurrah for Gin, a non-sugar coated yet light hearted look at motherhood…. and we love her for it.
As a mother of two, Katie knows all too well of the hair-pulling moments of mayhem that come with raising young children. She knows it's not all cuddles and giggles, but often painstaking work that can be downright hilarious at times, if we choose to look at it with a little humour.
Katie, 35,  self confessed "Queen of Empty Threats" reminds parents everywhere that they are not alone! Katie's favourite posts include a 7 stage guide to sleep deprivation, the ins and outs of rewards charts, and a recount of the heartwarming time her 2 year old came up….and smacked her in the head with his bottle.
"I also struggled to find any blogs at the time which talked about the more challenging and funny sides of parenting so I though I'd try writing one myself," Katie says of how she came up with the idea for Hurrah for Gin. We're so glad she did.
Here are some of ellaslist's fave posts:

1. What We Really Want to Do
2. Day/Night
3. Festive Fun
4. Mummy…..
5. Frozen
6. What We Really do in Bed
To check out more of Katie's side splitting stories and cartoons, go to her website.