ellaslist Heads Up To Santa's Grotto at Sydney Tower Eye
Preschoolers
Family
Kids
Mums & Bubs
Parents Only
Teens
Todders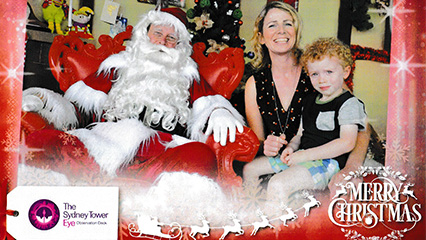 ellaslist COVID-19 update: Please note that all the information on the website is correct at the time of publication. Please check the relevant website before visiting a venue or destination for the latest COVID-19 information. ellaslist is not responsible for any cancellations or closures.
By: Marie Ashworth, ellaslist
'Guess what! We're going to meet Santa tomorrow at the top of a very, very high tower'. I started prepping my 3 yo a couple of days before our visit to Santa's lofty Sydney Tower Eye grotto, 250 metres above street level.
'Wow!' He replied followed up with a barrage of questions. 'Is it Christmas yet? Is Santa going to bring me presents? Does he live in the tower? Can we go now?
After last year's somewhat awkward meeting with Santa in the Blue Mountains, I'd decided to plant the seed of our adventure before the actual day. My son can be shy with unfamiliar people, let alone a rather portly, incredibly hairy man dressed in red. He's also camera-shy. Not the greatest combination for a 'one-for-the-album' Santa photo!

Towering High
From the corner of Elizabeth Street and Market Street, we pointed out the Sydney Tower Eye looming over us. He looked up in awe, mouth open wide. Finding the entrance within Westfield proved a little trickier than we thought. After walking the length of the mall in the wrong direction, we eventually found the entrance (see top tips), collected our tickets and made our way to the
4D Cinema Experience
; a 5 minute movie showing some amazing footage across the city's harbour, famous coastline and iconic landmarks. Master 3yo refused to wear his 3D glasses but loved the movie and vibrating floor!
Up, Up & Away
Then it was into the lift for the 250m climb to the Observation Deck. A display showed our ascent through the tower but it was the shafts of light flickering by as we passed between floors that demonstrated just how fast we were climbing.

Sweaty Palms
Now here's the thing. I don't particularly like heights but I refuse to let that stop me experiencing the fun stuff and especially don't want to transfer any such fear onto my son. I'd almost forgotten my vertigo when the lift doors opened and we gravitated towards to floor to ceiling windows and the 360 degree views out across the city; then I looked down! My tummy churned a few times and my hands got very sweaty all of a sudden.
Crane Spotting
Meanwhile my son was standing on the ledge, face pressed right up against the window, counting how many cranes he could see across Sydney's skyline (and there were lots!). Oh, how to be fearless again!
Santa's Grotto
As we followed around the deck, we spotted Santa looking very comfortable in front of an open fireplace in his red leather chair, and Mrs Elf, busy taking photos. While we watched as a few families had their meeting with Mr Claus snapped, my son was already telling me he was not going to sit next to Santa. We came to a compromise that I'd sit next to Santa and he'd sit on my knee however that compromise did not include smiling for the camera!
Free, Yes Free Photos!
Mrs Elf said the photo would be ready in around 5 minutes so we continued to scan the 360 panorama for places we recognised and places we'd been. My son sat for a while looking down at the cars at street level and commenting that they looked like Lego. Then it was time to collect our photo. I was surprised to find not one but three photos for us to take (included in the entry price), one of which just about escaped the halls of 'photo-fail' fame.
Clichéd But True
The highlight for my husband and I was the incredible views, even on an overcast day. As a relative-newcomer to the city (arriving in January), getting a bird's-eye view of the Sydney, really helped me piece together its suburbs and shoreline.
Is It Christmas Yet?
And the highlight for my son? Well, is very happy to talk about Santa and asks us on a daily basis if it's Christmas yet. He's also very proud of his Santa photos.
ellaslist's Top Tips


Sydney Tower Eye is located in Westfield Shopping Centre, on the corner of Pitt Street and Market Street. Go to Level 5 and directly to the food court where you'll see signs for the entrance.


Pre-book your tickets online – you'll save up to $7.95 compared to the walk-up adult price.


Prepare any shy child for a Santa photo by telling them exactly what the plan is. Tell them not to worry, Santa is magic and can work out what presents they'd like if they're feeling too shy to talk.


The observation deck is home to the highest operating post box in the southern hemisphere – what a fabulous place to post your child's letter to Santa, putting any requests in writing!


If you're sending Christmas gifts overseas, you can't go wrong with some Australiana souvenirs and The Sydney Tower Eye gift shop really had a great selection of stock.
Santa's Grotto is open for visits at Sydney Tower Eye fromSaturday 3 December to Friday 23 December 2016; 4-7pm weekdays and 11am-6pm weekends. Walk-up pricing: $17 child, $26.50 adult (under 4s free). Visit the Sydney Tower Eye website for more information or book your tickets online here.