ellaslist Goes Cruising with Kids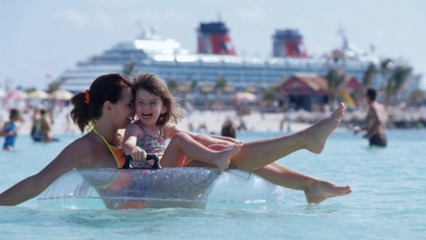 By Zoe Crane, ellaslist explorer
In my pre-parental state, a cruise would have been my idea of hell. So many people, so many kids! When I became a parent everything changed (like, everything) and before long I found myself perusing cruising websites in secret. Almost as soon as my daughter turned three and was officially kids-club-aged, I started dropping hints, and an Air BnB error that left us homeless for a weekend combined with a fantastic deal on a weekend cruise sealed the deal. We chose a three-day "at sea" cruise on Carnival Spirit, which has just had a $44 million dollar make-over. This is what it was like.
Losing Your Cool

So I was never expecting it to be cool. The trip to Circular Quay felt like a million miles from my home in Bondi, as we boarded with not a single hipster in sight. Once I stopped worrying about what my friends would think, I had a ball. If you go with the right attitude, you will have a great time, if you don't you'll probably just spend the whole time wondering what happened in your life to bring you to the point of being in a room full of people belting out rock ballads at the top of their lungs at 3pm.
Kids Club
If they hadn't physically shut the kids' club on the last day my daughter would still be there, she loved it that much. On the afternoon you board you can register for the Camp Ocean Kids' Club and have a look around, but you can't leave your kids there until the next day. Children are split into age groups of 2-5, 6-8 and 9-11 and there were three sessions each day, one in the morning until about midday, another from 2pm until 5pm and one after dinner from 6:30 until 10pm, then they charged a small hourly rate until 1am.
The activities during the day included arts and crafts, games with prizes and decorating t-shirts. As adults aren't allowed in the club for security reasons we didn't actually see what was going on, but the begging to go to the club morning till night was enough to let us know it must have been pretty fun in there!
Kids can also have dinner at the club. After dinner they put on a movie, and give them blankets and pillows if they fall asleep. I don't know about your kids, but I think mine would stay up watching movies till dawn if I let her, so we brought her back to the cabin for bed-time. We still got a chance to go see a show and have a few drinks on our own beforehand. One thing I noticed was a few parents talking to the club about their kids with special needs. This seemed to be really well catered for and the club was accommodating. Children with special needs that need one-on-one attention can also have a parent/carer present in the club.
The Food
With around 2,600 guests and nearly 1,000 staff on board, it's nothing short of a miracle that they manage to get everyone fed three times a day (that's over 10,000 meals a day!). Those types of numbers, while impressive, are also a little scary. Images of mess camps or school cafeterias danced in my head, but were luckily unfounded.
The buffet was open breakfast lunch and dinner and was fairly good, with a few standout dishes and a few to skip. What impressed us most were the "specialty' restaurants, including Guy's Burger Joint, the Blue Iguana Mexican Cantina and Fat Jimmy's BBQ. The food was really good with plenty of variety and even the fussiest little eaters would find something to munch on. There was a 24-hour all-you-can-eat pizza place, with the best 2am pizza I've had (and I've had a bit) and 24-hour all-you-can-eat ice-cream which my daughter says was the very best part of the whole cruise. Also breakfast burritos at the Mexican cantina – just do it!
On sea days (when the ship is not in any port, which was both days for us) they have a sit down brunch from 8am until 1pm. One of the highlights of our trip was the Dr Seuss breakfast, which at $10 a head extra is worth every single cent. Not only is the menu themed but the food itself was so much fun. The green eggs and ham came out looking like a cartoon but tasted great, French toast crusted with cereal was a riot of colour and the red and blue decorated waffles fitted in perfectly. The kids also got to meet and have their photo taken with some of the characters from the books.
At dinner most people chose to eat in the dining room. There is an early and a late seating. We were assigned the early one at 5:30pm, presumably because we were travelling with a pre-schooler, but there is also the possibility of any time dining which means you can choose the time you dine. There were about six items on the kids menu, but the waiters let our daughter order off the adult menu one night.
Nouveau is the fancy restaurant at the top of the ship. There is an additional cost of $40 per person for this, but I'd recommend splashing out, after all, you are on holiday. It includes a three course meal with the option of filet mignon and lobster. We went on the first night and got a free bottle of wine too – not bad for $40. We had the little one in tow as the kids club wasn't open yet, but she was made to feel very welcome as she tucked into her kids-sized filet mignon.
The Service
These days, we've come to expect decent service and it seems it mostly gets mentioned only when it is particularly bad. In this case it needs mentioning because it was just so good. Every member of the crew was genuinely nice, and often went out of their way to help. Our waiter even cut our daughters schnitzel for her. Apparently Carnival carries more families each year than any other cruise line, so they get pretty good at anticipating the needs of families before you even have to ask. When my daughter lost her toy penguin just before disembarkation, two staff members went back on board and spent half an hour helping to get it back, nicknaming it "operation penguin". They didn't just help, they enjoyed helping.
The People
Although it is a bit awkward to discuss, I have to admit that I was most put off cruising by the people. What if I was stuck on a boat for three days with 2,597 people I couldn't stand? Actually I discovered this just came down to my attitude. The ship is huge (three football fields long), so despite the literally thousands of people on board it never felt too crowded.
We enjoyed spending time together as a family and didn't really socialise that much. When we did, the people we met were lovely. There are always going to be people on board you wouldn't choose to holiday with, like the man who managed to down three beers in half an hour during the Dr Seuss story time at 10am. We found it quite funny. It didn't affect us so why should we care? So what if the bar was three deep at midday while the salad bar stood empty?
Pool Play
Carnival call themselves the fun ship, and as corny as it sounds, it's this single-minded pursuit of fun that makes it so good for families. Carnival Spirit has the biggest waterpark at sea including the Green Thunder which involves standing in a tube while the ground literally drops out beneath you. I went on it in the name of research and found it truly terrifying. This was kind of embarrassing as the twelve year old next me told me he'd been on seven times. They also have a dedicated waterpark for the little ones.
The main outdoor deck has two pool areas and a spa, and although they aren't huge, they never seemed to be too packed (they were busy, but not CRAZY busy). At night they show Dive-in Movies on the big screen which you can watch from the pool (if it is warm enough, which it wasn't for us) or the surrounding deck chairs. Not all the movies were suitable for little kids, but my daughter managed to stay awake almost to the end of Minions one night. There's free popcorn and blankets and it's a great night-time activity you can all do together.
What to Do Next?
There are kids activities planned throughout the cruise, our favourite was the Seuss-a-Palooza Parade and Story time. And of course, the kids club with Ocean themed activities. You won't hear a single "I'm bored" from the kids – probably worth the cruise cost alone.
While our daughter was having non-stop fun, we found ourselves at an occasional loss for what to do. This was not so much because there wasn't anything on, but because we weren't used to having so many hours on our own.
We went to the adults-only Serenity Retreat area for a swim and a spa, and had a drink at just about every one of the many, many bars on board, including the new rum and tequila bars on deck and the apothecary-themed cocktail bar below. We saw a fantastic comedian, some singing and dancing, and even tried our hand at trivia. We sat on our balcony and watched the ocean. We started to unwind. It still didn't quite fill the hours my daughter spent at the kids club. We weren't game to try the nightclub (or more accurately weren't up late enough) or the casino, or any of the activities that sounded like an infomercial, like the free secrets to a flatter stomach seminar.
There is an entire team on board dedicated to making sure everyone is having fun, led by the bubbly cruise director, whose omnipresence meant she felt like someone you knew by the end, even if you hadn't actually met her. Perhaps a slightly over the top friend that always wants you to drink cocktails and dance to 80s rock ballads, but that's what cruising is like. If you're ready to embrace it, it is a dead-set blast. If you want peace and quiet and luxury bathrobes, try something else…but it won't be as much fun!
What We Thought Overall
We chose a three-day "at sea" cruise on Carnival Spirit for our cruise with our three year old. Despite my initial fears, we had a fantastic time. The kids club was flawless, the food was good and we got lots of grown-up time. The Dr Seuss at sea program was a standout – along with all other the child friendly activities and facilities. My daughter keeps asking when we are going to go on the boat again, and to be honest, I'm about to go and look for some deals right now!
Reviews
Great article and very informative, this gets the Official Seal of Awesomeness!