ellaslist Explores Calmsley Hill City Farm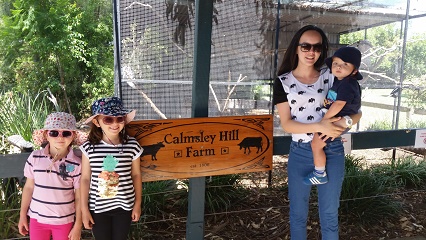 By: Heather Gow, ellaslist explorer
Visiting some places when your kids are young is a living nightmare. Unfenced playgrounds. Bondi Beach on a hot public holiday in summer. A supermarket of any description. Others are so good you find yourself returning at every chance. So it is with Calmsley Hill City Farm, a 400 acre working farm at Abbotsbury, an hour's drive from central Sydney.
I first visited when my daughters were 18 months and 3 years old, and loved their excitement at feeding the goats, seeing the cows milked, and cuddling the kangaroos. The girls are in Kindy and Year 2 now, and, in the way of childhood memories, had forgotten their visit, and my son is 18 months old, with a very limited acquaintance with anything other than the neighbourhood pets. So I jumped at the opportunity to head out there again, with the three little kids, my 12 year old stepdaughter, and the ever-loving man in tow.

Calmsley Hill is great. It's small and friendly, and when you sit in the woolshed listening to "Click go the Shears" on the PA system whilst the shearer gets the fleece off a docile sheep, you could almost be forgiven for thinking you were in another time, and another place, and not somewhere with a distant but spectacular view of the city skyline. The animals are in good health, and were happy to be socialised with, from the tiniest new chicks to the massive Clydesdale and the farm cats.
Each Kid Had their Favourite
You never can guess what will take the kids' fancy. Annabelle, my five year old, was fascinated by how the wool came off the sheep in one big piece, like a blanket, and she couldn't wait to take a piece of the fleece back to school for Show 'N Tell. Our new high-schooler, Kaylah, thought the working dog show was great and Holly liked milking the cow. But the consensus for highlight of the day were the four-day-old piglets, all lined up top-to-tail not far from their exhausted mama. They were exceedingly cute – almost enough to put one off their bacon!

So Much Excitement
As for Alex, our 18 month old, he loved everything. He ran around meeting koalas and wombats and kangaroos, feeding sheep and chickens and goats and camels. He was energised and excited and went far too long without a nap. Judging by his face and the volume of his excitement, his highlight was the tractor ride – a noisy, bumpy and totally fun ride around the property in trailers pulled by tractor. He was asleep before we left the carpark and slept all the way home.

Being the family we are, we were never going to be there at opening time, and ended up arriving at midday, which turned out to be great. There are two milking demonstrations and two departure times for the tractor ride – morning and afternoon. We missed the early ones but by the time the late ones came around, the crowds had dissipated and the girls could ask the farmers as many questions as they wanted.
Be aware though, the hot food at the Farm House Café finishes at 1pm – get in quick if you want a steaming hot schnitzel burger made to order (and who doesn't??). Alternatively there are free electric barbeques under the shade of the trees if you're inclined to flip your own burgers.

See All the Shows
There are shows running all day at Calmsley Hill and in my opinion you need to see them all; sheep shearing, working dogs, stock whip show, koala talk, animal patting, cow milking, and (an optional extra) the tractor ride. To achieve that, you'll need to be there either from 10:30am to 2:30pm or 12:00pm to 4:00pm. Unless, like us, you're willing to go back again for a second look!

The Essentials
Open: 9 am to 4.30 pm daily (last admission 3.30 pm).
Location: 31 Darling Street, Abbotsbury
Telephone: 9823 3222
Website: calmsleyhill.com.au
Admission: Adult $27.50, Child $15.50 (Under 3s Free), Pensioners $18, Family pass (2 adults/3 children) $82.50, Annual family pass: $195 (2 Adults and up to 3 children)
See what the daily schedule is at Calmsley Hill City Farm here.
Have you signed up to our newsletter? Join ellaslist to get the best family and kid-friendly events, venues, classes and things to do NEAR YOU!