ellaslist Experiences The Magic At The Hunter Valley Garden's Christmas Lights Spectacular 2016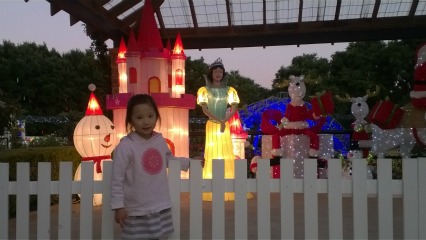 ellaslist COVID-19 update: Please note that all the information on the website is correct at the time of publication. Please check the relevant website before visiting a venue or destination for the latest COVID-19 information. ellaslist is not responsible for any cancellations or closures.
By Helena Leung, ellaslist explorer
At some point leading up to Christmas, if your family is anything like mine, you will find yourself and the kids packed in the back of the car, trawling the streets, searching for the biggest, the brightest and the best Christmas lights.
But there's actually a much better option.
For the past nine years the Hunter Valley Gardens have been switching on a most spectacular Christmas lights show, filling the trees and surrounds with millions of jaw dropping displays.
We were lucky enough to scoot up to the Hunter Valley, an easy two hour drive from Sydney, and experience the gardens first hand; both during the day and then again at night. Alisa (6yo) and Sofia (4yo) were bursting with anticipation, probably propelled by the idea of missing two days of school!
Splendour in the Daytime
Viewing the gardens during the day is a horticulturalists dream. With around 6000 trees and 600,000 shrubs planted over 60 acres, the gardens have been landscaped into 10 distinctly themed spaces. One of our favourites was the Oriental Garden, featuring a curved red roof pagoda, jutting out into a lake filled with lazy swimming koi. The Lakes Walk meandered past a picturesque waterside gazebo, and the Border Garden, with all its meticulously neat hedgerows gave me flashbacks to Versailles. But the real hit with the kids was the Story Book garden, filled with life-sized statues of nursery rhyme characters, like Humpty Dumpty and Jack and Jill. It was as if the characters had jumped out of the pages of a giant book and were running amok amongst the greenery.
All Aboard The Train!

After an hour and a half of vigorous exploration the girls were starting to get a bit tired. What a perfect time to climb aboard the Hunter Valley Garden train. The half hour train ride is perfect for littlies or anyone who may find walking all over the 60 acres of garden too tiring. The carriages are undercover and the driver provides interesting commentary throughout the trip. The ride was so soothing that Sofia soon fell asleep!
Evening Entertainment

After a brief interlude we were back at the gardens in the evening, ready to experience a fantastic selection of family friendly activities and entertainment. From 6:30pm onwards the girls managed to take a snapshot with Anna and Olaf, listen to a Christmas caroler dressed as an angel, watch an energised stage show performed by the Little Scallywagz and jump themselves silly in a giant, bouncy, snow globe; all included in the entry price. There were also plenty of delicious looking food stalls selling Turkish, Thai and German food. You can also buy ice cream and drinks like tea, coffee, beer and, not surprisingly, wine. We didn't get to take a photo with Santa as the natural light was fading fast, and we wanted to be in a prime location as soon as the lighted pathway was opened at 7:30pm.
Magical Lights

As dusk set in we followed the fairylight-lit path into the heart of the garden. To use some appropriate adjectives, the words marvellous, magical, and magnificent, immediately spring to mind. Everywhere we looked, along the ground, draped in the trees, hanging from the arbours, were lights of every colour and description. We passed by luminescent swans, honey coloured bees, flowers with purple and emerald glowing petals, delicious looking ice creams and lollipops in Candyland and a plethora of cute cartoon characters in Fairyland. My girls particularly loved the My Little Ponies, the glittery pink unicorn and Cinderella's dazzling castle and carriage. Other impressive displays included the Eiffel Tower, a collection of Sydney building icons and Ariel's underwater garden.
$5 for Unlimited Play!

What does $5 get you these days? Practically nothing! But as we emerged from the enchantingly lit Story Book garden we saw a series of large white tents and a lawn covered by a number of enormous jumping castles. For an awesome $5/person, the kids (and big kids like Daddy) could play to their hearts content. Our girls jumped at the chance (jumped, get it?!) to bounce all over the inflatable jumping castles, obstacle courses and slides. A venture inside the tents revealed a giant dance floor, lit up like, well, Christmas, and another tent was filled with arcade machines, all with unlimited play!
By 10pm our girls were thoroughly yet happily exhausted and our time visiting the Christmas Lights Spectacular had come to a close. We were so glad that we had the chance to visit the gardens and we will definitely be back again in the years to come!
ellaslist Top Tips For Visiting


Wear comfortable walking shoes & keep hydrated!


The entire garden is stroller and wheelchair friendly.


Give yourself at least 2-3 hours to see the entire garden.


Baby change facilities are available near the entrance of the garden.


Don't forget to grab a bite to eat at The Garden Terrace. It serves a bistro style menu, which is sure to have something to please everyone. (My girls enjoyed the fish and chips)


For family friendly accommodation, try staying at Harrigans, which is conveniently located only 600m from the Hunter Valley Gardens. This is perfect if you want to get your kids back quickly for naps and bedtime.
Christmas Lights Spectacular Essentials

Where: Hunter Valley Gardens, Polkobin, NSW
When: 8th November 2015 – 26th January 2016 (Closed 25th December)
Time: Food and entertainment from 6:30pm – 10:00pm; Lights Display from 7:30pm – 10:00pm
Cost: Family passes range from $65 – $85. A single adult is $27 and a single child is $22.
Find out more information and book tickets here.
ABOUT HELENA
Helena Leung is a high school English teacher who gave up the glory of classroom teaching for a quieter home life. She has two little girls, Alisa and Sofia, and is married to a Nissan Pulsar driving, Garage Band singing, Top Gun pilot wannabe husband. When she is not tutoring students on the finer points of Shakespeare and T.S. Eliot, Helena can be found stalking the haberdashery section of Spotlight in order to feed her fabric addiction. She also loves to make beautiful handmade hair clips, which she sells for practically no profit on eBay. Despite her lack of business acumen Helena enjoys her family life and exploring everything that Sydney has to offer. Weekends are often filled visiting parks, cafes and catching up with friends. One day Helena hopes to become very, very famous for writing a very, very good book (or review on ellaslist.) One day.