ellaslist Devoured The Mouthwatering Menu at Mejico Miranda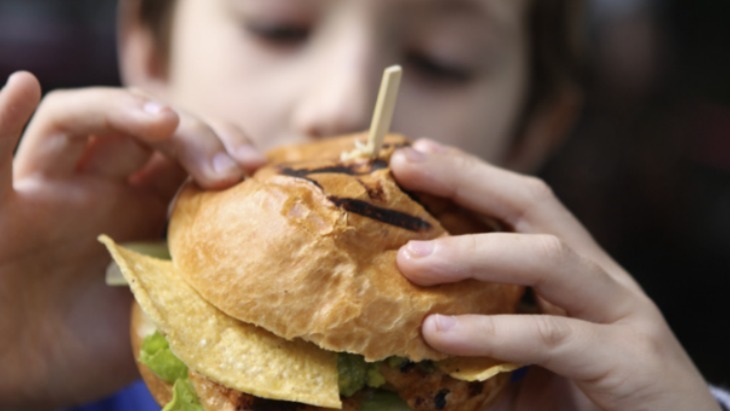 By: Kasia Froncek, ellaslist explorer
It's rare to find a restaurant that will happily accommodate kids... and even more rare to find one that does that AND serves up amazing food! But... (drum roll) this is it - a place to keep the kids & the fussiest foodie adults happy (with an extensive cocktail and drinks menu to boot!). This is by far the number one family Mexican spot in the Shire!
Mejico opened at Miranda Westfields after the recent renovations and this is their second location after the CBD spot. They are located on level 2 at the side of the restaurant hub, facing into a fountain courtyard. The benefit of the large mall location is extensive onsite parking and family-friendly amenities (a great kid's play/climbing space just a couple of minutes away). Parents will be happy to know there are bathrooms very close, and a parent bathroom/feeding room just a short walk away.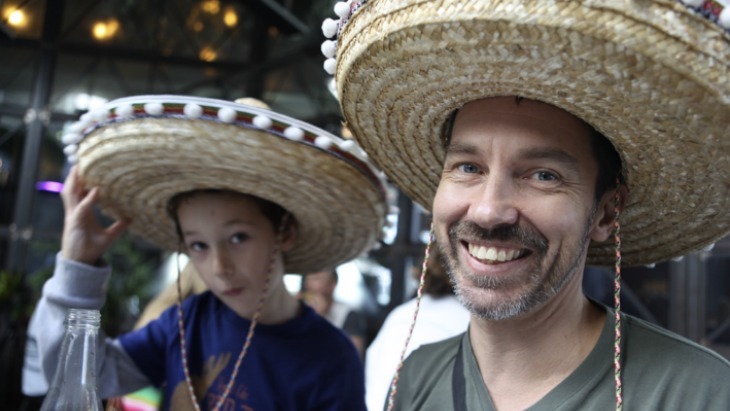 Gorgeous Outdoor Seating
As it was a sunny afternoon, we sat outside where there is more 'wriggle' room for energetic kids, the boys and I were able to walk over to look at the fountain which was just a couple of meters from our table. Later on when it got a little chilly the supplied colourful blankets were just the thing to cuddle up in and enjoy the slow paced afternoon. Midday on the weekend was quiet and relaxed so perfect for a relaxed family lunch - but I image this place would be very popular in the evenings with a livelier crowd.
There is also an inside area with more sophisticated decore and an upstairs area for evenings. We thought outside was best with noisy youngsters - but the separate zones mean Mejico can happily cater to families and keep 'child-free' diners happy as well!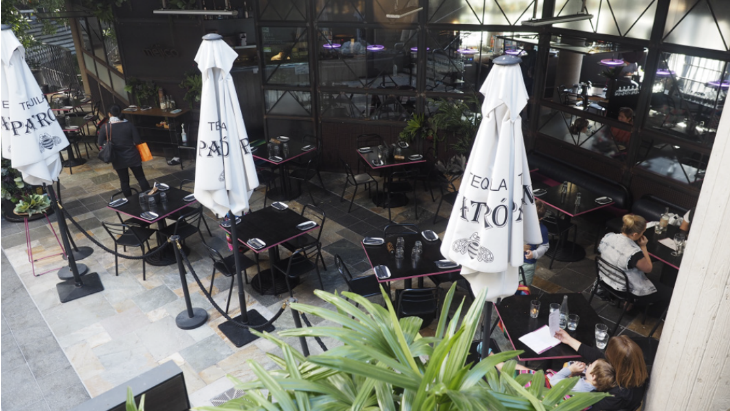 Sombreros & Kid's Activity Packs
Once we were seated the friendly staff introduced the menu and specials, then came out with sombreros for the kids - so much fun and a great photo opp! Next came activity bags for the kids (including stickers, a colouring & activity book, crayons & playing cards) - timed perfectly to give us a quiet 15 minutes till the food was ready... the animal collector cards were a particular favourite with our 7-year-old Pokemon fan! It's these little extra details that help make this a very workable and enjoyable experience with kids.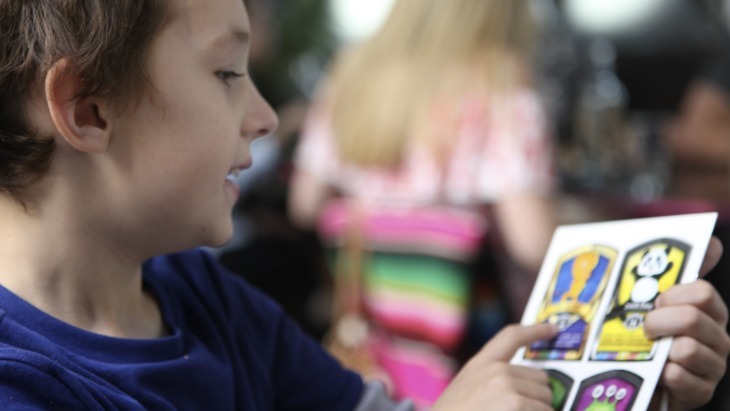 Gotta Start With Guac
We started with the Guacamole $15 (recommended by one of the lovely staff), and so glad we did - this was a perfect and fun start to the meal, and a huge hit with our kids! All the ingredients and a mortar and pestle are brought to the table, and then you get to make it. The boys really got into this (especially the 'smashing' part) and as a result ate quite a lot of their handy work, the incredibly fresh flavour with a hint of lime and chilli was divine - this is definitely a 'must order' started for avocado fans. The plantain chips on the side were fantastic and a good way to introduce the kids to a new food - plus they are also gluten & dairy free (and paleo)!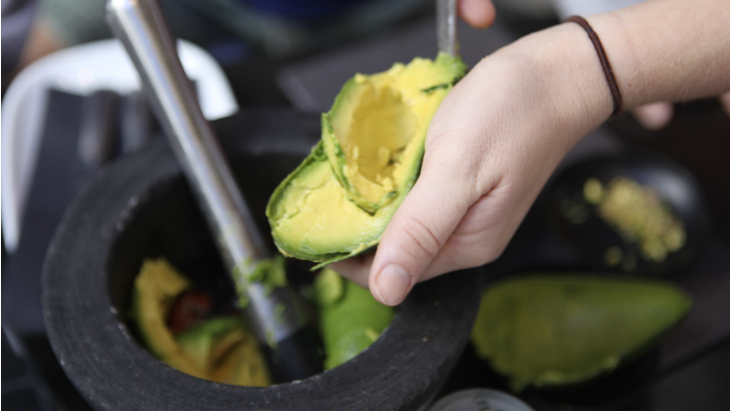 Delectable & Instagram-Worthy Menu
There were lots of fantastic gluten, dairy free and vegan options on the menu - which makes it easy if allergies/intolerances are an issue with your family, or you are booking for a larger group. We also ordered the Corn Lollipops $13 as we saw these arrive at another table and they are such a funky looking dish! Corn cobs topped with chipotle mayo, queso fresco (a fresh Mexican cheese), coconut and popcorn. Anything that makes veggies fun and appealing to kids is a win! Next up was the Halloumi special - gorgeous presentation with agave and micro greens, this was a big 'thumbs up' from our four-year-old as well as the adults (who weren't so keen to share it!)
The food options are wide and varied, there are share plates, mains, fab sides, and great specials - with lots of seafood, veggie options, and fresh, authentic flavours. As well as heartier meals, like a 6-hour slow cooked beef brisket, and glazed lamb ribs. We were all instantly drawn to a dish - but later also decided we would have to come again to sample more offerings as we eyed off the food arriving at surrounding tables... with the watermelon salad & potato bravas at the top of that list!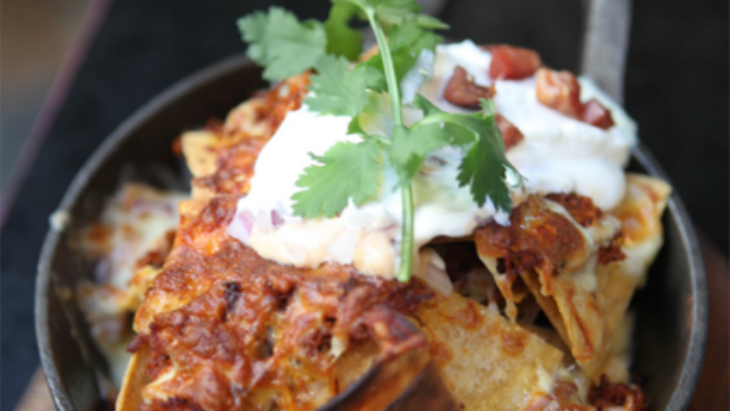 Little & Big Kid's Menus
There is a good kids menu has both 'little kids' and 'big kid' options for big and smaller appetites. The little kid's range includes simple favourites like DIY Tacos, fries and a smaller serve of the Corn 'lollipops'. The 'big kids' menu also has quesadillas and nachos, as well as a chicken burger, and mac & cheese. Our four year old LOVES both bacon and nachos so he HAD to have the agave glazed bacon Nachos $12 (as good as it sounds!), and our seven-year-old (who is a less adventurous eater) was keen on the chicken burger $16. The kid's meals were beautifully presented and really tasty. The burger was a marinated grilled chicken breast, served with corn tortillas and guacamole, and received high praise indeed with "I wish I could give it a million thumbs up!" The nachos had hand cut tortilla chips and were perfect for little fingers to work through.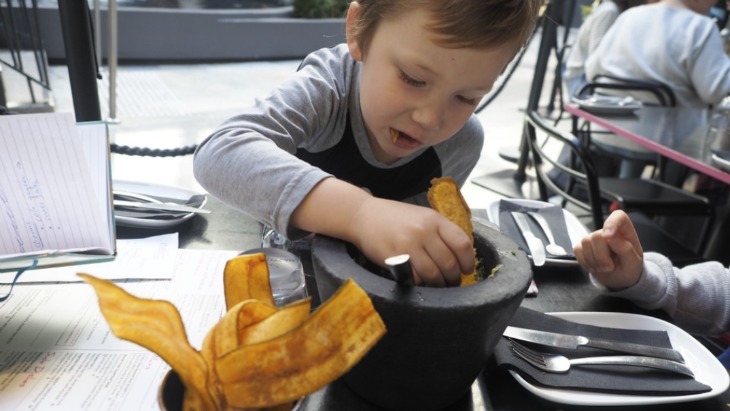 With the kids happily eating away we could enjoy our meals, and they were spectacular. I ordered the Achiote Chicken $26, this was a lovely dish beautifully presented, with ginger, honey and lemon achiote, and sides of fresh mango salsa, quinoa, and spiced almonds. Almost too pretty to eat! 'Dad' chose the 6-Hour Slow Roasted Beef Brisket $29, with chipotle sauce, tortillas and a surprisingly great chilli mac & cheese (which - much to 'dads' disappointment - was promptly scoffed up by the kids).
There are just so many great options on the menu! Next time we are planning to order a whole lot of sides and tasting plates for everyone to try out and sample the different flavours.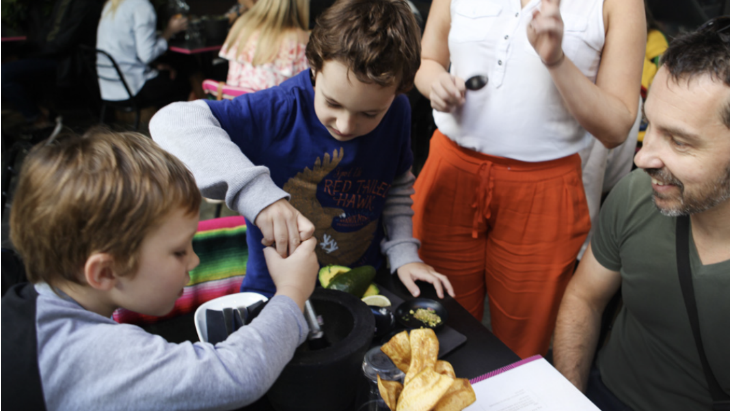 Have A Cheeky Cocktail & Dessert
I was assured by staff the Signature Paloma cocktail with a ginger was "good for a cold" so in the interest of good health I had to order one. Lovely and tangy with a not-too-sweet flavour... and a Mexican beer for dad. As Mejico runs a full bar their cocktail options are a highlight - especially for Margarita fans - something to come back for on the next parent 'date night'!
For dessert, we couldn't go past the classic churros with a side of vanilla ice cream $7, for the kids, and churros with Cajeta & chocolate dipping sauce for us to share. Subtle sweetness with a custardy inside - this is as good as churros get! Lastly, a classic strawberry milkshake (the 'Meji-cow') $5.50 for the boys to share, and coffee to round up a perfect afternoon.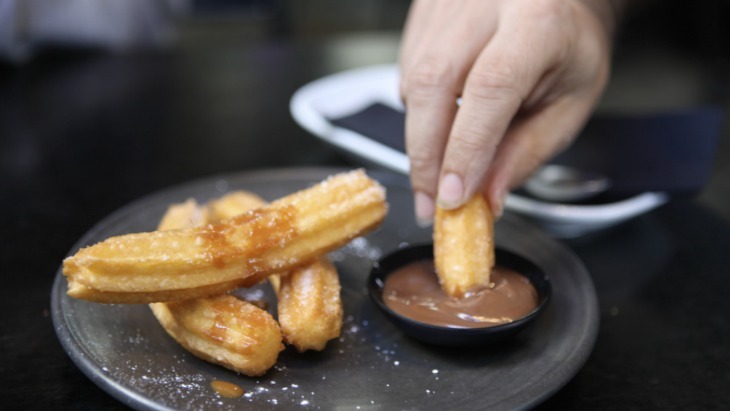 In a Nutshell
What makes it kid-friendly: welcoming & friendly staff, fun extras like sombreros for the kids to try on, activity bags to keep little hands and minds busy, and a kids menu were a big hit.
The Food: Fantastic - beautiful food, gorgeously presented!
Value-for-Money: Good - high-quality food with generous portions, lots of options for smaller and bigger appetites.
Special features and fun bits: the 'DIY" guacamole was a highlight - as were the hats!
Who is the cafe best suited for: families with kids of all ages, large groups, couples, singles
What did we love: The REALLY beautiful food, lovely open airy space, welcoming staff and that the boys were entertained!
Perfect for: a special lunch with the kids, larger family/group dinners, special events, dinners with food allergies
What You Need to Know
Opening Times: 12pm to 10.30pm, all week long
Highchairs: Yes!
Mall/onsite parking: 3 hours free
Phone: (02) 8294 0759
Address: Westfield Shop 2202
600 Kingsway, Miranda
More Info: www.mejico.com.au
Reviews

Reviews get lonely too
Be awesome and write a review