ellaslist Catches Up With ShopWings A Year After Its Launch To Find Out What's New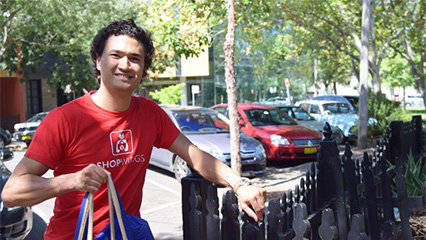 We are SO Excited! We've just heard that Shopwings is offering home delivery from IKEA. So no more day trips out to Ikea for just one small thing – Shopwings will deliver to your doorstep. PLUS prices are the same as in-store. AND the amazing team at Shopwings will even assemble all your Ikea purchases for you! There are thousands of items on offer so you've got lots of choice. Now we just need to them to put all the furniture together for us! Find out more…

Unless you've been living in a cave, you've probably heard of ShopWings, an online shopping delivery service that launched in Sydney almost 12 months ago. Not sure how it works? It's simple. You need groceries. You don't have time to shop. You visit the ShopWings website, select a supermarket in your local area and choose the products you want. Personal shoppers handpick your groceries and deliver to your door within 2 hours! Voila!
You can see why we were so eager to introduce and road-test the ShopWings service to busy Sydney parents a year ago!
We decided to catch up with Manutea Dupont, co-founder & MD of ShopWings to find out how the last 12 months have gone, what's new and what's in the pipeline for the future.

ellaslist: Congratulations on your first 12 months! We'd love to hear how the ShopWings service has grown over the past year. Have you grown the number of stores you partner with and the suburbs you now cover since launch?
We are really proud to now offer our customers the opportunity to combine several stores in one shop – they can now shop at
ALDI
& Coles at the same time or shop from Coles and a great local grocer in one shop. We've also added more local choice. We quickly realised that many people are looking for more than just standard products found at the major supermarkets. We now offer a wide selection of local stores to choose from including fresh fish and seafood from The One That Got Away, meat from the award winning butcher Lucas Meats, fine wines from Kent Street Cellars and even the famous chocolate Kugelhopf from Wellington Cakes…and that's just to name a few! We are proud of both developments, especially as no-one else in Sydney currently provides these services.
Plus, not forgetting to mention, we've expanded out of the Eastern Suburbs to cover the majority of Sydney and have launched in Melbourne as well!

Have you increased the number of products you offer in each store?
We now have over 55,000 products across the various stores. Last we spoke it was 15,000. That's a 267% growth – our product team has been extremely busy!
The ShopWings personal shoppers are an integral part of your business. How many do you have now?
We now have several hundred of shoppers signed up on our platform. They range from uni students to mums who are looking for extremely flexible, part-time work.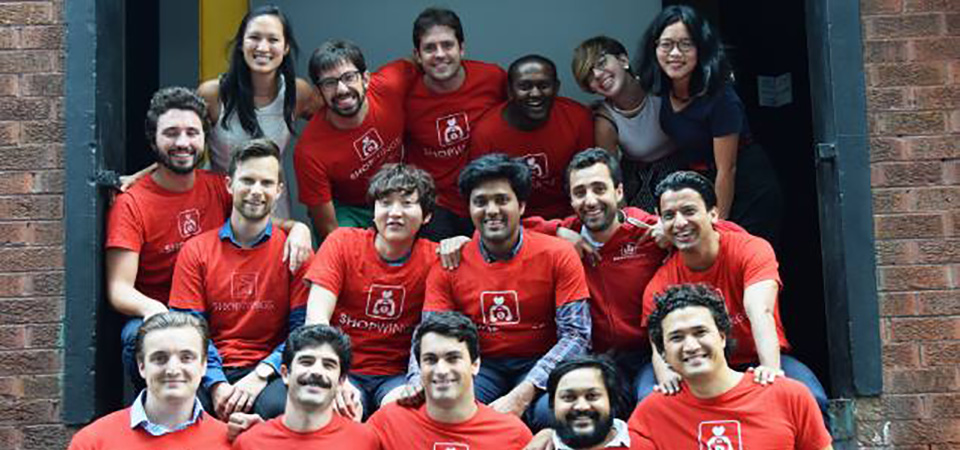 Give us an idea of how busy your shoppers are – how many deliveries a day do they make across Sydney?
A shopper's busyness depends on how many orders they choose to accept and how many hours in the day they want to shop. Some of our busiest shoppers have already shopped more than 1,000 times!
Can you tell us who are the biggest users of your service?
By far the biggest users of our service are mums (and dads…but mainly mums). With our range, convenience and the lack of waiting – our delivery windows are one hour – it really is the perfect match!
How many Sydney families are ordering through ShopWings and why is it the perfect solution for busy parents?
Our customers are 80% families: we now have several thousand of families ordering from ShopWings each month. Before ShopWings, families had to be very organised to do online grocery shopping because of the 2-3 days wait time. As you know, it can be very difficult to forecast if you're going to run out of milk in 3 days or not!
Now with ShopWings, families can have large family orders delivered in a few hours. That means that someone can order on their way back from work on our App and be delivered before dinner!

And what are your top-selling products?
Bananas! We sell a lot of nappies too (especially
ALDI
nappies). We've started selling a lot of fruit from local greengrocers as well.

The first year of any business is often a period of learning and developing. What has ShopWings gleaned and improved on during over the last 12 months?
The first 12 months have been extremely busy for us and also very insightful. Not only did we prove that we could offer the most convenient service on the market with our speed of delivery, we also helped local independent retailers go online, sometimes for the first time.
In terms of the online user experience, have you made any improvements?
The most important learnings for us have been to understand what people like to do offline and bringing it online. For instance, we know that most people shop not from one single store but from several stores. That's why we worked to combine several stores in one shop.
We also completely revamped the look and navigation of our website. We think it looks very good. Send us through your feedback at [email protected]

We're excited to hear you now offer in-store pricing for some supermarkets. Can you tell us a bit more about this?
We've partnered with certain stores to offer in-store pricing which gives customers amazing value. This means you can now have some of your favourite stores delivered to your in in one hour
AND
pay exactly the same prices online as you would in store. Just look for the stores that are marked with the 'same prices as in-store' badge. We have many more of these partnerships coming on board, stay tuned!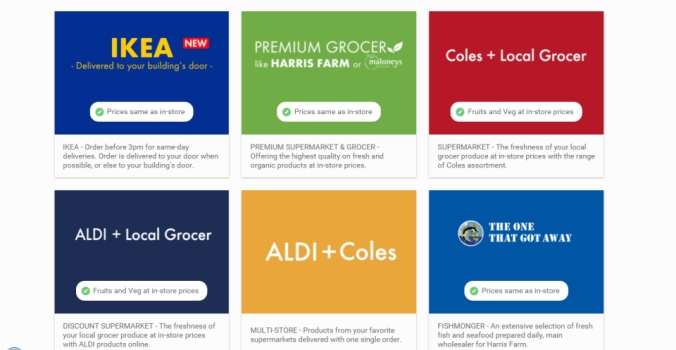 And for the supermarkets who don't have in-store pricing, can you be clear about how you price products?
We try to match our prices as closely to in-store as possible. However, we need to make sure that shoppers are remunerated in a healthy and fair way. Therefore, you might find that prices are slightly higher than in-store. It's all about the convenience!

What's your minimum purchase order and what do you charge for delivery?
Minimum purchase order is generally $49, however may be higher if you are doing a multi-store order. Delivery fees are unique to each shop depending on the basket size, the distance to the shop and the retailer. One thing to know, the more you spend the cheaper delivery is! Delivery on orders over $250 is free and first delivery is free.
Can you share with us any exciting plans for the future?
Our plan is to expand to other cities in Australia other than Sydney & Melbourne but we will also be working on adding other very interesting verticals (not just groceries). We can indeed deliver from any store and we think that home improvements for instance, would have an amazing potential.
Do you have any special offers to entice ellaslist readers to experience the ShopWings service?
Yes we do! We're offering new customers
$20 off their first shop with ShopWings
. Simply use the offer code
ELLASWINGS
at the end of the order process.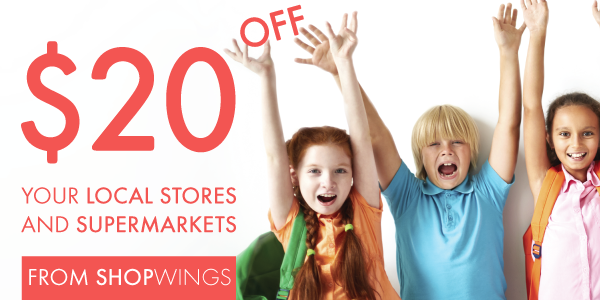 Terms & Conditions: Offer only available to new customers. Maximum one discount per household. Not cash redeemable. Valid until April 2016. Minimum order of $49 (normally $99!). May not be used in combination with other vouchers. Please use voucher at the end of the order process.