ellaslist Braves The First Saturday Night Of Vivid 2016 With An Under 5 and Survives!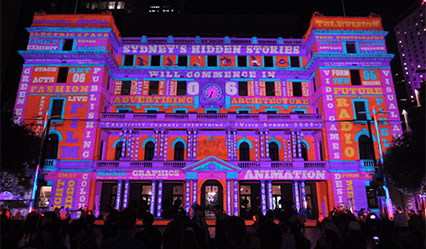 By: Marie Ashworth, ellaslist
Vivid is Sydney's much-anticipated annual light, music & ideas festival and what an event it is. It's the biggest festival in Australia, attracting 1.7million visitors last year, more than any other music, sporting or cultural event. This year, Vivid is bigger than ever with over 70 different lighting projections and installations across the city.
But Is It Family-Friendly?

We enjoyed our first Vivid last year with our then 2 year old. We went mid-week on a very chilly evening straight after work and absolutely loved it. This year, we decided to brave the crowds and explore on the first Saturday night of the festival. I was expecting the worst. I'd heard about the weekend crowds, the only food to be had, sitting on the pavement with a Hungry Jacks or McDonalds and avoiding the pressure points of Circular Quay.
Saturday Night, No Restaurant Booking, Circular Quay!

So we broke every family rule this year. But we did decide to head in early getting to Circular Quay around 3.30pm before the buses were diverted.
Fail-Safe Italian For Dinner

We opted for dinner at The Rocks and took a chance on finding a table in a reasonably-priced, family-friendly restaurant on the fly. After a little exploring through the narrow cobbled streets and catching the tail-end of The Rocks Markets, we decided on Appetito Pizza Pasta Bar. Italian is always a safe bet in our family. It ticked every box we needed – it had space, a kids' menu, stone-oven baked pizzas, homemade pastas and it wasn't going to break the bank.
West Side of Circular Quay – The Start Of Our Vivid Trail

We left the restaurant around 6pm just as the lights were being switched on and entered the crowds at Circular Quay. Hundreds were perched on the rails taking pictures on their phones of the Opera House. We decided the safest place for our son was on top of my husband's shoulders as we weaved through the throngs of people towards the MCA and The Matter of Painting projected onto its façade. It was beautiful. Like an artist's canvas that continually changed with different mediums. At one point, my son said it looked like playdough, which it did. We managed to get up close to the Mondrian Cube and were keen to enter the towering illuminated Light Rocket by Captain Starlight until we saw the queue.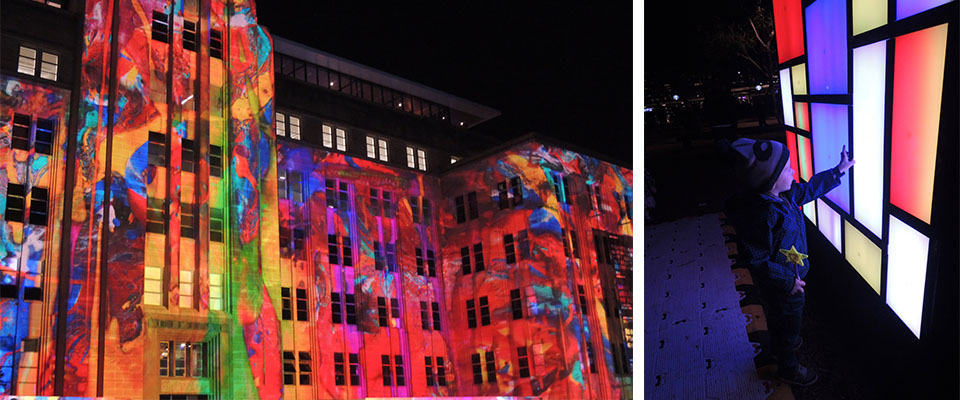 The Matter Of Painting & Mondrian Cube, Circular Quay
Custom's House Transformed

The projection onto Custom's House was a favourite of ours last year – we watched several times in one sitting. And we weren't disappointed this year either. Sydney's Hidden Stories is a spectacular projection onto the entire building, telling the tale of a blue-tongue lizard as he discovers enchanted forests with snakes, cockatoos, gnomes and gumnut fairies. There's also some witches thrown at which point my 3yo needed an extra tight squeeze.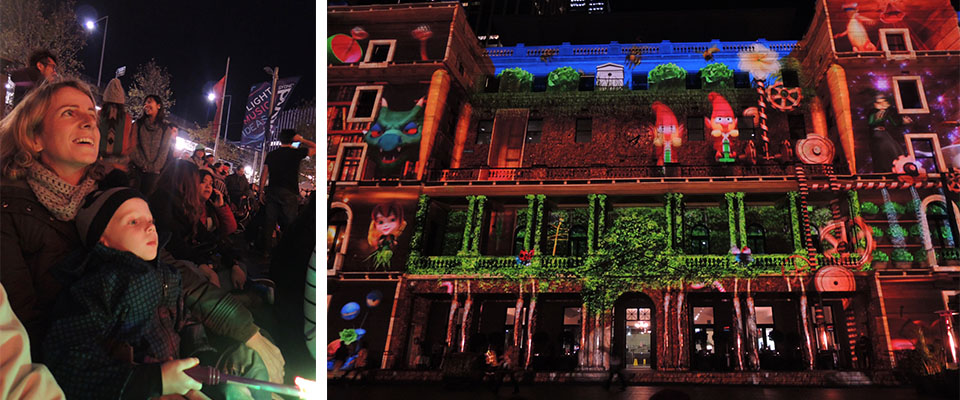 Sydney's Hidden Stories, Customs House
East Side of Circular Quay

By the time we got to the other side of Circular Quay, the crowds were huge and we had a tight hold of our son's hand. We were shoulder to shoulder with a moving mass of people so I have no idea just how my son managed to get straight to the front of the Spectrum installation. These multi-coloured rods responded to the slightest movement, changing colour as they were tilted in either direction. He absolutely loved it and would have happily stayed there for ages but the Botanic Gardens were calling. We would have loved to try out Dress Circle – where kids could create their own colour and pattern designs and light up parts of the Harbour Bridge and 'Dress Circle' skyscrapers – but again, the queue was enormous.

Spectrum, Circular Quay
Light The Sails: Songlines

As expected, the iconic sails of The Opera House looked spectacular, transformed into an animated canvas of Australian Indigenous art celebrating First Nations' spirituality and culture through the songlines of our land and sky.
Credit: HF.C Photography Instagram
Royal Botanic Garden

A new addition to Vivid this year, The Botanic Garden was top of my must-sees. I'd seen a few photos of what to expect but they really didn't do it justice – this was the highlight of our evening. The route starts at the Sydney Opera House concourse at the Queen Elizabeth II Gates and loops through the Gardens before exiting back at the Sydney Opera House gates. The route is one-way on Friday, Saturday and Sunday nights and follows a paved pathway so great if you have a pram. Note, there is a steep incline towards the end of the route.
The route started by the Electric Garden, where gentle grassy slopes became electric grids and shafts of light soared into the trees.

Electric Garden, Royal Botanic Garden
Then we caught sight of the Cathedral of Light, a 70 metre long, 8 metre high arched tunnel made from tens of thousands of LED lights. We were like bees to honey, following the crowd to enter this magical space. My son was mesmerised – you can't see the end of the tunnel from the start so he thought this was a magical adventure. You need patience – there are hundreds of people stopping in front of you for selfies but it's worth it. It's also worth getting a different perspective from outside of the arch.

Cathedral of Light, Royal Botanic Garden – The Moment When A Steam Boat Sounded Its Whistle
Another favourite was Synthesis, a 3D mapped projection show onto a heritage listed Moreton Bay Fig Tree. My son spent ages looking at the snake-like creatures weave their way around the branches. A little further on, was Will o' the Wisps which glowed softly under a tree. They reminded me of little witches fingers.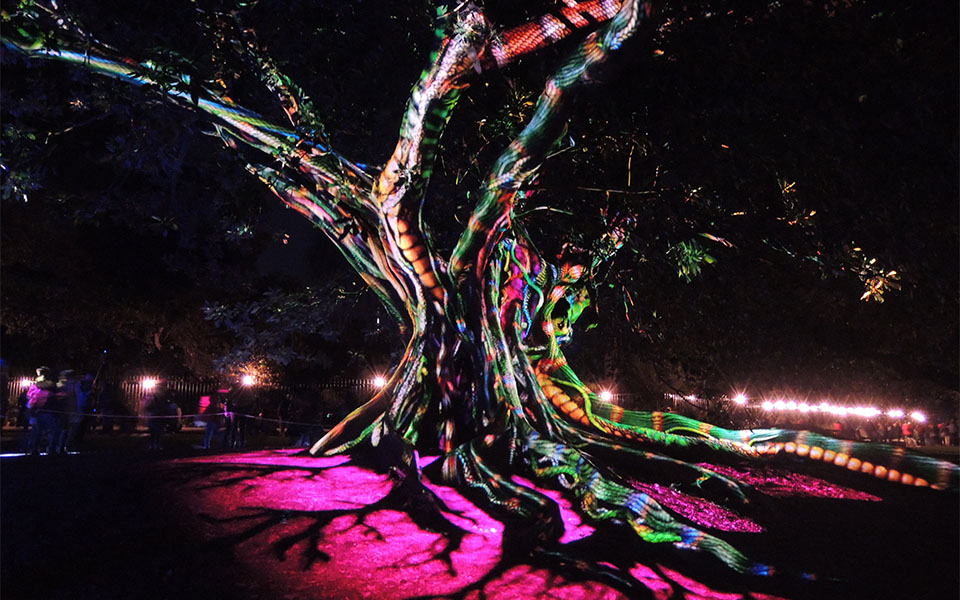 Synthesis, Royal Botanic Garden
Time To Head Home

By the time we'd left The Botanic Garden, we were Vivid-ed out. After a quick stop in the Guylain Café for a somewhat-overpriced but delicious hot chocolate, we headed to our bus stop at Circular Quay for the ride home. It was then we discovered the buses were not stopping at Circular Quay and not one steward could tell us where we needed to go. So, we decided to get the train to Central and bus from there. It added a little time to our journey but Master 3yo was still on good form so it wasn't a drama.
Going Back For More

Despite the crowds, we had a fantastic Vivid experience. The harbour and surrounding buildings looked stunning but the highlight was seeing how much our 3yo got out of it. He loved the lights, the interactive installations, the magical gardens and best of all, being out in the city at a time when he's normally tucked up in bed. We've already decided we're going back at least once more to explore Darling Harbour, Walsh Bay and The Rocks.
ellaslist Top Tips For Vivid With Kids

Vivid is a fantastic family activity but needs some forward-planning for a hassle-free evening. Here's my top tips on getting the most out of your trip.


Download the Vivid app - it's a fantastic guide to all the different lights, installations and events. It also has recommended routes and itineraries.


Go early – the lights are switched on at 6pm (5.30pm at Taronga Zoo). Make sure you're where you want to be for this time to avoid the worst of the crowds, which in our experience was from 8pm.


Opt for an early dinner - it is possible to find somewhere to eat without a booking, just make sure you get there early.


Go midweek – last year we went on a Tuesday and the crowds were a fraction of what we experienced this year.


Don't let the rain put you off – if you're rugged up with waterproofs, then brave a shower or two and be rewarded with less people and beautiful glistening pavements reflecting the gorgeous light displays


Ditch the pram - I only saw a few prams and I can totally see why! There is barely enough room to walk around Circular Quay on a busy evening without trying to navigate a pram through the crowds. Take a baby carrier or perch them on your shoulders when they get tired.


1:1 Ratio – I would suggest a ratio of 1 adult to 1 child if you're tackling the crowds at the weekends. You really need to keep a tight grip of your child and have your eyes on them at all times.


Don't try to fit it all in to 1 night – Vivid is tiring, especially for little legs. Plan a manageable route and go back for more another evening


Have your Opal card to hand – the ticket queues at Circular Quay were huge


Plan your journey – as we discovered, there are extensive road closures in the Sydney

CBD

, The Rocks and Walsh Bay to help minimise traffic congestion and keep pedestrians safe. Plan your journey in advance with the help of Vivid's transport information.
Vivid Sydney runs across 23 nights from 27 May to 18 June. Lights are switched on at 6pm and turned off at 11pm; however some precincts, such as Taronga Zoo have an earlier start and finish time. Visit Vivid Sydney for full information. For more advice and tips on getting the most out of Vivid this year, see our Best of Vivid For Kids and Where To Find The Best Lights articles.
Reviews
What a terrific description of Vivid and the experience of visiting with a child. Can't wait to see it.