Does Man Flu Really Exist?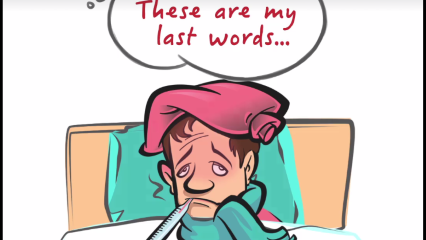 By: Serina Hajje, ellaslist
Bright Side likes to have a few laughs, and they've articulated the hilarious reactions that men have when they get sick.
Man Flu Does Exist!
Yes, you read that right. Science has jumped aboard the Man Flu debate wagon and determined that it does exist.
Published in the Proceedings of the Royal Society B: Biological Sciences, they found that men tend to have weaker immune defences, usually because of hormonal differences.
"Our results show that, under a range of genetic and ecological constraints, males and females can evolve different levels of immune defences, sometimes at odds with intuitive expectations."
No Rest for Sick Men
One of the factors that affect this, researchers found, was because men invest more energy into the ability to reproduce while ill.
Dr Olivier Restif, of the University of Cambridge, said: "In many cases, males tend to be more prone to get infected or less able to clear infection. Proposed mechanisms include interference between male hormones and immunity, as well as risk-taking behaviour."
But that's not the only report that backs up the Man Flu. John Hopkins University investigated the effects of estrogen on the replication of viruses, and it turns out that it does protect women from illnesses!
Oestrogen, which is found at considerably higher levels in women than in men, was found to reduce the replication of the 'influenza A' virus in nasal cells, thereby initiating antiviral effects against the disease.
So women really are virus-busting super-heroes! And men, well we just have to try our best to sympathise.