Christmas Family Fun at the Sydney Santa Spectacular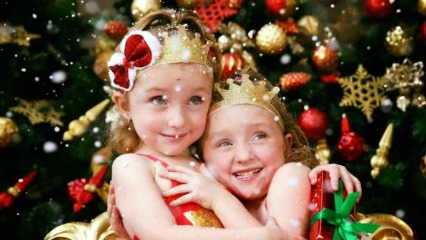 By Alana Whitting, ellaslist explorer
Christmas is extra special when you're sharing it with little ones and remembering how much you loved it yourself when you were young. With two little girls who are 3 and 5 it's a lovely time to enjoy all the wonder and magic of Santa Claus and Christmas. The Sydney Santa Spectacular is a fantastic family event to attend together at this wonderful time of year.

Santa's Wonderland, Carousels and Slides
This truly lovely family event will transport you to the North Pole with Santa and his team of helpers. As you arrive you're greeted by an outdoor area of carnival rides and activities including the two level carousel and giant slide (our 3 year olds favourite!!). If you can drag your little ones (and not so little ones too) away from this fun filled fair you're able to enter Santa's Winter Wonderland where you walk through gorgeous scenes straight from your favourite Christmas stories while snow falls gently and Christmas carols play. Everyone you meet along the way from 'Team Santa' is genuinely friendly and festive.
Winter Magic
Then you arrive in the midst of all the action – we didn't know where to head first; inflatable world packed with jumping castles, ice skating, tobogganing, circus skills or the stage show. We made sure to spend time giving everything a go and with the event scheduled in to 3 hour time slots there was no waiting in lengthy queues so you can be sure that you'll get a chance to check everything out and spend time at all the activities.
Lets Go Skating
Ice skating was a hit, with everyone getting a chance to give it a go, young and old, which added to the already fantastic family vibe. For our little dare devil the toboggan hill satisfied her need for speed – only those 5 and over are allowed on this activity. The circus skills tent was filled with laughs as we all tested our hula hooping and plate balancing abilities – with surprising results.
Unleash your Creative Side
After the action we opted for some time at Santa's Workshop creating some gorgeous Christmas craft and colouring. We then decorated gingerbread and had fun in the giant snow globe and enjoyed some of the rides inside – another lovely carousel and a train ride.
A 1 on 1 With Santa Himself
Another benefit of the limited numbers at each session of the event is the ease with which you get to see and spend time with Santa. Again no long waits which little ones (and their parents) dread and Santa was warm and friendly, greeting everyone with lots of Christmas cheer. There are a range of Santa photo package options available for purchase and a little gift for everyone who sees Santa.
The event is nicely spaced out allowing you to see everything without dragging little ones for miles between attractions. The activities are based both indoors and out with the outside carnival a lovely spot to be at dusk with lots of Christmas lights adding to the atmosphere and also a great time to grab a bite to enjoy on the grass. The majority of activities are indoors so don't fear if there is wet weather it won't impact on your fun. The event is also accessible for prams and wheelchairs with easy parking (included in the cost of your ticket) in close proximity to the venue.
Hungry?
There are a range of food favourites available to purchase including hot dogs, German sausages, hot chips, corn on the cob, doughnuts, lemonade and coffee and cold drinks or pack a picnic to enjoy outside.
It's great that once you've paid for the cost of your ticket almost everything is included so you don't need to think about how much each ride or activity will cost. If you opt to play side show games, get a show bag or grab something to eat these are the only real extra costs you'll incur. It really is a great family event where everyone can get in on the festive fun and action – bringing the family together, which is what Christmas is all about.
Top Tips


Ice skating – bring socks to wear with your skates and gloves to keep your hands warm and dry.
The event suits all ages so everyone gets a chance to have fun.
Have fun – get out on the ice with your little ones and go down the giant slide. The fun is doubled when your kids see you enjoying yourself too.
WHEN: 10 – 30 December
*Please note 3 hour session times are divided into: 10am-1pm, 1.30-4.30pm, 5-8pm (selected days and dates).
Saturdays have an extra session available 8.30-11.30pm.
WHERE:  Rosehill Gardens, James Ruse Drive, Rosehill
COST: $35 Child, $40 Adult, $140 Family (2 adults + 2 children), Under 2's go free.
MORE INFORMATION AND BUY YOUR TICKETS ONLINE HERE
ABOUT ALANA

My husband Andy and I are parents to Cleo, five and Ava, two. Our household also includes two very demanding but adorable Burmese cats, Coco and Tiger. My professional background is Marketing in the hospitality and sporting industries and my husband and I now achieve the often impossible for married couples, working together in our full-service below-the-line design, marketing and production agency.
We love getting out and about and exploring, whether it's adventuring outdoors or checking out the latest event or exhibition as a family, we're always keeping up-to-date with what's happening locally as well as across Sydney. Being busy with our own business and two very spirited little girls lends itself to our active nature and we're always on the go. In our downtime we love watching Disney movies!
Cleo and Ava are all action; Cleo is wonderfully creative with a huge imagination which she translates into beautiful drawings and stories.  She also loves nature and everything to do with plants and animals. Ava is cheeky, can entertain herself for hours with building blocks and puzzles, has a love of singing and her very favourite activity is going to playgroup.
I love enjoying an active lifestyle with my family, reading, cooking, keeping up with my powerhouse husband Andy and occasionally indulging in some delicious dark chocolate and a sneaky margarita!
As a family we also enjoy entertaining and spending time with family and friends, eating out and family holidays.
Being a Mum is the hardest job I've even undertaken but without doubt the most rewarding and absolutely the most fun I've ever had.
Reviews
Nothing spectacular about this I will never know how you can charge the prices that you have for adults there is nothing for us there was a couple of things for the children but the rides were burning them as the rides were in the sun I would never recommend this for anyone