Bouncing Off the Walls at Boing Central!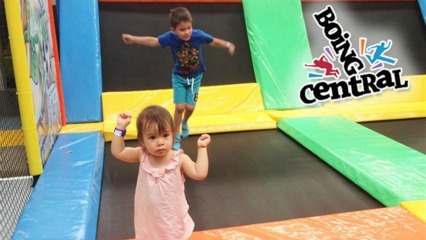 By Jo McPherson, ellaslist explorer
Do your children have way too much energy? Then head for Boing Central, Baulkham Hills. This trampoline centre is just the place for your children to go crazy and for you to sit back with a coffee and a book.
The centre is nestled in the centre of Norwest Business Park – you need to look carefully for the entrance as I went past it when we first went. There was plenty of free parking and as we had pre-booked our time slot we could just sign a waiver and the kids were jumping within minutes.
Best View
I like to grab a seat at a table upstairs at 'Cafe Central' as I can easily see all the jumping areas from there. Once my table and seats are reserved I grab a much needed coffee and smile as I watch the children laughing and tumbling. They are having an awesome time.
Thrillingly Safe
Boing Central has over 80 connected trampolines so you just bounce from one to another and if really clever even bounce off the walls! In addition to these trampolines there is a dodgeball jumping court, "Tiny Tots" area for pre-schoolers, and a brilliant foam pit for the kids to practice their tumbling. Just imagine 1,000 square metres of trampolines, padding and foam – that's all the safety and thrills for the kids a parent could ask for! There is no age limit, you just need energy. I myself am very happy looking on but there were some keen adults too!
Birthday Parties at Boing
Boing's 'Party Central' is a great place for a party. Ellie had her 7th birthday party there. We chose to go the hosted party route as Ellie loves feeling extra special. The hosted party includes a host, a party room, exclusive foam pit time, nibbles, lollies, drinks and a meal. It was a great party and Ellie is hoping to go again for her 8th party. We may try the DIY party where you don't get a host but you do get a reserved table upstairs with chips, lollies, drinks and a pizza meal for a cheaper price.
Become a Boing Cadet
Join the FUN Boing Cadet Classes each term and learn safely how to flip and jump like the professionals. This is an 8-week program and classes are Monday to Thursday 4:30pm, 5:30pm and 6:30pm. Qualified instructors run these Cadet classes that cater for all levels. Socks are provided but be quick there's only limited participants per class. Bookings essential.
Top Tips
Make sure your child is wearing suitable clothing e.g. not a dress and not a jumper.

Take water bottles, the kids get really hot and thirsty

I like to get there early before it gets busy

ALWAYS

pre-book, it is really disappointing to get to Boing and there is no availability.
Everything You Need to Know
Opening Hours:
Monday- Sunday, 9am-9pm
Tickets cost from $10 up to $24, party packages come at a discounted rate
For bookings, call 1300 264 642, or visit the
Boing Central website
for more information.
We are a small family originally from the UK. Dave (my husband) and I are in our 40's and moved to Sydney about 10 years ago; we can't imagine living anywhere else now.
We have one daughter, Ellie, who is 7 and into anything that we offer her. She loves craft, drama, dressing up, swimming (particularly as a mermaid), cycling and anything else you may suggest she does. We also have a gorgeous dog, Rosie who is our best friend and ball lover.
Dave is an IT architect and in his free time used to play many computer games however now we have a home, his free time is used to garden and do the
DIY
jobs that I am really hopeless at.
I'm a teacher and work with children and their families that have autism. It is a rewarding job and I love it. I also love the school holidays where Ellie and I can go off and explore Sydney.
We all love travelling and doing new things; we are often browsing the 'net for interesting things to see and do. Every school holiday we are busy doing things. My friends are always saying "you do so much with Ellie; you are always doing something different"! I wouldn't have it any other way.