Bonds Recalls Popular Onesies after Needle Discovery
Preschoolers
Family
Kids
Mums & Bubs
Parents Only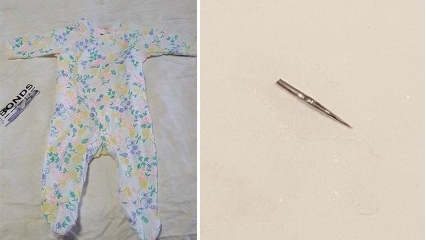 By: Lisa Wolff, ellaslist
Stop! Before you get your babies dressed, make sure you put your hand into their onesie and make sure there isn't any odd objects lodged in it. Sounds bizarre, I know. But if one Melbourne mum hadn't done exactly this, who knows how badly her seven-week old daughter would have been injured.
Anny Brooks found a needle in a new Bonds Coverall when she was dressing her daughter Nina after her bath.
A Shocking Discovery


"I'm very pedantic about checking my kids' clothes. I run my hands inside the garments, I think it's just an OCD thing," Mrs Brooks told news.com.au.
"I ran my hand through it after I gave her a bath and it scratched my hand. I thought it was just one of those plastic tag things but I pulled my hand out and there was a nice big scratch there.
Mrs Brooks Posted a Warning on Facebook:
"In a brand new 0000 bonds suit in the right arm stitching was a broken needle, it was entwined in the thread. So obviously it snapped off during the sewing process and was never removed.
"It scratched my hand, my hands are like leather boots so I dread to think what it would have done to the very sensitive skin of a 7-week-old baby. I'm so angry that something so dangerous was left inside a newborn suit.
"Please check your children's clothing before putting them on them as you never know what you may find."
Bonds has Announced a Major Recall


Bonds has responded by recalling more than 17,000 items, which will include the Pop Woven Dress and the offending Newbies Coverall Long Sleeve.
A Bonds spokesman said Mrs Brooks' discovery was treated as a "matter of urgency" once the company was made aware of it.
A quality control team visited the facility in China were the onesie was made and a "short gap in the necessary record keeping was discovered".
"Child safety and comfort is first and foremost at Bonds. We were deeply concerned when the matter was raised with us," the spokesman said.
The Recall Details
Bonds has urged thousands of Australian parents to return some styles of baby clothing purchased between December 2013 and August 2015.
They include the Newbies Longsleeve Coverall (sizes 00000-0 and style no. BYKUA or BYKUW), Pop Woven Dress (sizes 000-2 and style no. BYGJA) and Beginnings Cardigan (sizes 0000-0 and style no. BZMKA or BZMKT).
"Customers should cease using the product and return the garment to its place of purchase or to Bonds for a full refund of the purchase price," Bonds said in a recall notice on Thursday afternoon.