Birthday Party Trends For 2017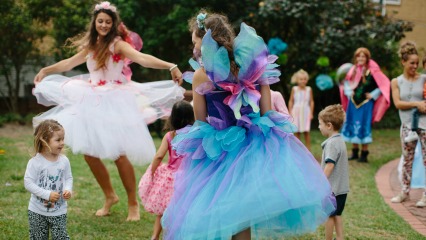 By: Alex Harmon, ellaslist
Superheroes or fairies, fondant or fruity cakes, balloon art or magic, there's so much to consider when you plan a kid's party these days! We spoke to party expert Isobel from Fly By Fun about what we can expect as we gather to wish our kids a happy birthday this year!
Who were the most popular characters for parties in 2016?
In 2016 our entertainers attended over 2000 parties across Australia! The classic superheroes such as Spider-Man, Superman and Batman, and classic Fairies are always high on the list!
From our list of 80 characters our TOP 10 for 2016 were:
Fairy


Queen Elsa


Transformer


Mermaid


Spider-Man


Clown


Batman


Superman


Pirate


Rapunzel
Who were some of the new popular additions in 2016?
We saw a rise in all the My Little Ponies – Rainbow Dash, Pinkie Pie, Twilight Sparkle and Fluttershy. The new Cinderella from the new movie in the big blue dress. Rapunzel from Tangled has seen a resurgence. Finding Dory themes with Nemo and Dory. Also Ash and Pikachu after the Pokemon Go craze and Ryder and Chase from Paw Patrol.
Who were the most unusual party character requests for 2016?
Gruffalo from Where the Wild Things Are, Shimmer and Shine, Scooby Doo and Shaggy.
What was most popular for the girls?
The favourites for girls were (STILL! It is not over yet…) Queen Elsa and other Princesses such as Belle, Snow White and Princess Jasmine. Also Unicorn themed parties!

And for the boys?
The favourites for boys were Transformers – Optimus Prime. And Bumblebee.
How does it vary through the age brackets?
For the Under 3's – Rainbow Carnival with Clowns themes, Fairies, Peppa Pig and Minnie Mouse are popular. For 4-8 years olds you have Superheroes and Princesses – the classic but forever favourites. And for the 9-12 year olds there were magic shows and circus parties – where the kids learn how hula hooping, plate spinning, ribbon twirling, juggling and more! Also Science Parties – messy experiments and lots of explosions for the boys. While Pamper Parties were popular for the girls!

So, what are your hot 2017 trend predictions?
This year you'll see Trolls, Moana, Lego Friends with the new Lego Batman movie, Toy Story with the next instalment release mid 2017, Star Wars again with the new Star Wars Episode VIII movie! Also Harry Potter themes.
Any other interesting party trends?
The average party size has decreased in last 5 years from 18 to 12 children. BUT we're noticing that parents are still spending the same amount and they're spending it on more themed styling and decorations that are snapped for social media – as per the rise in Pinterest, Instagram and Facebook use. We've seen a big increase in the demand for action, non-character based parties in the last two years – such as Circus Parties, Spy & Detective and Sports Parties that get the children up and moving and learning new things.
Where are parents choosing to hold their parties?
We've seen a 10% increase in parties being held at venues such as community centres or in parks and playgrounds with more families living in apartments without the space needed to host parties at home.
To book your next birthday party with Fly By Fun, take a look at what they offer here.