Best Playgrounds For Older Kids In Melbourne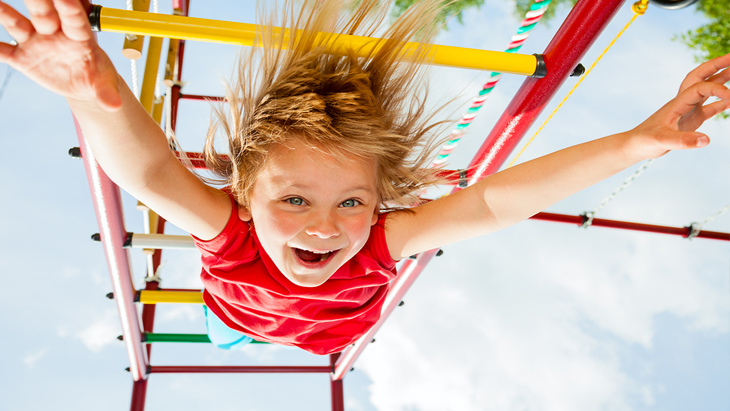 By: Claire Halliday, ellaslist
Golden Sun Moth Park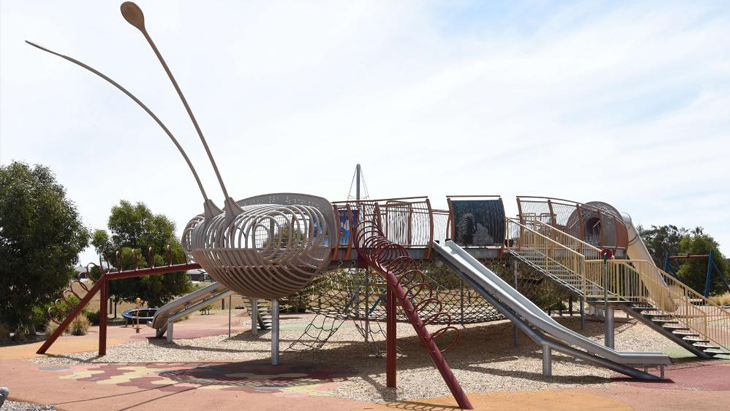 Image Credit : Herald Sun
Adventurous climbers will love this space
Kids can climb all over the moth shaped structure – from the ropes in its underbelly to the slides, stairs and climbing frames that make up its six legs. If that's not enough, the kids can get a workout on the two pyramid rope climbing frames or see how much speed they can gather on the flying fox. Swings and some spinners add some extra playground thrills.
Yes, it's made it on to our list of great Melbourne playgrounds for older kids but at this park littler ones are also well catered for, with an area aimed at 1-4 year olds that has a range of interesting things to climb, plus swings, a spinner and more.
What You Need To Know
All abilities access is good, and the toilets, water tap, picnic shelter area and BBQs are all handy but the lack of shade makes this a challenge on a hot day.
Address: 327 Grand Boulevard, Craigieburn
Woodlea Playground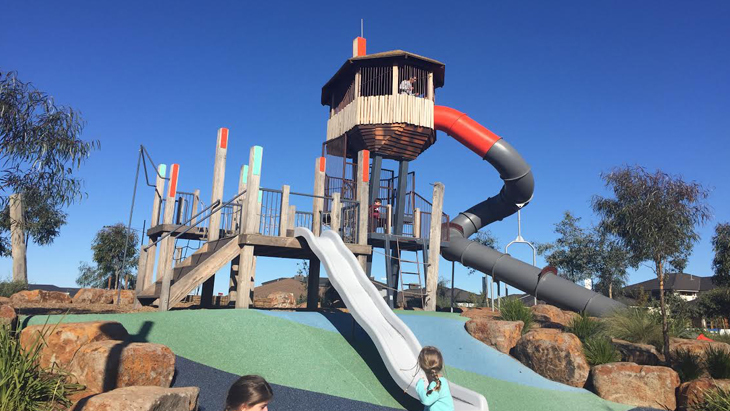 This is Woodlea's Field of Dreams.
The idea about building it "and they will come" must have been the motivation when this adventure park was first built – designed to be the hub of a new neighbourhood, but before all the people actually started living in the display village.
But what do the kids need to know? That the cool tower gives them a view over the whole park – and beyond – and that the slides are fun to go down. The grassy, open space has plenty of room to kick or throw a ball. With picnic shelters and BBQs, as well as space for community gatherings, all this park really needs now is the community itself.
What You Need To Know
Address: 27 Woodlea Boulevard, Rockbank
Valley Reserve

This 15-hectare bushland reserve is a hidden gem in suburban Mt Waverley – and an ideal place for older kids to go adventuring.
In October, 2016, the upgrades to the playground area won it the Best Playspace in Australia award, thanks to its clever combination of classic play equipment (swings and slides) and ropes and logs to climb and balance on. And what kid doesn't like a flying fox?
What adds layer of interest to this space is the way the landscapers have showcased a natural bush land look, with native plants. Natural materials have also been chosen for play structures and shelters, which makes a nice change from the multi-coloured plastic.
What You Need To Know
Address: 80 Waimarie Drive, Mt Waverley
More information: visit the website
Ron Barassi Snr Park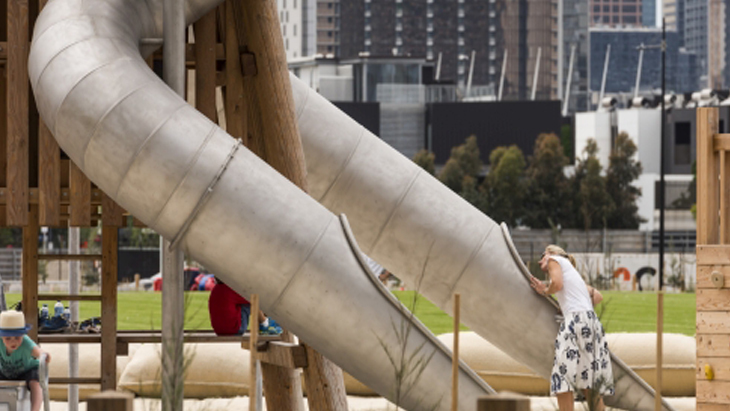 The location is interesting enough – as kids play, the hum of traffic from the towering Bolte Bridge in the background, plus the view of container ships filling up with goods, adds an industrial feel.
For kids who live in this precinct, it's a good playground choice.The amount of equipment on offer isn't huge but it's entertaining. Very little ones will struggle to climb the heights of the timber structure that leads up to two tall slides but the addition of water features adds some cool fun.
How could any park carry such a sporty name without inviting sport action? This park is ideal for older kids who care less about swings and roundabouts and more about just running, kicking and throwing – lots of green open space is perfect for some friendly footy.
What You Need To Know
Despite the cool playground design, it's no a 100% good news story. We're not sure why any new children's park would be created with no shade protection at all but that's the story here. Lack of public toilets is also a head-scratcher.
Address: 509-529 Docklands Drive, Docklands
More information: visit the website
Phoenix Park
What is it about timber fort-style playgrounds that seem so welcoming and interesting?
This one has plenty of hidey-holes that are perfect for imaginative play (and some good old-fashioned hide-and-seek). Ten swings of various types cuts down on the usual playground queues and the addition of an on-site café means that parents can also be left happy – having easy access to coffee is always a bonus, as is the ability to provide much-needed refreshments for energetic playground-lovers.
Climbing and running is a must-do here and with such a wide space stretching out beyond the playground proper, it's something that comes naturally.
What You Need To Know
Address: Rob Roy Road, Malvern East
More information: visit the website
Bridge Road Regional Playspace
Another new housing estate (Atherstone), another new playground. In this new town centre, one of the major developments is a fully-fenced adventure playground – a seriously huge space that has plenty of room for older kids to move and expend some energy.
The equipment is designed for adventurous play – from the nest swing with plenty of room for friends to ride together, to the in-ground mini-trampolines, various climbing poles, or long flying fox ride that helps kids zip across the playground with ease.
What You Need To Know
Address: Bridge Road, Melton South
Two of our real favourites – what we believe are the best playgrounds for older kids in Melbourne – are Skinners Adventure Playground in Port Melbourne and St Kilda Adventure Playground in St Kilda. At the time of creating this article, both of these unique and amazing parks had been closed by the City Of Port Phillip council because of unacceptable levels of contaminants in the soil (something that can happen in inner-city locations). The council had closed both parks to rectify the soil issue and the parks are set to open soon.
More information: see website