Best of Spring School Holidays 2016
Preschoolers
Family
Kids
Mums & Bubs
Teens
Todders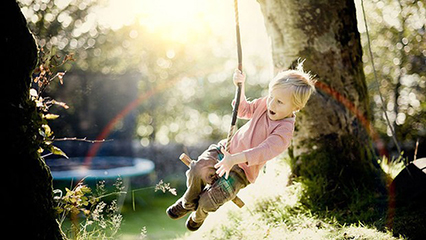 ellaslist COVID-19 update: Please note that all the information on the website is correct at the time of publication. Please check the relevant website before visiting a venue or destination for the latest COVID-19 information. ellaslist is not responsible for any cancellations or closures.
By: Serina Hajje, ellaslist
The Spring school holidays are here and you've got over two loooong weeks to keep the kids (and parents!) entertained. Breeze through the categories (Nature, Creative, Shows, Educational, Kids in the Park) to fill up your spring school holidays with fun. We've also added a few articles at the bottom for some memorable times with the family that are easy to do and affordable (bordering on FREE). Check out the Best of Spring School Holidays 2016.

Nature
SEA

LIFE

Sydney Aquarium
SEA

LIFE

Sydney Aquarium
the world's largest collection of all-Aussie aquatic animals that teaches interesting information in a kid-friendly way! Take a Behind the Scenes Tours and see the inner workings of aquarium, or hop onto the Glass Bottom Boat Tour and explore the salty waters in a whole new way. Shark Reef Snorkel takes place in a safe, see-through enclosure, giving kids and parents the chance to come nice and close to the beautiful inhabitants of the water. The new and interactive
Do Like A Dugong
experience allows you to walk amongst an underwater shipwreck while admiring the only pair of dugongs on display in the world!
WILD LIFE Sydney Zoo
Right next door is WILD LIFE Sydney Zoo and it's bursting with fun experiences! Did you know you can explore the zoo from the air? WILD Flight lets you zoom past kangaroos, glide past princess parrots and the rest of the zoo inhabitants. Koala Encounters invites you to meet and even get up close to a cuddly koala and snap a few photos while you're there!
Royal Botanic Garden Sydney
The Royal Botanic Garden is bursting with school holiday activities! Let the kids go on a hunt for topiary animals with Mossy Monsters or explore time and space to solve the mystery of chocolate with The Great Chocolate Mystery. Garden Grubs will take the kids through the Gardens with nature play, stories, art and craft to engage and educate. The Aboriginal Walkabout Journey will entice your little adventurers into the ancient world of Aboriginal culture.
Centennial Parklands
Centennial Park is always alive with fun kids' activities. Keep the kids healthy and active with the Multi-Sport Camp. Led by the expert team of Education Rangers, Bush School will inspire love for the natural world through games, bushcraft activities and stories. Park Detectives will intrigue budding super sleuths who enjoy their science mixed with a bit of drama. And that's just a taste, see the full program HERE.
Spooooooooooky Seas at Manly SEA LIFE Sanctuary
Enter Manly SEA LIFE Sanctuary's Spooky Seas… if you dare! Under the deep dark spooky sea, boys and ghouls will explore the creepy side of the underwater kingdom and learn scary conservation facts just in time for Halloween.
Explore the Outdoors
Sydney is full of gorgeous walks that take you to mesmerising sights. With the weather nice and toasty, the kids will love getting out to appreciate the beauty of Sydney. And it's FREE! Check out the Best Bushwalking Trails with Kids and our favourite pram-friendly walks in Sydney (perfect for families with kids of various ages).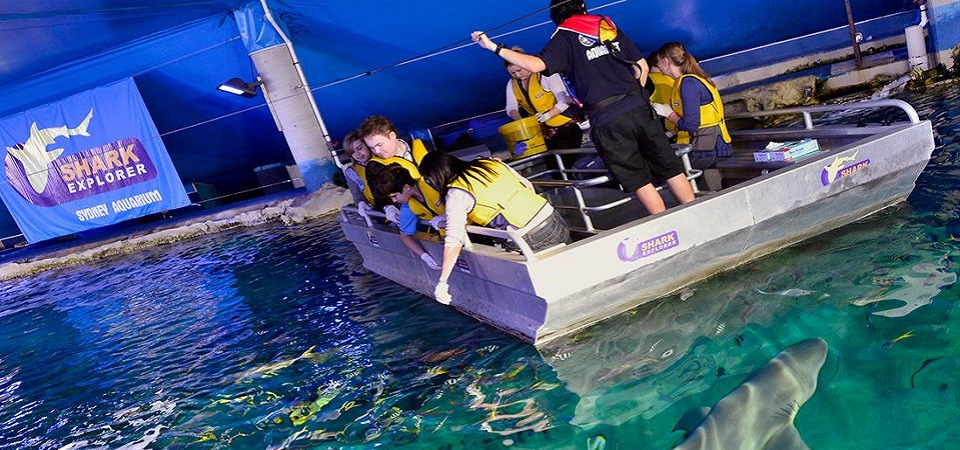 Creative Activities
Darling Quarter – Project Five
Get your paints and brushes because 
Project Five
is starting a series of kids' urban art workshops. It's perfect for kids aged 5-16 years, offering hands-on experience in urban art disciplines, including stencilling, wheat pastes, aerosol painting and more.
Chinese Gardens – Springtime Flower Pots
Set amongst the lush and serene Chinese Gardens, kids can make paper flowers and explore the significance of colour in Chinese culture. Best of all it's FREE with entry, and goes from Monday to Friday (excluding October 3) 11am-1pm.
Early Start Discovery Space
This is well worth a trip to Wollongong! Filled with a variety of FREE and paid workshops focused on the Arts, the Early Start Discovery Space will soon become your child's favourite place to be. Participate in Roald Dahl's BFG Clay Sculpting, Chinese Dragon Drawing, create Homemade Musical Instruments and Design your own Superhero workshops! FREE Public Programs will run daily (no booking required) with a Roald Dahl Picture Hunt, circus skills in Clowning Around and creative performance skills in Play & Perform. There's also story time and craft time every day!
Local Workshops
There's HEAPS of exciting and interactive workshops booming in Sydney and they could be right next to you! From circus tricks to painting to shooting your own film, there's something for everyone. Check out all the listed workshops HERE.
Spring School Holiday Fun at Watsons Bay Boutique Hotel
Watsons Bay Boutique Hotel is kicking off the school holidays with a packed and mixed program of fun. Starting off kids will indulge and enjoy face painting and craft which is FREE! For our little chefs there will be a Sushi Making Class and then they'll get the chance to bust some moves at the Kids Dance Class before finishing off the holidays with a Kids Sports Day.
Kids Shows
Jay Laga'aia – Monkey Baa, Lend Lease Theatre
One of Australia's most renowned performers for children and the star of Play School,
Jay Laga'aia
ignites imaginations, both young and old, in this musical celebration of the power of play.
FREE Shows by Polyglot Theatre – Seymour Centre
The Seymour Centre will keep your little creatures entertained this September school holidays with wildly fun productions and a program of roar-inspiring free activities. Enjoy a meal like no other, as your invited to make culinary delights from the forest ingredients around them at Forest Feast. Face hundreds of giant bread crumbs and three big insects, and figure out what the Ants want! The Owl's Apprentice is an interactive solo show created by Jenny Ellis using a combination of shadow puppetry, hand puppetry and storytelling.
Spot – Seymour Centre
Our favourite cartoon dog is on stage for the first time in Sydney! Spot and his friends are off on an adventure to visit Spot's dad Sam on the farm and meet the farm animals. But when they arrive all the animals are missing, presumed lost! Spot will need your help to solve this puzzle.
The Gruffalo – Seymour Centre
Join the clever little mouse on this delectable tale through the deep dark woods full of predators. The Gruffalo will delight kids 3yrs+ with this memorable and classic story.
Seymour Centre Presents Erth's Dinosaur Zoo
Meet awesome prehistoric creatures, from cute baby dinos to some of the largest carnivores and herbivores that have ever walked the planet! Erth's dinosaurs are unmistakably 'alive' and mostly friendly in this fun, educational and unique performance that will delight all audiences from ages 5 years and up.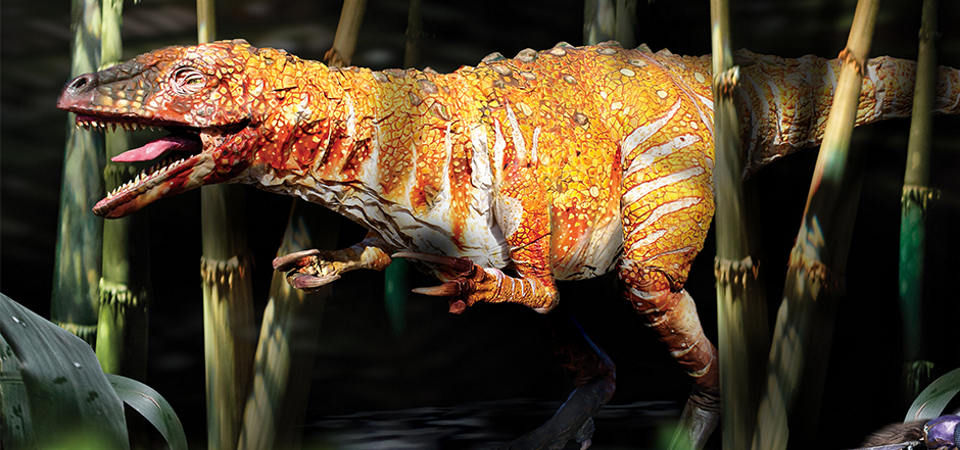 Erth's Dinosaur Zoo in Randwick
If you're in the eastern suburbs, Randwick Town Hall's Erth's Dinosaur Zoo might be easier to see! Learn all about Aussie dinosaurs in this interactive and one-day show!
Spring Holiday Workshops at KidzLounge Eastern Suburbs
KidzLounge is spilling over with exciting programs! There is something for everyone, with a reptile show, Nutty Scientists, Bricks4Kidz, Fairy Poppolina, carnival and games, cupcake creations and pampering!
Ruby's Wish at the Belvoir
Ruby's Wish – an enchanting show overflowing with puppets, magic, beatboxing and exquisite performances. Ruby may not believe in fairytales but she certainly believes in wishes. Confined to a hospital bed, little Ruby has had to grow up far too fast. But when she is visited by Dot, a tongue-tied clown doctor, she finds a way to use her greatest asset: her imagination.
Puppeteria
Celebrating its 50th birthday as a professional puppet company, The JERAL PUPPETS will be presenting three exciting programs at Puppeteria. See the classic tale of The Three Little Pigs, have a whale of a time under the sea with The Octopus' Garden Party and be mesmerised by the retelling of Sleeping Beauty and The King's New Clothes.
Spring Festivals
Spring is also the season of many festivals and fetes happening across Sydney which make a perfect day out for the whole family. Gather the kids and enjoy the best Spring Festivals across Sydney.
Kidtopia
Enter Sydney's newest and coolest Festival for Kids (and their grownups)! Kidtopia is landing in Parramatta Park with a smorgasbord of awesome activities in a high energy artistic playground. Live music; yoga, cooking, twice daily science shows, circus workshops; a silent disco, magical performances, movies under the stars, and Sydney's hottest eateries, are just some of what's in store.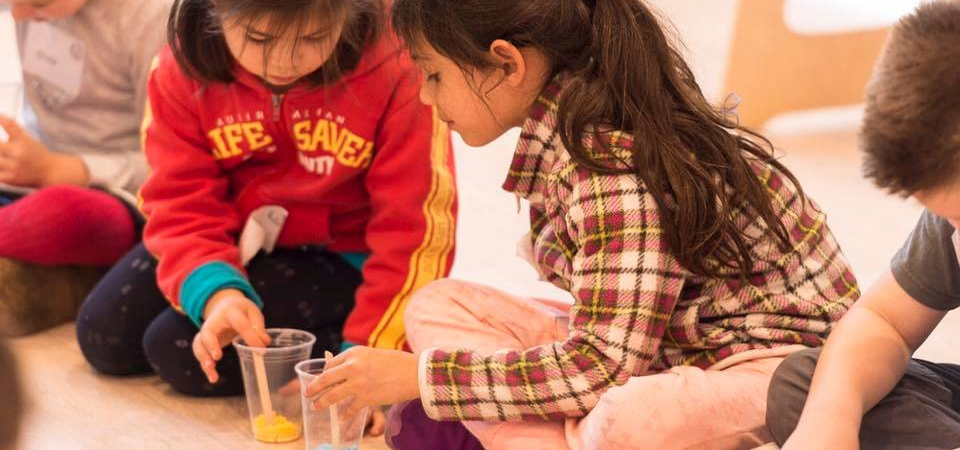 Educational Activities
Sydney Living Museums
Explore the past at
Sydney Living Museums
. Earn Your Tucker by feeding the chickens, collecting eggs, sorting the grain and more! Or search for bush tucker plants with Aboriginal guides from Muru Mittigar at Bush Tucker Family Workshop. Take a guided tour where you pump the water, wind the gramophone and then create your very own hand-painted ceramic plate at Kids Creative Ceramics. For the full program go
HERE
.
Museum of Applied Arts and Sciences
The MAAS contains more than 250 extraordinary permanent exhibits that gives kids a brilliant hands on, interactive experience, and it's FREE for kids under 16 years. From touching skeletons and large scale train models to watching beautiful clockwork performances, there's plenty to learn and enjoy here.
The Rocks Discovery Museum
Visit The Rocks Discovery Museum for FREE and be taken back in time to The Rocks of 100 years ago through an immersive virtual reality experience. The museum is giving away 200 Google Cardboards, through which visitors can experience a 3.5-minute, 360-degree view of The Rocks as it was in 1901! Photographs are brought to life through virtual reality; a time when domestic life was not confined behind closed doors, washing was strung up to flap between buildings, animals roamed the streets, and scores of barefoot children played on the dusty roads.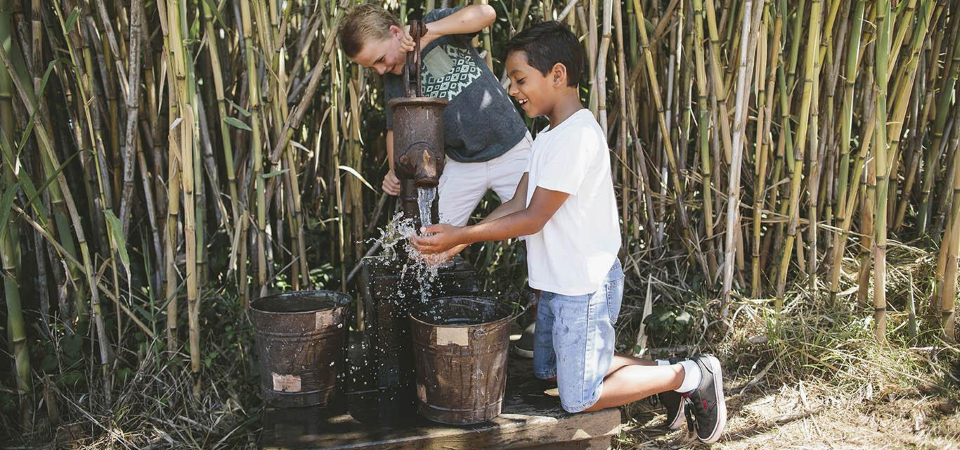 Kids in the Park
Kids in the Park
deserves its own category because it's program and range of activities is amazing! Overflowing with over 60 creative, sporty and outdoor activities, you can visit everyday and do something different! Kids with a love for sports will be thrilled to try out Holiday Water Polo Clinic, Gym Sports and Acro Yoga. If art is your passion then have a go at Circus Solarus Dinosaur Dig, enjoy Nickelodeon's Slimefest or get your hands dirty at Operation Art. Try your hand at new things too! There's a beginners program for Archery, Flying Trapeze and Space Racing.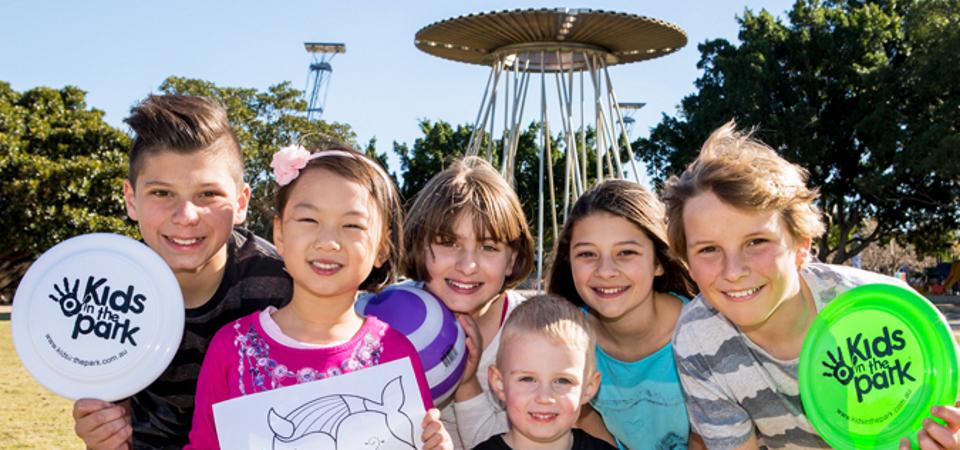 Sydney's Best Botanic Gardens
We just
LOVE
exploring Sydney's many beautiful gardens with our little ones. There is something so very magical about our lush landscapes that makes them the perfect setting for imaginative play and a bit of nature loving! Whether the drawcard is a fabulous onsite cafe, playground, bird watching, bike trails or a scenic view, these are
Sydney's Best Botanic Gardens
.
The Best New Playgrounds in Sydney
We are spoilt for choice when it comes to awesome kiddies playgrounds in Sydney. But there are some impressive new slides, swings and monkey bars in Sydney that will make even parents envious! Here are some of the best and brand spanking
new playgrounds in Sydney
!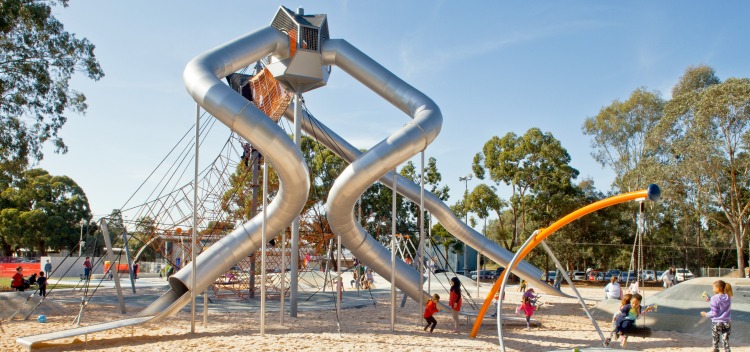 Sydney's Best Bike Parks and Trails For Kids
Kids love to ride. It's fun and super exciting for them. It's give them freedom and builds their confidence. What's more it gets them outdoors into the fresh air, gets them active and, once you've invested in the bikes or scooters and helmets, it's totally free. But knowing where to go with your little learners or bigger riders looking to explore further afield is key. We've put together some of
Sydney's best bike parks and bike trails for kids
according to their ability.
Waterparks
Speaking of warm weather, we've also found the most awesome
FREE

waterparks in Sydney
. The kids can splash around in a safe, cool environment and you can watch from the shade.